"No Hands" rapper Waka Flocka Flame will give a free performance at the Williams Auditorium at 7 p.m. on March 29.
The "global icon" and rapper is a big stylistic departure from last year's spring performer, LANCO. Entertainment Unlimited President Kaitlyn Walters spoke about the process of selecting talent for the spring concert.
"We wanted to go with a rap musician because last year we did a country band," Walters said. "We kind of figured out that Ferris' target audience either [likes] country, or rap or both, so we got a list of rap artists that would fit in our budget and timeframe and showed it to our group. Waka Flocka was a consensus; that's who everybody wanted. And then we took the steps to get him here."
Walters wants to fill the auditorium, and she believes that there will be more in attendance then last year's performance.
When double major diagnostic medical sonography and allied health sciences freshman Sammie Sieckowski heard that Waka Flocka was going to be performing, she knew immediately that this performance would be different than other Ferris concerts.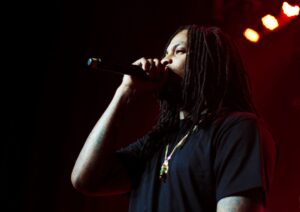 "I think a lot of people will show up because of it specifically being Waka Flocka. I know that turn out for different shows have been small, but I think that for this show there will be many people to watch his concert," Sieckowski said.
Sieckowski has made many memories with Waka Flocka's songs, and that's one of the main reasons she wants to attend.
"I want to see him because of his top songs. I have fun memories with friends and parties where his music played. Plus I just really enjoy concerts in general," Sieckowski Said.
Waka Flocka is known for re-popularizing trap music after dropping the first volume of his street classic, "Salute Me or Shoot Me." The 2012 mixtape caught fire with songs "We On The Way," "Dreads N Gold" and his breakout single, "O Let's Do It." The mixtape's buzz allowed Waka Flocka to release his proper debut, "Flockaveli," which peaked at No. 2 on the Billboard 100. With many platinum signature hit records including "No Hands" and "Wild Boy."
Criminal Justice freshman Alexis Moreland is excited that he is coming and even more excited that it is free.
"My first thought was 'no way.' I couldn't believe it," Moreland said. "I have listened to him since he created 'Wild Boy' with Machine Gun Kelly in 2011, so hearing that [it's] an artist that I have listened to for 12 years and you get to see them live, it's an exciting experience," Moreland said.
Design freshmen Karion Outley believes there will be a good outcome at Williams for this concert.
"I think there's going to be a good amount of people in the auditorium to see Waka Flocka because he's iconic and everyone knows 'No Hands,'" Outley said.
Outley is excited for the upcoming concert.
"I want to see him because I think that it's awesome that our school could get a star like him. I wasn't expecting it," Outley said.
Students can expect him to bring the same amount of energy to this concert that he does for all his other ones. Flame retired from making albums in 2012, stating he "never rapped to become famous." Flame didn't want to change the way he was viewed or write his music for anyone but himself.