In honor of Black History Month, there are many Ferris events where attendees can celebrate, support and learn more about this month and its importance.
Image Awards
This event is hosted by the Black Leaders Aspiring for Critical Knowledge registered student organization. The purpose of the Image Awards is to give overlooked minority students and faculty members the recognition that they deserve on campus.
Rick Bradley, the president of BLACK and a member of Phi Beta Sigma Fraternity, Inc, wanted to bring back this annual event since they were not able to host this event last year due to COVID-19 restrictions. Now that restrictions have lessened, the event is back up and running this month.
"Before COVID, the [Image Awards] was something to bring the campus together… It's important because a lot of people go unnoticed as leaders and people that inspire others," Bradley said.
Black Leadership at Ferris: Designed with you in mind
The Office of Multicultural Student Services is hosting a panel where Black faculty and staff that can share their experiences as Black leaders and the roads that led them to Ferris.
Assistant Director of the OMSS Darnell Lewis wants students to attend this event so they can hear diverse perspectives and relate to them.
"Our current generation of Black leaders can give them words of advice so they can go on to do great things as Black leaders in their future endeavors," Lewis said.
Being Black at Ferris with the FSU Black Alumni Association
Also hosted by OMSS, this end-of-the-month event is a group discussion of what it means to be Black on campus for faculty. This event is an authentic conversation between the Black Alumni Association and Black students on campus to talk about their differences, similarities and their experiences as Black individuals in a predominately white institution and town.
"How was it for them as alumni, and even alumni from different decades? What are some challenges, pros and cons of being a Black student?" Lewis said. "Those are some of the conversations we will be having."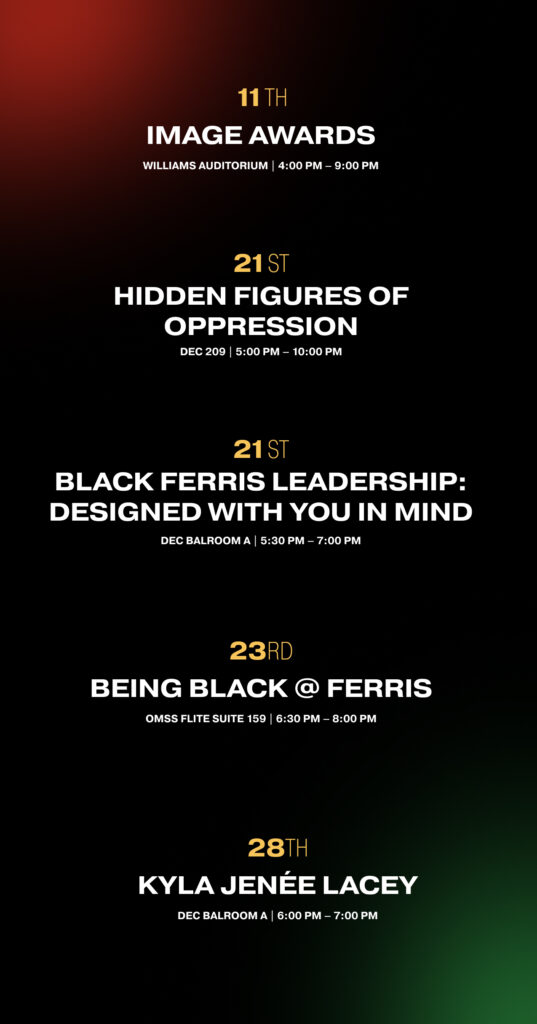 Hidden Figures of Oppression
The month of February celebrates historical, influential African Americans, and this event highlights them. The historical figures that will be featured are less well known, and the goal is to recognize what is taught in the textbooks about African American history compared to the actuality of their history.
Kyla Jenée Lacey
Kyla Jenée Lacey is a writer, performer and visual artist. She has been to over 300 colleges in 40 states where she has performed spoken word. She's known for "irreverent and biting humor, as well as her social knowledge and perspective," and her work has received tens of millions of views.
"We hope our campus community walks away from the Kyla show with a deeper appreciation for cultural differences and similarities and an understanding of the importance for inclusive and equitable communities," pre-pharmacy senior and Entertainment Unlimited's Vice President of Internal Affairs Bhuvan Mathur said. 
Culture Editor Giuliana Denicolo contributed to the writing and reporting of this article.