Nearly seven decades after its introduction, the infamous sound of synchronized feet stomping and storytelling music is likely to return to campus as the Ferris State Marching Band.
Since the end of last semester, there has been a rumor that the marching band will soon be returning to the music department, giving students more of an opportunity to be involved in music.
Director of Instrumental Concert Ensembles Richard Cohen is currently working on the feasibility of the marching band returning as there are multiple factors to be considered.
"Right now, no decision has been made yet as to whether this is going to happen or not," Cohen said. "There will be a period of research and inquiry to determine its feasibility that will extend into the next school year."
One factor that must be decided on first is the future of the West Central Chamber Orchestra. Last semester, Associate Professor of Music Dale Skornia, who is currently the director of the WCCO, announced his retirement.
According to Skornia, Cohen must find a replacement director for the WCCO next year, and potentially become the new director of the marching band. The original hope was that Skornia would take over the position.
While the director and ensemble are still being determined, both Cohen and Skornia are confident they will find the right person to carry on the marching band's legacy.
The marching band had many accomplishments since they started in 1955, including performing at President Richard Nixons Presidential Inauguration Parade in 1973. Debra Jacks was a member of the marching band from 1972 until her graduation in 1975, and was able to experience playing in the parade her first year at Ferris.
"I think the presidential inauguration was a once in a lifetime experience," Jacks said. "We sold candy bars in order to pay for part of our own ways, and then the community and the university came up with the rest of the money. To think about putting 100 to 152 kids on a charter plane from Western Michigan, mostly to go and represent Michigan in a presidential inauguration. I was a freshman, I could not imagine that this was going to be my university experience."
Jacks also mentioned how the band played in celebration of Highway 131 opening. The band also had the opportunity to perform at a Detroit Lions game every year. Jacks says these special, once in a lifetime opportunities happened because of their director William Root.
Root became the marching band director in the 1970's and was known as "Uncle Bill" to band members. Jacks says Root was much more than just a director, he was a friend.
Tim Linehan, who was also a part of the marching band from 1971 to his graduation in 1975, says Root would help students navigate scheduling as everything was done by paper at the time.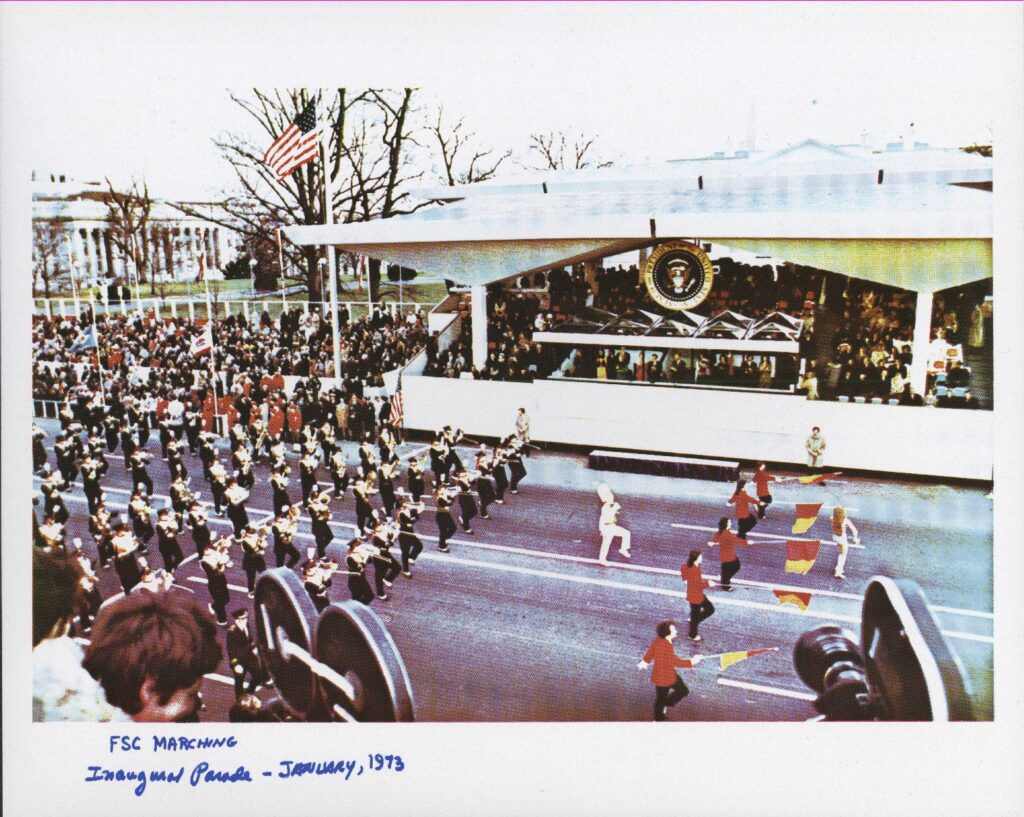 "He was super about helping us rearrange our schedules so that we could participate in the music program," Linehan said. "If we had trouble getting our classes arranged, he'd go to bat for us to help make sure that we could get into the sections."
Jacks and Linehan said the band grew into a community where they could enjoy playing music together, and it was because of the tone set by Root.
"It was also an interesting time period because it was post Vietnam War," Linehan said. "There were a lot of guys that were coming through the school and through bands, and this was kind of like their chance to unwind… it was also '71, only three years after the riots in Detroit. There was some, at least on the campus, a little bit of some tension still left over from that. The marching band was a safe space, where people could go and hang out. I could go hang out with a bunch of people that were like minded… we didn't have any of the pressures of schoolwork and that sort of stuff there."
Unfortunately, after 1987 there is little information about the marching band that once made a big impact on the students and the community. With the potential of the marching band returning, it has brought hope back to alumni and students of previous marching bands.
Medical laboratory science sophomore Mary Hobart said having the marching band return would be great. She was in marching band during high school and said it would be nice to carry on playing in college. Hobart said she likes the sense of camaraderie the most in a marching band, upper and underclassmen talking and sharing advice and the feeling of working harder rather than just getting together and playing the music.
"It would actually be really nice, I know a lot of Ferris' things are community based," Hobart said. "I wonder if they are bringing it back… Something already nice about community bands is getting to interact with all these different age groups of people. But even if it were just various students, getting that underclassmen upperclassmen connection can be really helpful in just kind of figuring out how this whole college thing works."
If the marching band makes a return to the university is still in the works. Whatever the final decision may be, the Ferris' marching band will continue to have a unique history.