46 days after securing a second straight national championship, head coach Tony Annese and the coaching staff announced the 2023 recruiting class at the National Signing Day press conference last Wednesday.
The conference was held in the Ewingleben Sports Complex, where it was announced that the Bulldogs added 24 prep stars from the state of Michigan, ten signees from Florida, one from Ohio and one from Illinois to this year's group.
This year's group of 36 additions almost doubled the 22 recruits from last year's signing day. It's the largest number of recruits since Ferris brought in 38 signees before the eventually cancelled 2020 campaign.
"One of the reasons guys choose us is because we are really authentic," Annese said. "Some of the people out there manipulate young men into choosing the wrong school and then don't have any retention. We have great retention here, and we are proud of that."
Within the number of signees, more than half of this year's class are slated to start on the defensive side of the ball. Out of the 20 players, nine of them are defensive backs, five are linebackers and five are defensive lineman.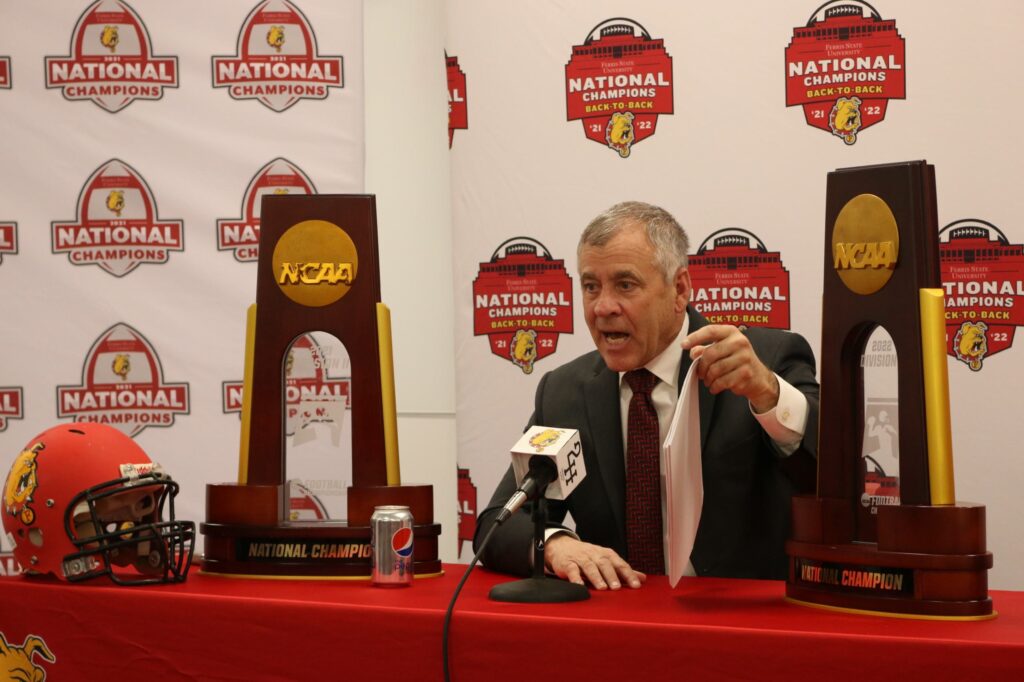 On the other side of the ball, 16 new Bulldogs will be trying to help the nation's 18th-ranked scoring offense from last season. Wide receivers led the majority with seven recruits at the position, followed by three offensive lineman, three quarterbacks, two running backs and one tight end.
When it comes to specialists, Ferris didn't sign a kicker or a punter in this year's class. This is the first time this has happened since 2020.
"[We] get a late start, and some teams are done the second week of November," Annese said. "That's a challenge, but we figure it out. There are people out there bragging about how good we're going to be."
According to Great Lakes State Football on Twitter, the Bulldogs signed the second largest number of athletes in the state for the Division II level. Ferris is only trailing behind Davenport, who had 55 players commit to the program. Ferris brought in more recruits than Saginaw Valley State (35), Grand Valley State (32), Michigan Tech (30), Hillsdale (22), Northwood (20), Wayne State (20) and Northern Michigan (13).
The Bulldogs' ten sunshine state signees also tied Davenport in the respective category and tied Michigan Tech and Grand Valley State with 24 players from Michigan, ranking third behind Saginaw Valley's 30 and Davenport's 34.
When it came to a describing the class, Annese mentioned something that rings in common with many of his classes from the past: a winning pedigree.
"Most of them are from really highly successful programs, and that's critically important," Annese said. "That ultimately is the thing that makes us great."
The Bulldogs will likely unveil their 2023 official schedule sometime between March and April. Ferris will begin the pre-season this spring with hopes of capturing a fourth GLIAC title in the last five years and a third consecutive national championship.