Lauren Frihauf — once a 16-year-old "Voice" contestant, now a 19-year-old independent artist — came to warm the David L. Eisler Center with original music on one of winter's coldest days.
Last Tuesday, students studied in chairs and looked down from the Quad balcony while Frihauf sang her heart out. The songs included tracks from her upcoming album and covers from some of her favorite artists. It was a welcomed event put on by the Entertainment Unlimited registered student organization.
Lauren Frihauf took time between the songs to talk to the audience and give background for her next piece. Her friendly demeanor was met with whooping and hollering from the student body.
"It was fun to perform in front of people who are in my age group," Frihauf said. "A lot of times I'm playing for people significantly older than me…I'd love to do more college performances. This was a great way to start."
Growing up in Colorado, this was Frihauf's first time in Michigan. After her experience on "The Voice," she has focused on the local music scene in her area and created her first album, which is planned to release this year.
Lauren points to her family as the main source for fostering her love of music.
"My older brothers actually played instruments growing up. One of them played guitar and the other played piano. There was music all over the house, and I thought it was really cool and I looked up to them. So, I picked up piano and then later voice," Frihauf said.
Her connection with her family is still strong. She points to her mother as the person she relies on as she performs, travels and navigates all the challenges of music creation.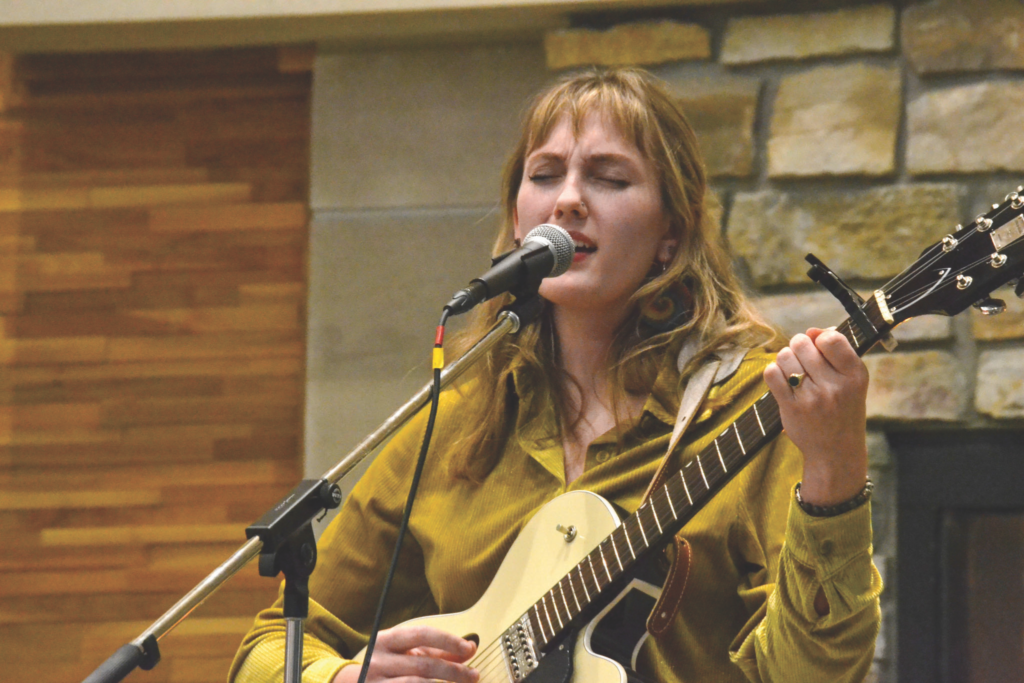 You may recognize EU from their events featuring "Everything the Office," and last year's LANCO concert. Frihauf's performance marks their first event of the year. Although it was modest, Frihauf's music was a nice surprise for all who attended.
Mechanical engineering technology sophomore Rebecca Smith was pleasantly surprised by the event.
"I saw the posters as I was waiting to go to Real Life so I thought, 'why not?'" Smith said. "I love live music and she's better than what I expected."
Smith greatly appreciated that the event was held in the DEC.
"I like how it is right in the quad. People walking through can see it and enjoy it and hopefully join in too," Smith said.
EU advisor Ben Avery spoke about the purpose of this event.
"It gives students on and off campus a reason to come enjoy the performances, one another's company and add value to their experience here at Ferris outside the classroom," Avery said.
EU is hoping that this event is the start to a new era of great, accessible events.
"I think that post COVID this is a rejuvenation of sorts, and going back to all the great things that this campus' programming board has provided in the past," Avery said.
Those who want to hear more from Frihauf can find her on Twitter, Instagram and Spotify under her first and last name.
EU shows no sign of slowing down, hosting two events this week with a comedian and a beat boxer on Feb. 8th and 9th, respectively. They may even book Frihauf again, to which she responded, "I would love to come back to Ferris, if you guys would have me."