The Bulldogs returned with a weekend split against the Northwood Timberwolves and the Indianapolis Greyhounds.
The #24 ranked Bulldogs (2-1) dominated Northwood (0-2) with a 7-0 win on Saturday before suffering their first loss to #7 ranked Indianapolis (3-0) with a 4-0 loss.
The Bulldogs dominated their doubles matches with the pairings of senior Jan Koupil and junior Benjamin Lortie, sophomore Alessandro Santangelo and freshman Esunge Ndumbe and senior Yannic Mader and freshman Erik Kovacs. All pairings won their matches.
With domination of doubles already in hand, the Bulldogs switched their focus on singles. Once again, the Bulldogs would not be denied, as Koupil, Lortie, Santangelo, Ndumbe, Mader and Kovacs all won their singles matches to secure a 7-0 victory.
Head coach Mark Doren gave his thoughts on the victory.
"The match was what we worked so hard for this offseason," Doren said. "To be able to take on our rival of 40 years, who pushed us to a close 4-3 match last year, and then take it to them for a 7-0 win this weekend. It was fun to watch them have fun out there and play great at the same time."
Doren wasn't the only Bulldog satisfied with the victory. Santangelo said that the team wanted to "demolish" Northwood, saying that the match's energy was "great" and that it was overall a great day.
As for Sunday's match, Santangelo felt that the team was "really confident" going into the matchup with the #7 ranked Greyhounds. This confidence may have been all for naught, as the Bulldogs suffered a 4-0 defeat.
The Bulldogs were swept in doubles with the same pairings they acquired victory with the previous day. All singles matches were lost or unfinished, as Indianapolis was the first to four points following their doubles match with the Bulldogs.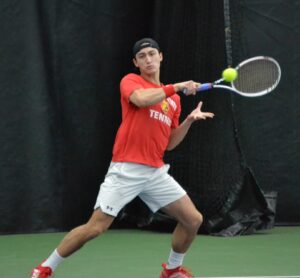 Doren gave his thoughts on the hard loss on Sunday.
"The score doesn't represent the level of tennis we saw today out of the men's team," Doren said. "All three doubles matches were the most intense tennis I have seen in my five years coaching at Ferris."
Doren believed that there were some great singles matches as well, but the team "just couldn't get over the hump to claim victory."
The Bulldogs men's tennis roster saw some turnover, as three seniors from last years' team are now gone. In their place come new freshmen additions.
Joining the team this year is Ndumbe, freshman Kacper Pasielak, Erik Kovacs and his brother, Kevin Kovacs.
Doren talked about the difficulties of infusing freshmen into the game.
"Often bringing in freshmen who play a role into the lineup right away can be a tough adjustment," Doren said. "But all our freshmen on both teams have had very experienced junior careers and have come in playing like upperclassmen right away."
Pasielak, who is among those freshmen brought in, also believes that the team has some "pretty good freshmen."
The Bulldogs will split a series both on the road against Hillsdale and then at home against Findlay on Feb. 10 and Feb. 11.