Even facing off against Division I programs, both Ferris track and field teams fared well at the Bill Clinger Classic in Allendale.
In a meet with over ten schools, including top tier opponents like Valpraiso and Marquette, the Bulldogs were looking to keep the trend of improvement going. It was a tall order, as it meant keeping up with national Division II powerhouse Grand Valley State and a multitude of regionally ranked opponents throughout each event. However, head coach Jared Kelsh's squad was ready to meet the expectations.
Many Bulldogs found themselves in the top ten of their events. Which is a promising showcase of the talent on these teams, especially since they've reached the mid point in the indoor season and heading outdoors is right around the corner.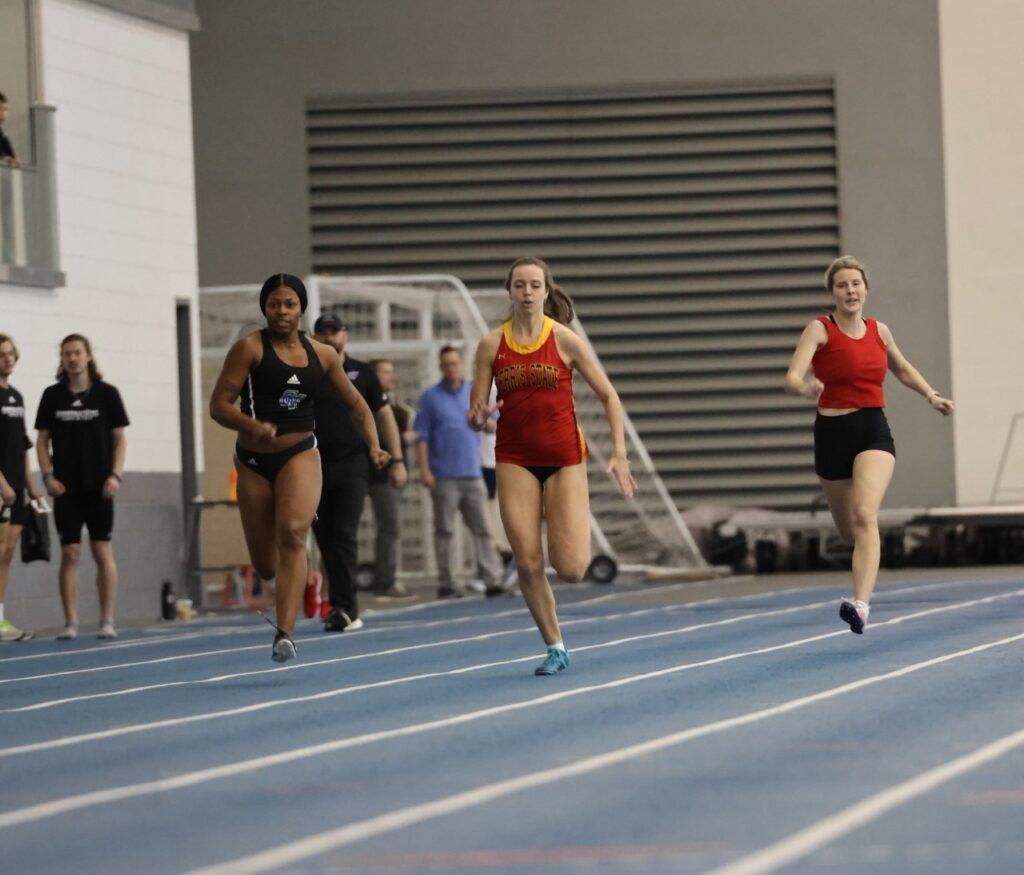 "We had a very successful meet with multiple athletes running personal best times," Kelsh said.
On the women's side, the Bulldogs found the top of the podium, as Emma Stephayn won her event in the weight throw (52-7.25). More team members found success in events, such as the 400 and 800 meter dash, with Abigail Winkle placing sixth (58:89) and Danae Feldpausch at ninth place (2:18), respectively. As well as the 4×400 relay team placed sixth with a time of (4:08.52).
In distance, Becci Castillo achieved eighth place in the open mile (5:26.53), improving from last race. Whitney Farrell just missed the top ten with a time of 5:12.9 in the open mile invite. Hannah Brock (5:13.65) and Sydney Kubiak (5:13.81) were right behind Farrell at 12th and 13th place.
For the men, Donis Harris came in with just seconds behind the 6th, 7th and 8th place finishers in the 3,000 meter invite at 4:11.32. Harris is just fractions of a second away from an undisputed record as the fastest man in Ferris Track and Field history.
"Personally, I wasn't the happiest with how I ran last weekend," Harris said. "There's a few mistakes I made that I think cost me some time."
In the 5,000 meter race, Brendan Cairney took eighth place (15:34.05). Other distance runners showed promises of improvement as well. Dan Hardesty achieved 13th place in the open mile (4:24.52), and Noah Griffith placed 16th (4:25.25) in the same race. Casey Bouman was a slight push from being in the top ten. He took 14th (15:54.35) in the 5,000 meter race.
The Bulldogs showed their feats of strength as well in the field events. Jake Zammita and Garrett Jones finished back to back in the shot put section. Zamitta placing sixth (45-7.75) and Jones (41-5.75). In the weight throw invite, Kyle Drouillard placed eighth (48-7.25). In one of the better meets of the indoor season, it brings a sense of encouragement to the athletes, especially against such good schools and competition.
The Bulldogs will return to Allendale on Feb. 10 for the annual Grand Valley State Big Meet, a venue sure to host strong competition from multiple levels of NCAA track and Field.
Editor's Note: Brandon Wirth took the photograph for this story. He is both a sports reporter for the Torch and an athlete for Ferris track and field. He did not contribute to the reporting of this story.