Senior Chloe Idoni scored her 1000th career point against Saginaw Valley on Saturday, but the Bulldogs could not record a win.
Idoni recorded 14 points on Thursday against Wayne State, leaving her 20 shy of 1000. Then, she got 21 more on Saturday.
"Yeah, I'm proud of myself," Idoni said. "Obviously I owe half of it to my team [for] putting the ball right in my hands… I wouldn't have gotten half of those without them getting me that, so I owe a lot of credit to them and a lot of coaches."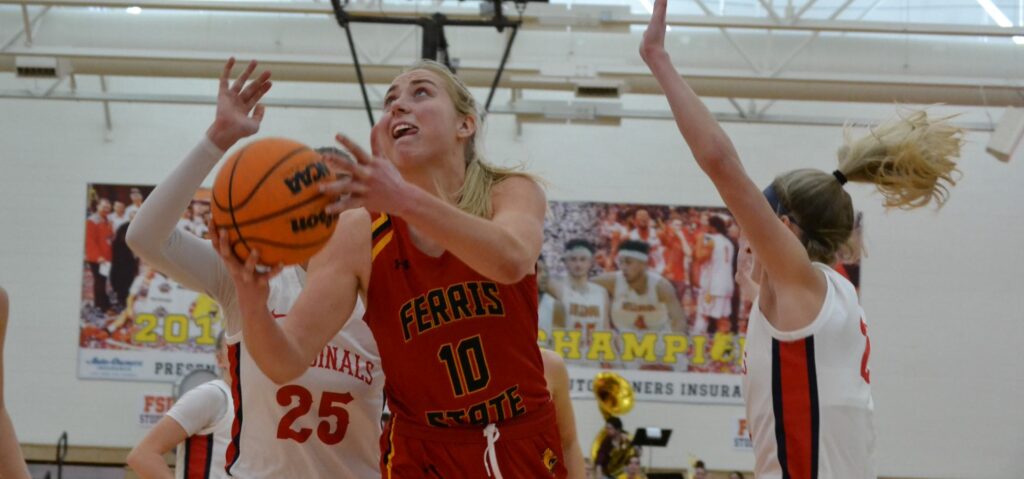 Despite Idoni's milestone, the Bulldogs failed to record a win in two home games of GLIAC play. Now 14-10 on the season and 7-8 in GLIAC play, the Bulldogs find themselves at fifth place in the GLIAC standings.
The Bulldogs first hosted Wayne State, losing that contest 64-63.
Ferris struggled offensively, shooting 22-61 (36.1%) from the field and 6-28 (21.4%) from the three-point range.
After being down 50-40 to start the fourth quarter, the Bulldogs rallied late for a comeback attempt but ultimately came up short.
The fourth quarter was the best offensive quarter for Ferris, as they scored 23 points after scoring 16, 10 and 14 in the first three quarters, respectively.
The Bulldogs were outrebounded 37-32 by Wayne State.
DeShonna Day led the scoring with 16, Idoni added 14 points, Elle Irwin had 13 points and Mallory McCartney finished with eight points.
McCartney finished with six assists, Idoni had five and Kenzie Bowers added three assists.
Idoni and Bowers both had six rebounds to lead the Bulldogs, McCartney added five rebounds, Irwin had four and both Day and Mia Riley finished with two rebounds.
"It's a disappointing one definitely," head coach Kurt Westendorp said. "We're fighting for spots right now, so it's kind of tough to come up on the tough end of that one."
The Bulldogs then shifted their focus to Saginaw Valley, resulting in an 80-71 loss.
The Bulldogs' rough first half from the field had them fighting to get back in the game, as their comeback fell short again.
In the first half, the Bulldogs shot 8-25 (32%) from the field, and they went into the half down 40-26.
The Bulldogs were outrebounded 44-25, and Saginaw Valley had more assists than the Bulldogs with 22-16.
Defensively, the Bulldogs struggled in the first half, as Saginaw Valley shot 15-29 (51.7%) from the field and 5-10 (50%) from three-point range.
Leading the Bulldogs in scoring was Idoni with 21 points, McCartney had 18 points, Bowers added 11 points, Riley had nine points and Day finished with eight points.
Bowers led with six rebounds, Idoni and McCartney both added four rebounds, Riley had three rebounds and both Day and Irwin finished with two rebounds.
Leading the Bulldogs in assists was McCartney with seven. She has 493 career assists, which puts her 10 behind Carrie Roys' Ferris record of 530. Bowers had four assists, and both Irwin and Idoni finished with two assists.
"We just have to learn and move on," Idoni said. "We just have to take what we learned from it and apply it to our next time because nothing's going to help if we just dwell on our losses."
The Bulldogs will have the opportunity to learn from those losses as they go on the road to take on Lake Superior State University at 1 p.m. on Saturday, Feb. 18.