Stand up comedian LeClerc Andre gave a show in the David L. Eisler Center where he was a part-time comedian and part-time matchmaker.
Throughout the show, Andre engaged with the audience. He wanted to get to know them and have everyone participate in the show. After he finished his set, he had time for a Q&A session and played matchmaker to try and get people to know each other.
"Towards the end of the show, I'll do a Q&A, and I'll also give people an opportunity to introduce themselves to each other," Andre said. "Hopefully, that'll lead to getting a coffee after the show or maybe grabbing some fries locally or something. It's been a really, really popular portion of the show. So, that's something that I want to do more. It's something that I find the students really enjoy."
Andre was successful in his search to find two people and get them to match, bringing elementary education freshmen Delaney Beckett and freshmen Benji Zorn up on stage.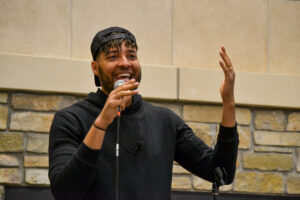 Andre asked Beckett and Zorn a few questions like "what are you looking for in another person" and "are you looking or interested in a relationship?" After the show, Andre bought Beckett and Zorn coffee to get them to talk a little more.
For Beckett, it was a nervous experience. She wasn't sure what she was getting herself into. Zorn, on the other hand, was confident and ready to get up there.
"He was really nice," Beckett said. "He ended up buying us coffee and talking with us for a little bit. He was wholesome and down to earth. The show overall was super entertaining. Some comedians don't make you laugh at every joke, [Andre] made us laugh the whole time."
Zorn enjoyed how Andre participated with the audience and incorporated them into some of the jokes.
"He talked to just about everyone and asked questions about them," Zorn said. "You don't see that from every comedian, so it was cool that he could come into a small town like this and be involved with us students. I think that's a big reason why I liked him so much."
Andre didn't plan to become a stand up comedian, it just happened without him expecting it.
"It wasn't really a choice," Andre said. "When I graduated from college as an English major, I was doing a bunch of freelance writing, and I found myself writing [comedy]. I realized that's where my interest was creativity. So, after writing a bunch of funny skits and a bunch of funny material, I went to see if it was actually good, and that's what pushed me to get on stage."
It took Andre some time to figure out whether people actually enjoyed what he was doing. 
"I started to grow confident in my abilities on stage after five or six years," Andre said. "It was a combination of doing better shows and finding what works for me on stage. I was able to get into it a little more when people started liking it."
Appearing on "The Tonight Show with Jimmy Fallon" and NBC's "Bring the Funny" was a humbling experience for Andre.
"It was one of the most validating experiences I had as a performer," Andre said. "You could do comedy for years and always question your abilities, but having a credit like that really helps make you feel like you belong. That was a really proud moment for me when I did 'The Tonight Show.' After 'The Tonight Show,' I moved onto a show on NBC called 'Bring the Funny.' Being able to get my name out there was amazing. People finally knew who I was."
Music and entertainment business junior and Entertainment Unlimited president Kaitlyn Walters was excited to bring Andre to Ferris.
"Some of our members, including myself, went to a convention for the National Association of Campus Activities, which is a big showcase of a bunch of acts that can come to campus," Walters said. "[Andre] was one of the ones who performed, and we really liked him. We wanted to do what we could to secure him, and we were all happy when we did."
 Entertainment Unlimited plans on bringing in different performers within the next few months, including comedian Adam Grabowski, who is performing on Feb. 23 from 5 p.m. to 6 p.m. To see what's coming next, be sure to check out the campus calendar.