The LGBTQ+ Resource Center and Pride Big Rapids brought the community together for a night of dinner, snacks and dancing.
The event kicked off with everyone sitting at a table of their choosing and eating a variety of food provided by Ferris catering. The room was filled with conversation as participants enjoyed their meal.
PBR President Darin Coleman conversed with attendees, complimented them on their outfits and made sure everyone was comfortable. Coleman has been a member of PBR since 2021 and was one of the original members. Living in Big Rapids, Coleman joined PBR to do more for the community and give people a safe haven to be themselves.
"I have lived here a long time without knowing where there was a safe place to go, where a place I could go to be accepted was," Coleman said. "I thought if I ever had the opportunity to do more, I was going to take it, and when [PBR] was presented, I realized this was something that was actually going to be successful in our community."
Becca Osborne, the director of LGBTQ+ Resource Center, also wants to give the community a space where people can dress and express themselves freely.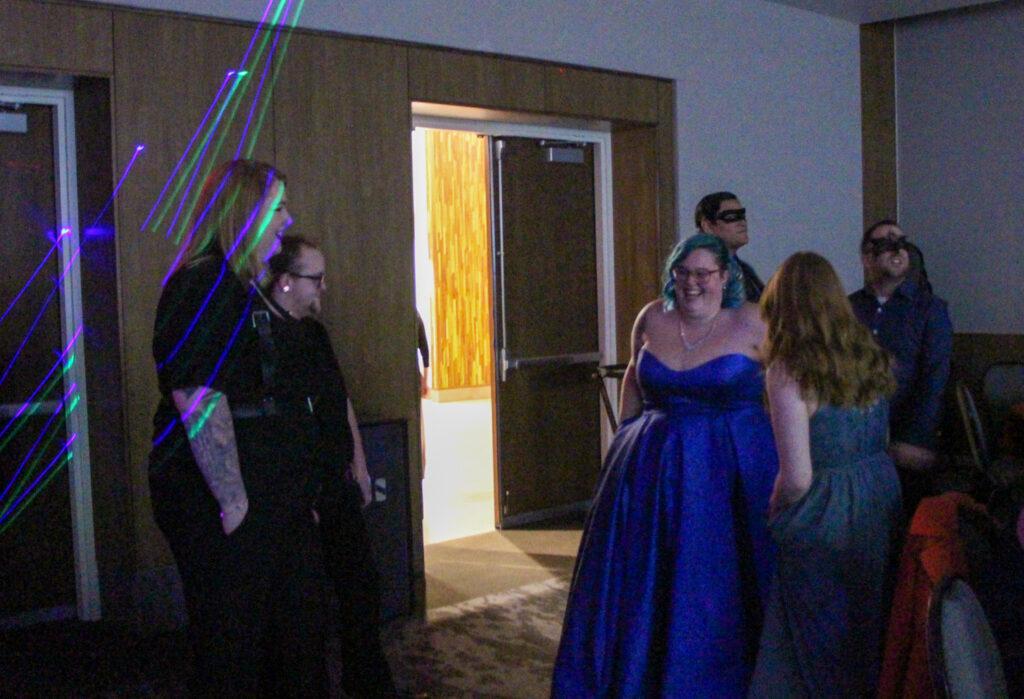 "The queer community doesn't always get to have the experience like a school dance," Osborne said. "Whether that's because of bullying or the clothing that goes with how they choose to identify. If you've never had access to a ballgown before and you were never allowed to wear one, this is the kind of opportunity to do things like that."
When the clock struck seven, more students swarmed in ready to show off their dancing skills and outfits. Medical lab science junior Breanna Hall entered the ball in a white wedding dress with a flowing train and a long veil that went down with her hair.
"I am a queer student, so being able to be with other queer people is really nice," Hall said. "I need to be able to get out because school can really bring you down."
Casmra Bogucki was invited to the ball by their mom, Pamela Bogucki, a former Ferris professor. Casmra and Pamela showed up to the function wearing matching teal shirts.
"I feel so privileged to be able to do that," Casmra said. "I know that so many people, especially queer people, have really rough relationships with their moms, and to be at a queer event dancing with my mom, it feels sacred."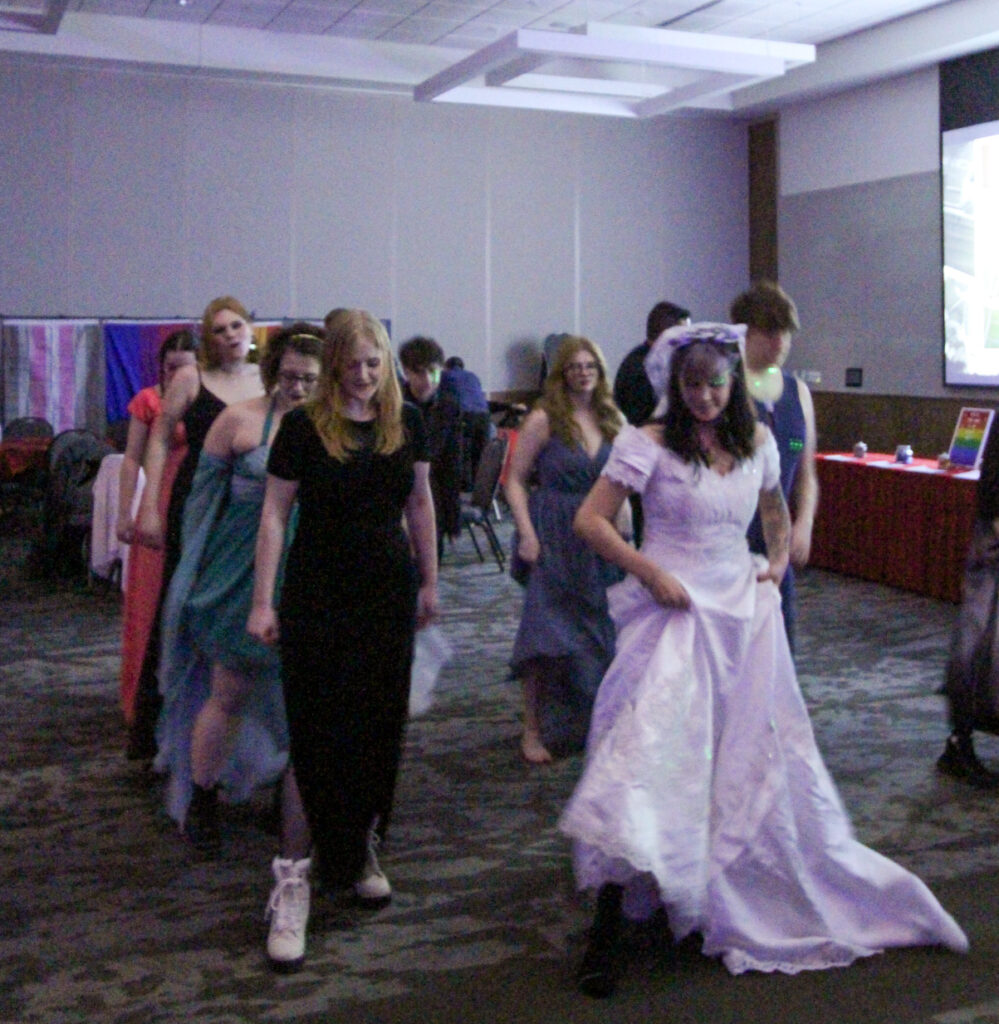 DJ and musician Allison LeVeque performed a live show, singing a few pop songs for the audience. She has been performing professionally for 20 years and is currently working on a cover for the song "True Colors" by Cyndi Lauper to hopefully resonate with the LGBTQ community.
"I think that if more people could be more open-minded to the LGBTQIA+ community, I think the world would be a better place," LeVeque said.
The next big event PBR will be hosting is the Pride Festival on June 25 from 12 p.m. to 8 p.m. There will be food trucks, band music and a drag show. If you are looking to become a member of PBR, meetings are held on the second Sunday of every month at the United Church of Big Rapids.