A rambunctious, red crowd rilled the R.L. Ewigleben Sports Complex on Saturday, Feb. 11. 
The sports careers registered student organization sponsored their annual Red Out event, raising awareness for women's heart health. Their event, usually lasting three days, was packed into one Saturday this year.
According to the American Heart Association's Go Red for Women, "cardiovascular disease kills more women than all forms of cancer combined, and yet only 44% recognize that cardiovascular disease is their greatest health threat."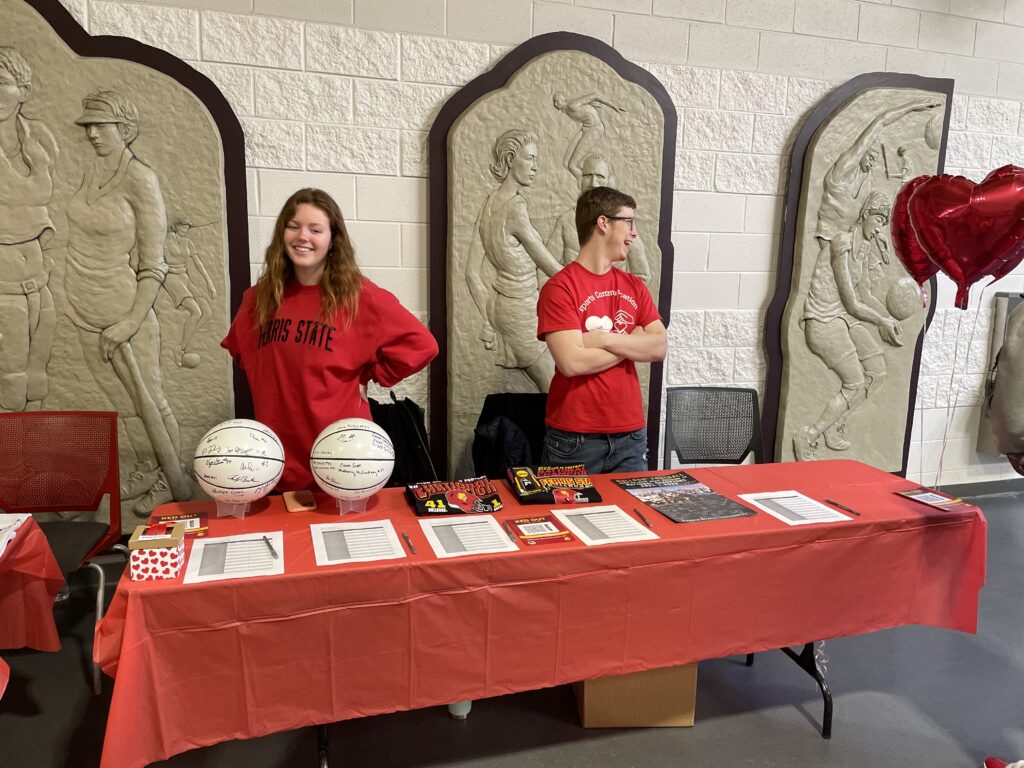 There was a silent auction held during the men's basketball and hockey games. The hockey silent auction included two themed gift baskets, golf reservations at Tullymore, a signed picture of former hockey player Mike Eruzione and two hockey jerseys and sticks signed by the team. All silent auction and information table donations are going toward the cardiac unit at Cornwall Health in Big Rapids.
Sports careers faculty advisor and Ferris professor Dr. Sandy Alspach was over the moon with the event's production and turnout.
"We didn't have any idea we'd get this big when we started this event," Alspach said. "It just keeps growing, and now we get to do better than the year before. It's a national event."
The American Heart Association has been nationally celebrating heart health in February for 60 years. The sports careers RSO modified the event to specifically target women and has brought awareness to heart health for 11 years now.
Sports career co-social media coordinator and sports communication junior Claire Bressler had a particular connection to Red Out.
"My grandma died right before Thanksgiving of a stroke, so it's very special to be able to help something so important to my family and bring awareness," Bressler said.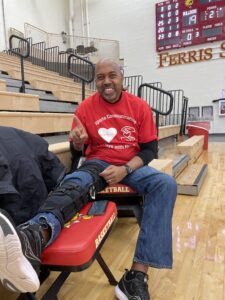 At the end of the all-day event, the RSO managed to raise $3,727 for women's heart health in Big Rapids. Sports communication junior and the co-social media coordinator for the RSO Bethany Mckinney felt good about the event's outcome.
"We're delighted with all the sponsors that we got," Mckinney said. "We scored donations from different organizations like the Griffins and Tullymore."
"Last year we raised $1,200, and we broke that record," sports communication senior and sports careers member Courtney Mcmillian said. "Our team couldn't be happier to be able to donate so much to such an important cause that hits close to home."
Unfortunately, the Bulldogs took a 6-2 loss in their second game against Bemidji State, putting playing on home ice for the playoffs in jeopardy. The all-red Dawg Pound was relentless in cheering on the Bulldogs and attempting to bring down the spirit of their opponent. Although the Dawg Pound was filled with disappointed Bulldogs, the season-long hockey fans' optimism never wavered.
Criminal justice junior Faith Faille appreciates the maintained energy fans have, even when the Bulldogs aren't winning. She believes the atmosphere on the ice is different from other sports and the energy of the Bulldogs student section is "unmatched."