Bob Daniels has 575 career losses as the head coach of Bulldog hockey. One of those losses stands out from the rest.
The Bulldogs lost to Michigan State on Nov. 13, 2021, after leading 3-1 late in the third period. The loss made Daniels really upset, the first time in a long time he felt that way following a loss.
That loss was also three years after his wife died.
Leslie Daniels died from cancer in April, 2018. Two things were key for Bob as he grieved the loss of his wife: hockey and family.
"The rink was a relief," Bob said. "During practice, it was a way to get my mind off other things that came into play… Hockey was a good distraction during that time period, a really healthy one."
Bob also relied on his youngest daughter, Sara Daniels, who was a junior in high school at the time of her mother's death.
"While my dad and I were always close, living through losing someone you love mutually makes you even closer," Sara said. "My last two years of high school were a lot of me and my dad being a good team and getting through it together. It brought us even closer to lose someone together and learn how to live through grief together."
It took over three years, but following Ferris' loss to Michigan State, Bob noticed a big change in himself.
"The one time I knew I was starting to get back to myself was when I got really upset after a loss," Bob said. "There was a time where I didn't have that emotion anymore. It was just, 'Okay we lost, now it's onto the next thing.' All of the sudden, I was back to being very upset. It felt good to care again that much."
Hockey and family were always important for Bob, and he needed both during one of the most difficult times of his life.
Surrounded by hockey
Bob grew up around hockey. His brother played, his sister figure skated and his father coached. At five years old, Bob started playing hockey, expecting even then to one day be a coach.
Years later, he played at Michigan State University for Ron Mason, the fourth all-time winningest coach in college hockey history. Bob played in only one game during three seasons under Mason. He was okay with that, though, because he knew he was learning from a great coach.
Without interest in coaching professionally, Bob focused on collegiate coaching. He loved the "vibrant" feel of college campuses and all the opportunities they offered. College coaches also had one thing professional coaches did not: stability.
"In hockey, particularly in the professionals, you're hired and the clock starts ticking and you're going to get fired, almost invariably," Bob said. "If you decide you're going to have a family and you want your kids to be rooted in an area… that would be very disruptive."
Bob got his master's degree as a graduate assistant from Miami University before moving to the University of Illinois-Chicago as an assistant coach from 1987-1989. He quickly found that the city life was not for him, instead believing that a small town atmosphere was more his style. When a position opened at Ferris, he jumped on the opportunity.
Leslie loved the city, but Bob "dragged her" to Big Rapids, where they both fell in love with the community and Ferris.
Starting his family
Soon after moving to Big Rapids, Bob and Leslie started a family. Their three children also fell in love with the area.
Bob's oldest daughter, Jenna Daniels, came to Ferris to compete on the track and cross-country teams. Pete Daniels, Bob's middle child and only son, attended Ferris and earned degrees in finance and accounting. Sara, the youngest Daniels child, went to Central Michigan University on a full-ride scholarship and loved spending time with her dad at the hockey rink as a kid.
"I remember finger painting in his office while he worked," Sara said. "I loved going to work with him or to games with him… A lot of our relationship when I was young centered on hockey even though I didn't play. It was really fun."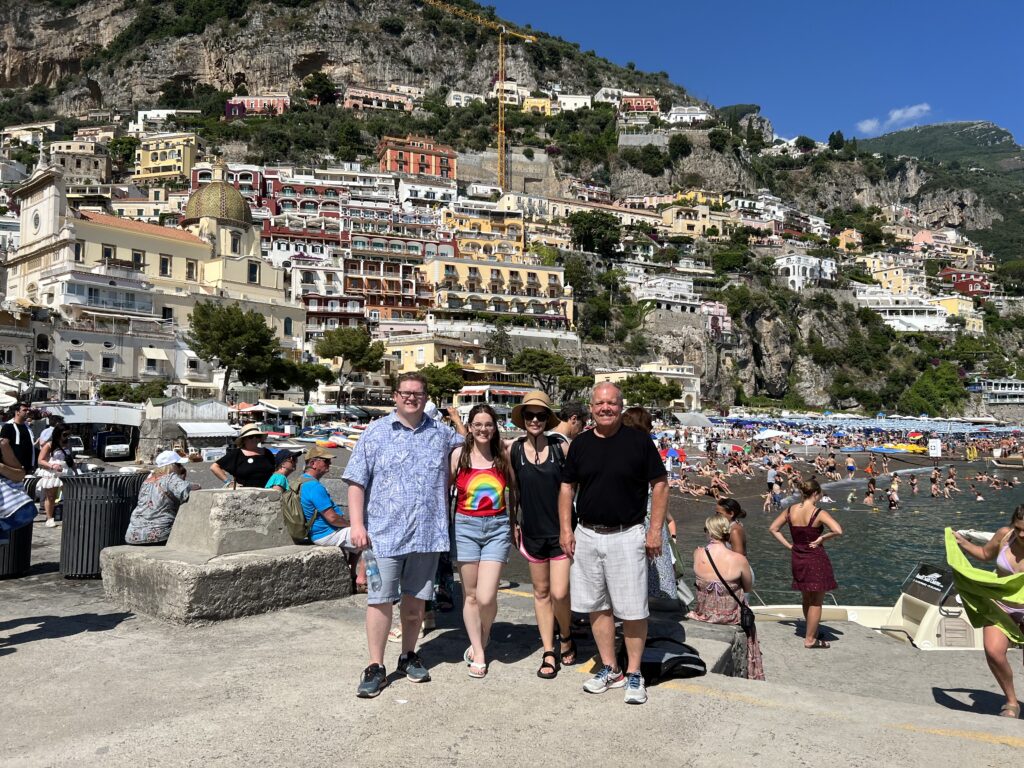 All three of Bob's children were athletes in high school. Jenna ran cross country and track. Pete golfed and played hockey. Sara played tennis and soccer and was also a member of the Grand Rapids Youth Symphony. Watching his kids pursue their passions, athletic or otherwise, was a great pleasure for Bob. Sara recalls her dad always being her biggest supporter.
"I remember the day I decided to play tennis," Sara said, "Without questions asked, he bought a tennis racquet for me, a pair of tennis shoes for me and we went out and practiced together. Even if it was something he didn't have experience in or personal interest in, the most important thing for him was that I was happy."
Bob found all the sports his kids played to be "different animals" than hockey. None of the fans spent time yelling at the athletes or the referees; they wanted everyone to succeed.
To this day, Bob is close with his children. He hopes to go to Okinawa, Japan to spend time with Jenna while she is stationed there as a dentist in the Navy. He also talks to Sara on the phone every day.
Finding success
In his 31st season with the Bulldogs, Bob is the longest tenured and all-time winningest coach in Ferris hockey history.
The Bulldogs won 21 games and appeared in the CCHA semifinal during the 1992-93 season, Bob's first as head coach. On March 4, 2000, he recorded his 120th Bulldog victory, the most in Ferris hockey history.
In the 2011-12 season, Bob guided the Bulldogs to the program's first ever Frozen Four appearance and a subsequent appearance in the national title game. He was chosen as the CCHA and National Coach of the Year.
The Bulldogs finished the 2002-03 season 31-10-1, the best record in program history. Ferris won the CCHA Regular Season Championship and played for the west regional title in the NCAA Tournament. Bob was both the CCHA and National Coach of the Year.
Bob has also found success in building strong relationships with his players. Junior goaltender Logan Stein feels he has a great relationship with Bob. Stein appreciates the way Bob has helped him mature as both a hockey player and a person.
Recent struggles
COVID-19 had a drastic impact on many programs across the country, and Ferris was no exception. However, Bob feels the Bulldogs started to struggle before COVID-19 plagued the 2020 season.
Even before Leslie died in 2018, Bob often felt distracted as she battled cancer for over two years. Hockey was difficult during this time, and the Bulldogs went 13-19-5 and 14-23-1 in the 2016-17 and 2017-18 seasons, respectively. This was after Ferris finished 20-15-6 in the 2015-16 season.
Bob kept coaching while Leslie fought cancer. He was thankful for his coaching staff, as they "picked up the slack" while he was distracted. He also appreciated that Ferris, specifically President David Eisler and Athletic Director Perk Weisenburger, understood his situation and gave him a lot of grace. Bob also credited the Blueline Club boosters for their great work with the hockey program.
"When you're all the sudden missing meetings and distracted, that club is looking for someone to give them a vision," Bob said. "You don't have anyone at the wheel all of a sudden."
Even with the university on Bob's side, he could still feel the program trending downwards. That trend continued when COVID-19 struck.
"The COVID year impacted us so immensely," Bob said. "We had a ton of freshmen. Those kids were not in the kind of shape where they could afford to take a week off under quarantine. We were rolling out a beer league team. We were out of shape, and we were fat."
Off the ice, COVID-19 affected the players emotionally and socially. Stein, a freshman at the time, said having a life outside of hockey was difficult.
The Bulldogs struggled to a 1-23-1 record in the 2020-21 season before making a big jump in the win column for the 2021-22 season, finishing at 11-24-1. In the 2022-23 season, the Bulldogs currently sit at 12-16-4 and are competing for home ice in the CCHA playoffs with one weekend left in the regular season.
Athletics Communications Associate and Ferris Hockey Sports Information Director Harrison Watt greatly respects Bob for how he was able to push through difficult times and work to get the program back on the right track.
"It gives me more respect for him with all the things he's been through and overcome, especially when you talk about the team going into a bit of a dive," Watt said. "I've seen the highs. I've seen the lowest of lows. He doesn't change; he's very constant. That's one thing I really respect about him."
Bob sometimes found the time commitment as a collegiate coach difficult. This was made even more challenging after Leslie's passing, as Sara was still in high school, and Bob did not want to miss any of her events.
With the stresses that come as a college head coach, Bob had to find things that worked as stress relievers. He does that through hobbies, which include golfing, boating, road biking, traveling and hiking. With so many hobbies, Bob said he often faces the problem of not having enough free time to enjoy them all.
"I will one day, but that day isn't here," Bob said.
As it turns out, that day might be fast approaching.
What's next?
Where does Bob see himself five years from now?
"Retired, probably," Bob said. "I don't know if I'll be retired, retired. There might be something else out there I want to dabble in. It might be hockey, or it might be something else… Maybe I'll just come around the arena and second guess the coach [and] say things like 'What's wrong with your power play?' I'll be like all the other fans."
One thing is certain, before he leaves Ferris, he wants to make sure the program is performing more like it did between the early 2000s and 2016. He thinks they are close to that level, and he would love to add another couple of CCHA Championships and NCAA tournament appearances before his time at Ferris is done.
He's achieved a lot, overcome even more and stayed loyal to Big Rapids and Ferris for over three decades. Even as the clock ticks toward Bob Daniels' retirement from Ferris hockey, the Bulldog legend hopes to leave an even stronger legacy for the community and people he loves.