For over three hours, around 400 students moshed in Williams Auditorium to appreciate a new sound brought to campus by the Michigan Made College Tour.

On Friday, Feb. 17, Truu Colors Entertainment's Michigan Made College Tour made its fifth stop at Ferris. This tour features YN Jay, Skilla Baby and other up and coming Michigan rappers.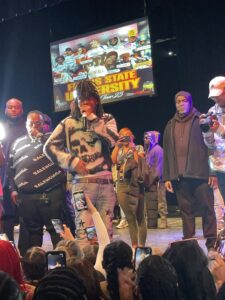 At 7 p.m. the show started with the tour host Toheeb taking the floor. His presence set the tone for the night. Students rushed their way through the mob to try and get a spot at the front of the auditorium. Each performer brought something unique to the stage, keeping the crowd's energy high. Other performers included Louie Ray, MylesxDope, Big Jungle and Kenyatta Rashon.

Nick LaVelle, Truu Colors Entertainment's owner and tour organizer, believes giving these performers a platform and an audience is crucial to establishing the energy of the show.

"I wanted to take artists that have a smaller audience, put them in front of a crowd while on stage with other artists and see what they can do with it," LaVelle said. "It's rewarding to see the smiles on the smaller performer's faces because, at the end of the day, it's about making them happy along with the crowd."

LaVelle wanted to devote a whole tour to Michigan universities, so the show was not limited to one school. It also gives students the chance to enjoy a new demographic of live music at a low price.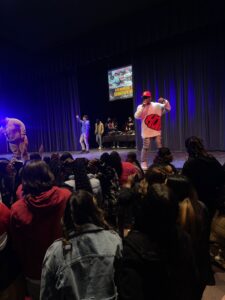 The Michigan Made College Tour also partnered up with Score Gold, a student resource network, to randomly select two full-time college students at each show. The two students will receive a textbook scholarship to help them out financially for the next semester.

Students enjoyed their time and danced with intensity. A traditional mosh pit even opened up when Skilla Baby threw his sweatshirt into the crowd. The show carried on until 10:45 p.m. Skilla Baby eventually called the audience on stage, where everyone joined him to end the night with one final song.

LaVelle has been planning the tour since October and explained how difficult it has been to coordinate with each university and to plan around the artist's schedules.

"It's been a battle, an up and down roller coaster process," LaVelle said. "It has not been smooth or easy at all. I have had universities pull out a day before the show after months of planning and even universities try to breach our already signed contracts. It gets discouraging."

According to LaVelle, these last minute changes seem to be racially motivated, and when planning for a tour like this, it is sadly something he has to look out for.

"I have dealt with a lot of prejudice and indirect racism," LaVelle said. "When you have a lot of urban students and Black students, and that's the primary target market, a lot of these universities fear that. They fear all of us together in a concentrated area. Believe it or not, we haven't had one issue at any event. But when it comes to planning it, that's the stuff I have to look into."

Although LaVelle has experienced some racial discrepancies, he is devoted to bringing the community together through music and proving that urban events can work.

"We can bring everyone together," LaVelle said. "These event turnouts have been more than just African Americans. All races have come out, and that's been the biggest draw from this whole tour. We're showing them the target market isn't just for Black people, it's for everybody. It's so much more than rap."

The Michigan Made College Tour's final stop at Michigan State University, which was scheduled for Saturday, Feb.18, has been postponed. For updates, ticket inquiries and more, visit the Michigan Made College Tour website.