Ashlee Haze took the Ferris community to poetry church as her performance was praised with snaps, amens and hallelujahs in the David L. Eisler Center.
On Wednesday, Feb. 15, the acclaimed poet traveled from Atlanta, Georgia to Big Rapids to perform spoken word poetry and promote her second book, "Smoke." Haze is one of the most accomplished professionals in slam poetry, a competitive and lively form of art, and has won national awards for her work.
Haze has earned herself the nickname "Big 30," a name inspired by her many perfect slam poetry scores. She has been writing for more than 15 years and has been active in the Atlanta poetry scene for more than ten. She is a three-time Queen of the South Poetry Slam winner, a two-time Ladies of the World Poetry Slam semifinalist and a two-time National Poetry Slam semifinalist.
At Wednesday's performance, Haze spoke about her experience as a Black woman, her inspirations and how she first fell in love with the art.
Chemistry and psychology freshman Kya Adams appreciated that Haze offered a background for her poems, giving the audience a deeper understanding of her life and work.
"I love how she explained the story behind her poems because there's always something or a reason why she had written them," Adams said. "I feel like that helps the audience look at it from a deeper perspective, [instead of] coming up with something and putting together a meaning of their own, either through their experiences or trying to examine through the reader."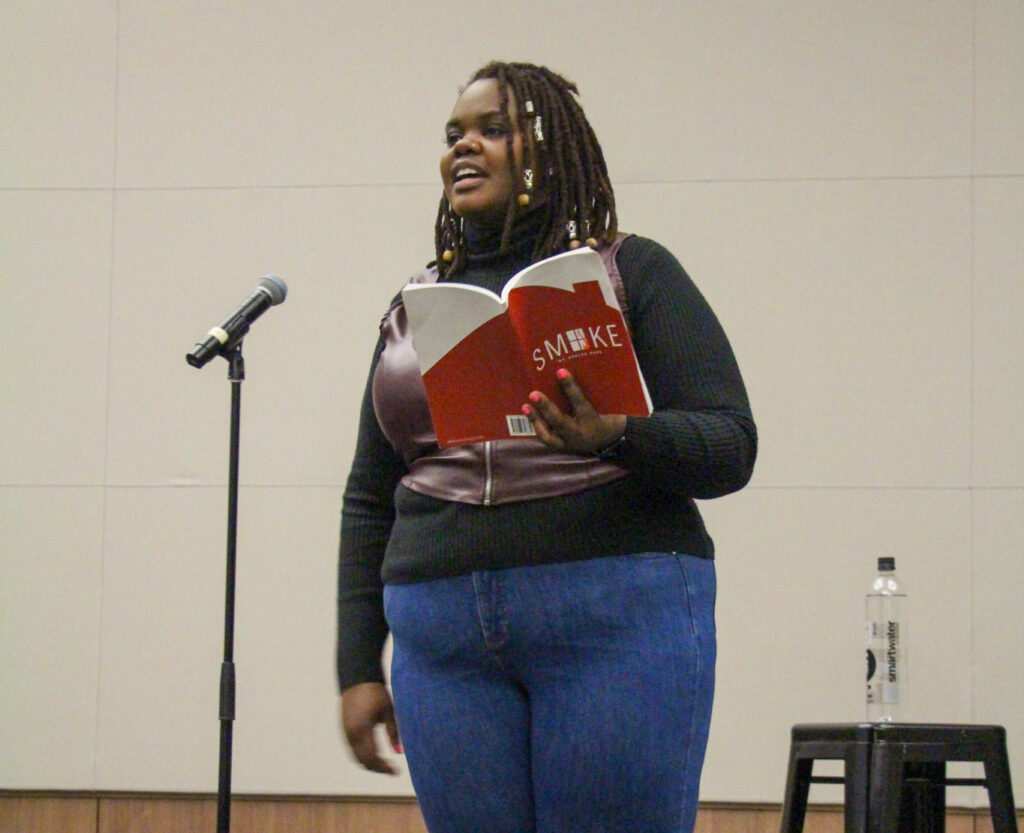 Adams was also able to see herself in Haze's work, supporting the poet's belief in the importance of representation.
"I felt inspired because I could relate in a way," Adams said. "As a Black woman, some of what she read were things I could understand, such as how we shared similar childhoods in a Black household, like how our mothers would act. While there were also other things that I did not [share]. I saw through her words and figured them out myself. Her poems were hypnotizing."
A selection of Haze's original poetry from the book "Smoke" was read aloud. She spoke from the heart and lit up the room with her assurance, self-love, humor, soul and sparkling presence.
In many of her works, Haze discussed personal experience, bravery, healing, empowerment and community. A respectful yet responsive audience expressed their feelings through snapping fingers, a typical form of applause in the world of poetry.
"For Colored Girls (The Missy Elliot Poem)" was a poem she had written about one of her heroes, Missy Elliot, who caught wind of the poem and surprised Haze at her home. This poem put her on the map and behind NPR's infamous Tiny Desk.
Haze's mother encouraged her to begin writing poetry at only ten years old. What began as activity for a mother-daughter event eventually became her life's work.
"To be honest, I think I just responded to the response," Haze said. "I was like, 'Oh, I can keep doing this. I keep saying things and people are liking it.' So I just kept writing. I've met people all the time who [say], 'I used to be a poet.' The only difference is that I just never stopped being one."
Haze sold merchandise and did a book signing after the performance concluded. If you wish to learn more about Haze or want to read any of her poems, visit her website ashleehaze.com.