Deng Reng was playing well this season before his scars of the past resurfaced when he tore his ACL again, causing him to require surgery and be sidelined for the rest of the season.
While Reng focuses on rehab, he will be on the bench supporting his teammates.
"[I'm] trying to uplift everybody and get us going," Reng said. "I want us all to be really strong and just continue to grow and build."
This injury comes after Reng missed all of last season as well.Before preseason play began last year, Reng tore his ACL, MCL and LCL, which required surgery.
Reng had also been injured during the start of the COVID-19 season. He decided that he would get surgery to clean up his patellar tendon.
It has been a tough road to recovery for Reng, as he's been injured for most of his college career.
"That whole process was just really stressful," Reng said. "I've never missed a whole season of basketball before, and I really had to find things that I enjoy doing outside of basketball, and there wasn't really much that I [liked] doing other than going to a gym and just getting some shots up."
Reng's recovery was not always easy, but support from his family, teammates and coaches helped him.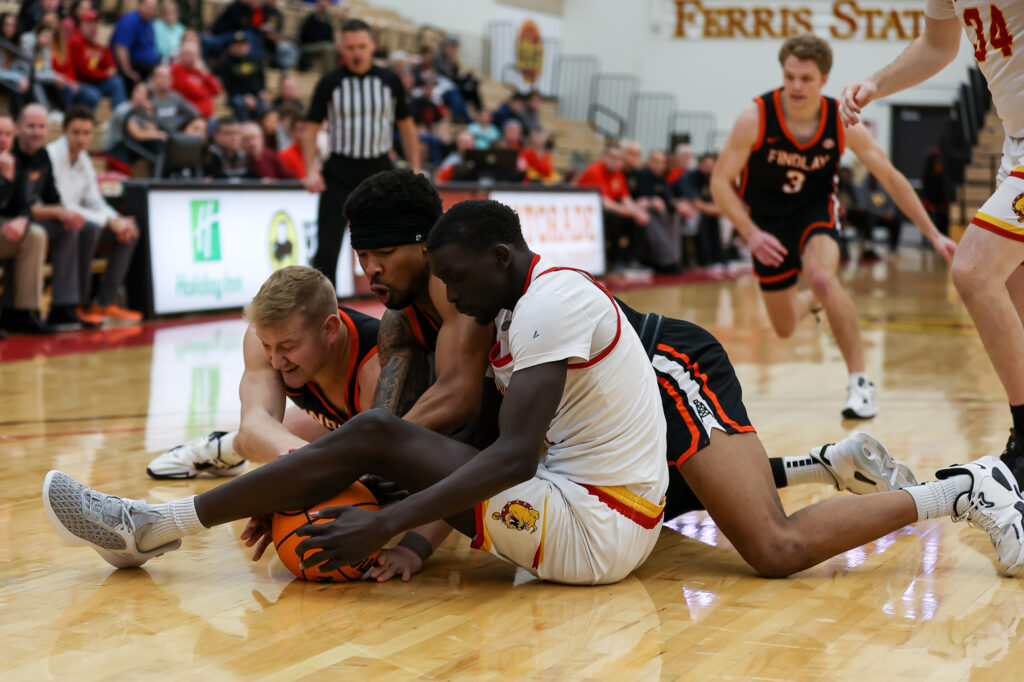 "Everybody sees Deng as like the star player at our house," Kar Reng, Deng's older brother, said. "We just wanted to keep him… positive. We always gave him… words of encouragement that this was like a minor setback for a major comeback, which he got to like and grew to… fall in love with."
While on the bench all last season, Deng encouraged his teammates and always showed great energy.
"He was awesome," assistant coach Josh Fleming said. "He was always in the huddle. He was always giving feedback and… giving advice to his teammates."
After missing the 2021 basketball season due to a knee injury, Deng returned to the court and was looking to help his team to a GLIAC championship.
The 6'6 redshirt sophomore forward averaged 5.5 points and shot 45% from the field as a freshman.
"It just really gave me the confidence that I needed… going forward with the season, and, you know, I did pretty good, which was enough to help the team and win the GLIAC championship," Deng said about his play during his freshman season.
With time off from his injuries, Deng believes he has improved his game while on the bench because he has seen a different perspective.
The work that Deng has put in during his injury process comes as no surprise to those that know him.
"Deng is a very hard worker, so he puts in the work, and I'm ready to see him reap the benefits of all that work," former teammate and Bulldog Dorian Aluyi said.
Deng's return to the court was much needed this season, as the Bulldogs saw many players graduate last season. Stepping into a larger role coming back, all of Deng's work had been paying off, as he found himself back on the court playing good minutes this season. 
Throughout 14 games this season, Deng helped the Bulldogs to a 10-4 overall record and a 2-2 record in GLIAC play on the season. Deng appeared in 13 games and started in eight this season, averaging 9.7 points and four rebounds while shooting 57.7% from the field, 47.1% from three-point range and 75.7% from the free-throw line in 19.3 minutes per game.
"Coming off the bench or starting," Flemming said, "to have somebody with that type of energy [and] putting forth that type of effort on every play… Deng's the type of guy that never seems like he's tired… He's always everywhere on the court."
As the Bulldogs look to win a GLIAC championship, Deng had a big role to play on this team this season.
After his hiatus, Deng was looking to make an impact.
"I have a lot of goals," Deng said. "One is trying to make first-team all-conference defensive player. I think the main one is just trying to win the championship at the end of the year. I think that will be the icing on the cake."
Due to his injury this season, he will miss the opportunity to be on the court to accomplish those goals.
The team is 21-6 on the season and 12-4 in GLIAC play and holds the first place in the GLIAC standings. 
Deng still wants to help this team win a championship, even though now it means helping from off the court.