When the Kansas City Chiefs won Super Bowl LVII, Ferris alumnus Barrett Jones basked from the sidelines to watch the confetti fall.
The young Ferris alumnus was able to kick start his career with the National Football League less than two years after graduating with a degree in sports communication. Even though Jones didn't come from a media arts or D1 school, that didn't stop him from working at the biggest football game of the year.
Behind the lens of the NFL 
Jones was one of three interns accepted by the NFL Films production team, the most they have had since COVID-19 started. The first few weeks on the team were dedicated to learning about the NFL systems and organizing equipment. 
Interns worked primarily as assistants and could not film professional games. They still used the $60,000 cameras to shoot local New Jersey high school football games. Jones was lucky enough that some of the cinematographers would let him shoot pregame before NFL games.
The NFL Films team flew to Arizona one week before the Super Bowl. Jones worked on various projects throughout the week with top athletes to prepare for the biggest game of the year. It didn't hit Jones until Saturday night what this trip really meant for his career and for himself.
"We went out [to] kind of like our department dinner, and I was like, 'Oh, we're going to get to work the Super Bowl tomorrow,'" Jones said. "Getting to work one of the best Super Bowls in the past years was unmatched. For me and my cameraman to walk down on the field, that's stuff you're not going to forget. It was pretty special."
Although Jones didn't make it to the Super Bowl as a player, he felt fulfilled with his experience.
"The whole experience was insane," Jones said. "I was ecstatic. We walked out there for pregame, and you can feel the energy building. I still get chills. I don't know if this is like conditioning, but I still get chills from the national anthem being sung… You always dream about going to the Super Bowl… Hopefully that's not my last, but if it is, I am glad my story was able to come full circle."
Jones' career with the NFL might not have happened if he hadn't taken a media class to fill a credit.
Finding a new passion 
Jones started his college career playing football for Alma College while majoring in political science. He stayed at Alma for two years before a concussion ended his athletic career. While it was hard to walk away from the field, he knew that he had to stay around the game.
On a whim, Jones took a class about basic media and fell in love. As a D3 school, Alma didn't have enough resources, so Jones decided to transfer to Ferris to start his junior year studying sports communication and multimedia journalism. This is where he met Rob Bently.
Bently, who is the associate athletic director, became Jones' boss when he started making videos for the Ferris Athletics department. Through the freedom that Bently gave Jones, he was able to grow as a creator and get to where he is today.
Due to the high demand for videographers, Jones and Bently spent a lot of time together at Ferris and on the road. Even though Jones was still a full-time student working a part time job, he still dedicated most of his time to creating content.
"His work ethic was stronger than a majority of the student workers we typically have," Bentley said. "He spent countless hours both shooting and editing video content along with other duties. He ranked up there with some of the highest caliber students we have had due to his strong passion for being the best he could be."
In order to achieve the goal of filming Ferris football, Jones delayed his graduation by one semester. His chance to film his senior year was one of the many things taken away by the pandemic. All the long hours paid off when Jones was asked to travel with the football team in 2021 for the national championship game.
Being the only student on the field for Ferris Athletics, Jones stepped up to the challenge. Little did he know this wouldn't be the last time he stood on the field after a major football game, surrounded by excited fans and falling confetti.
Life after graduation 
As the excitement from winning the national championship game subsided, Jones had to figure out what was next for him. Since he split up his last semester, it was an odd time to find a job, as most professional teams were already fully staffed.
While applying for university jobs, he came across an internship with NFL Films. Originally Jones didn't know much about the position other than who they were and what they were responsible for. He just knew he wanted to "throw [his] hat into the ring."
Jones had applied for this internship in late February and didn't hear back until June. By that time Jones had already taken a job with Minnesota Duluth's production team. Two days before he packed his bags to start his new life, he got a call about doing a virtual interview. Thinking he bombed the interview, Jones headed out to Minnesota to prepare filming fall sports.
In mid-June Jones was asked to do a second interview. Two weeks later he received a call offering him a position.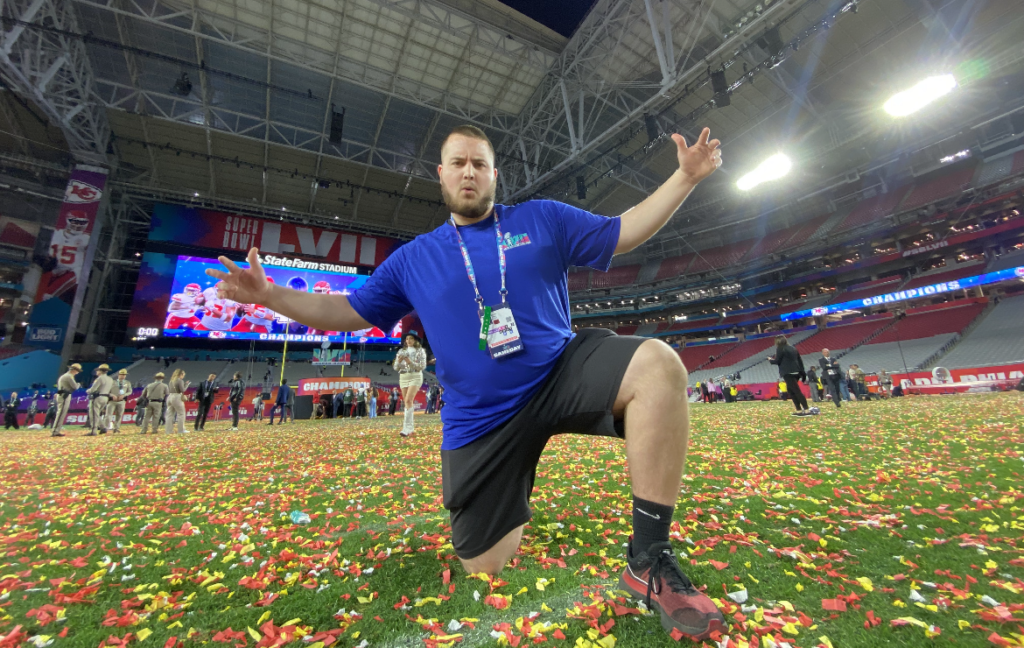 "When the NFL comes knocking on your door, you would be crazy not to keep it open for them," Jones said. "You would regret it for the rest of your life."
Now, Jones has returned to his Michigan roots, where he is currently helping his parents by filming the Alpena High School robotics team. He is currently waiting to hear where he will go next in his NFL journey.