Black History Month closed to the tune of triumphant trumpets, chilling chimes and presidential spoken word on Sunday.
The finale of Big Rapids' 16th annual Festival of the Arts coincided with the closing weekend of a passionately celebrated month on Ferris' campus. Community members of all ages gathered on and off stage at Williams Auditorium for a collaborative tribute to Black composers.
Ferris' West Central concert band and chamber orchestra performed together with Daniel Dade, a 24-year-old guest composer.
"It's really cool to see a community come together to create music. You don't really see that often and you don't see bands this good doing that," Dade said.
He traveled to Big Rapids to conduct his song "Attack of the Toy Planes." Dade jogged up the stage stairs in a blue floral suit, further emphasizing his youth, before explaining the wide significance of the piece.
What starts out with an uplifting melody, evoking imagery of children playing with toys, soon turns dark. Military-style marching drums and pointed piccolo notes tensed the attentive audience. The planes and their inherent danger had become real in the piece. Only periodic flu-season coughs and sneezes from audience members could pull the listener out of Dade's musical world.
Dr. Dale Skornia took a break from directing the chamber orchestra to play alto saxophone on the piece. Both Dade's musicality and the quick transitions from the orchestra pit to center stage took Skornia's breath away.
"He brought what he felt the piece [meant] to him. His piece is fun to play anyway, but it was even more fun with him. That's what music is all about," Skornia said.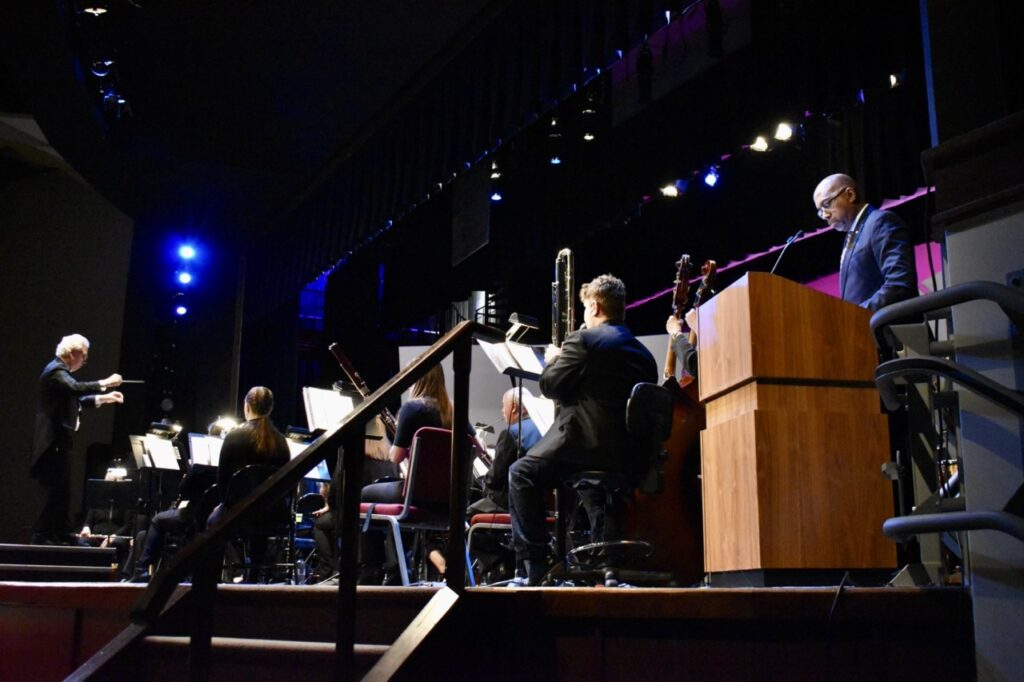 Dade, a 2021 Michigan State University graduate, is in his second year of teaching choral music at Grand Ledge High School near Lansing. His original compositions have been performed by university and military concert bands and choirs across the country.
Humanities Chair, music professor and concert band director Dr. Richard Scott Cohen sees collaboration as one of the greatest joys in music. He thoroughly enjoyed working with Dade.
"It was a really, really good opportunity. I think you're going to hear a lot of good things about this young man as time goes by. It's wonderful," Cohen said.
Skornia and Cohen expanded their own musical horizons through research to select all nine pieces performed on Sunday. The arrangements ranged from traditional folk music to a compilation of jazz legend Duke Ellington's greatest works. 
"We did a lot of research of music, some by composers of African descent, and we became familiar with people that we had not been familiar with," Cohen said. "So that was kind of exciting. And then looking around for other pieces, we came across the music by our featured composer, Daniel Dade."
The show concluded with the rousing "Lincoln at Gettysburg," featuring narration from Ferris' own President Bill Pink. The concert band and chamber orchestra played together on this piece inspired by the Gettysburg Address.
Any active Ferris student is familiar with Pink's voice. In contrast to his typical lighthearted and personable demeanor, the president recited Lincoln's words with a booming voice and diplomatic articulation.
Pink was pleased to participate in a creative performance for Black History Month, something that is rarely presented to him during his usual executive work. 
"This has been a great month for not only our Black History Month celebrations, but also for Ferris State and our involvement in the Festival of the Arts," Pink said. "I think it's interesting, and I think very appropriate for us to end this month with a combination of both."
The president made sure to thank the student performers for their contributions to this university. Information security intelligence sophomore Christian Smith, one of the few people of color on the stage, was proud of his performance on the upright bass.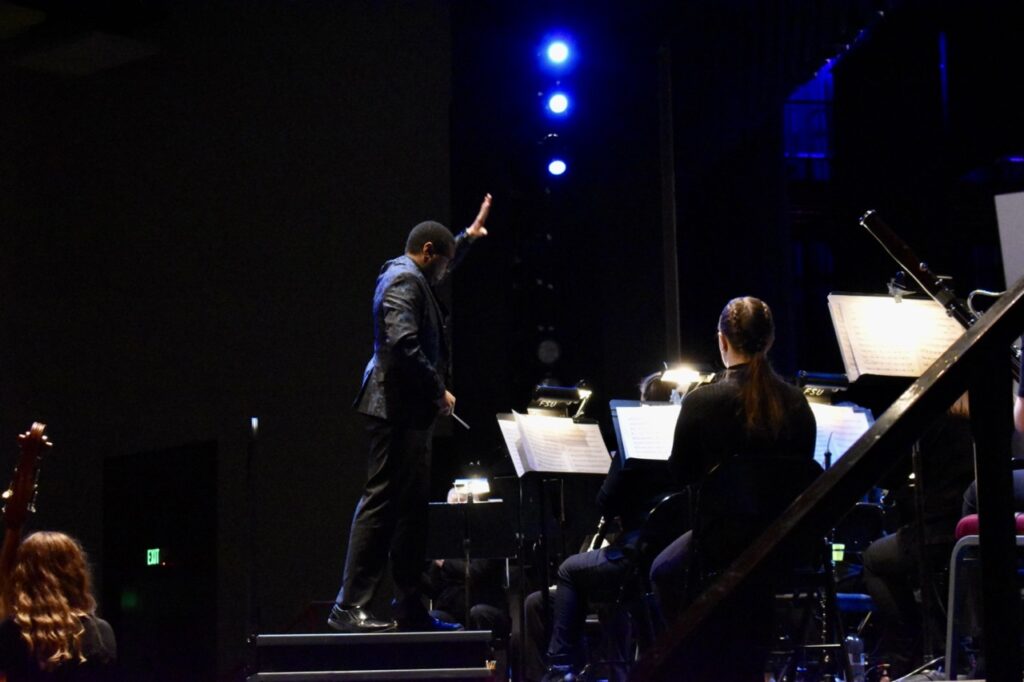 "I thought it was a really neat way to end the month," Smith said. "Personally, I probably will continue to look into these composers. It's so easy to get obsessed with big names like Bach and Beethoven.Actually learning about some of the more niche areas that we don't really talk about a lot in music history, I thought that was really cool."
One audience member came to support her friend in the percussion section and may have made a new musical friend at the show. Gianna Finch, a high school student at Niles New Tech Academy, exchanged emails with the guest composer Dade to further discuss the real themes of "Attack of the Toy Planes."
"I loved [the concert]," Finch said. "I like listening to music, thinking about what could be going on behind the producers' mind."
Finch plans to join Ferris' orchestra as a freshman in the fall of 2023.
Visit fsutorch.com to read previous coverage of Black History Month and Festival of the Arts events.