Bringing to life the party from Latin America right into the ballrooms of the David L. Eisler Center.
On Thursday, March 23, the Latine Cultural Celebracion was in full motion with color, lights and music fit for a festival. The origins of the event stemmed from the Center of Latin@ Studies and their desire for more attention to be given to Latin culture and their students.
Digital animation and game design senior Lucas DeCampus came up with the idea of having an event to represent and celebrate his culture as a Brazilian.
"We've been trying to make something representative of our culture," DeCampos said. "We do have a lot of other events on campus that are also Latino/Hispanic, but at the end of the day, as Brazilians we're not Hispanics, we're just Latinos. We come and we support all the events, but sometimes we don't really fully feel represented. So we thought that it would be a really good idea to do a carnival because carnivals are huge in Brazil and in the Dominican Republic."
DeCampos said he thought the event would be very fun and inclusive, especially since Promesa Scholars Coordinator Massiel Calderon is from the Dominican Republic. He pitched the idea to Calderon as a Jeopardy game night, but more ideas came up to make the night into a celebration.
With talks between DeCampos, Calderon and the Center for Latin@ Studies Interim Director Sonia Trevino, the Latine Cultural Celebracion was created.
DeCampos decided to collaborate with the Office of International Education, where fellow classmate and architecture and sustainability junior Rayssa Schmitt Reinert works. DeCampos knew how much Reinert wanted to do something to celebrate, since she is also Brazilian.
"Carnival is a really important festival in Brazilian culture, and for a while I had been talking about doing a Brazilian celebration at Ferris," Reinert said. "One day, [DeCampos] just came up to me and said we should do a carnival celebration… I just always loved talking about Brazil since I moved to the U.S. I love sharing my culture with others and learning about new cultures as well, so I'm always happy about telling others about my culture and showing what it's like."
Reinert was especially happy to share the Brazilian carnivals in a way that stop harmful stereotypes and helps people engage with other cultures in an affirming way. would
The Latine Cultural Celebracion showcased the authentic Dominican Republic masks that are worn during the festival to symbolize the mockery of Spanish soldiers when they occupied the country. An El Lechon, or a boar costume, was worn by a man who demonstrated the harsh treatment Dominicans received with a whip and a La Roba Gallina. Calderon dressed as a La Roba Gallina, which represents a mischievous woman who would steal chickens and keep them in her purse.
A presentation, given by Calderon and Reinert, said these masks and costumes were only allowed to be worn one day a year for the people to release their energy while they were under repression by the Spaniards. Today, what were once outfits of mockery are now symbols of the liveliness these countries have.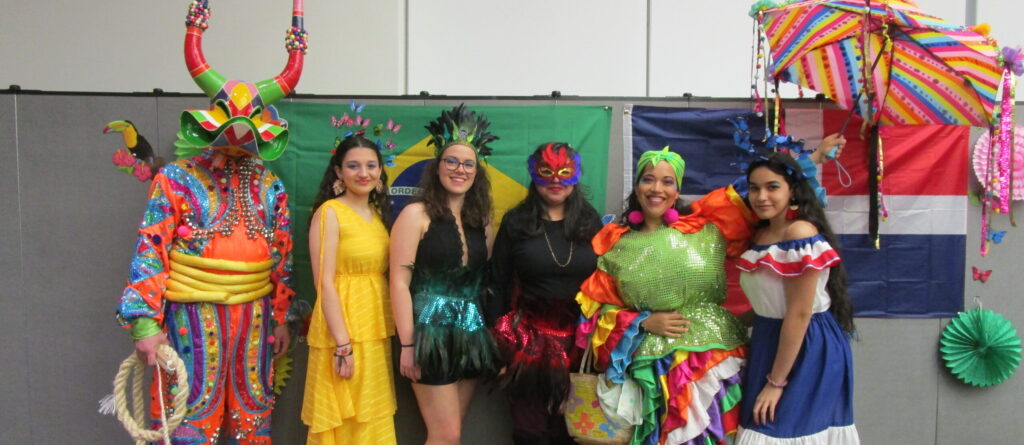 From the clothing to the decorations in the ballroom, the room was filled with color. DeCampos said there are many meanings behind each color in the celebrations that occur in Brazil, including the country's flag. The green, in particular, symbolizes the flora and fauna found in the country.
"How rich the countries are, not rich in wealth, but in the matter," DeCampos said. "Diversity, huge diversity, and that's what the colors also represent. There's a lot of colors, a lot of life too. Colors are for the animals and plants that we have. The parrot is a big symbol in Brazil too because of its color. Just a little bit more behind the scenes as to why we do that in everything."
DeCampos and Reinert hope that the carnival will allow students to take more interest in the other cultures in Latin America and participate more by attending events hosted by the CLS and OIE.
Business administration senior Hilary Sanchez was able to learn more about the festivities and the country's history. Sanchez enjoyed the vibrancy in the decorations.
"This is the first time that they've done an event like this here at Ferris to celebrate the Latin culture in Brazil," Sanchez said. "The people who put on the event have talked about how it's celebrated five days before Ash Wednesday. I think that it's a good group, especially [Calderon]. She put her heart into organizing this event, and she put a lot of love and effort into this."
According to Calderon, the Dominican Republic and Brazil host these carnivals all month long. While Ferris' celebratory carnival may be over, the liveliness and opportunities to learn about Latin culture continue in the CLS and OIE.