Along with the new Center for Virtual Learning, Ferris will soon have a renovated dorm designed for the comfort of students
The board of trustees originally approved to renovate Miller Hall in 2019. Due to COVID-19, they had to put the project on pause, and Miller Hall was used as a quarantine hall. Now, the project has been resumed and plans are being made.
Those in charge of this project believe the changes will make students feel more at home. The plan is to convert a one bedroom suite into a social lounge to get more natural sunlight. Additionally, there will be a study room on each floor to make an area where students can cook, play games or hang out.
By changing up the kitchens in the hall, Director of Housing and Residence Life Lisa Ortiz anticipates that the renovations will create a refreshing space where students can connect with one another.
"We really want to offer spaces where our students can build that community naturally," Ortiz said. "Not just through programming, but [also through] some of the late night interactions, afternoon interactions and the opportunity to build fellowship over food."
Right now, there is currently one kitchenette on each floor of Miller Hall. They are approximately 132 square feet and have laundry machines next to them. The plans for the new kitchens will be similar to the kitchens in Clark and North Hall, which have an island kitchen design. The plan is to have a whole new kitchen in the main level lounge, which will be approximately 200 square feet.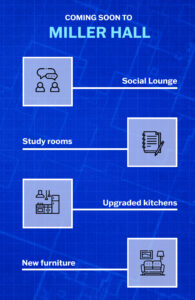 Some parts of the original project back in 2019 were removed due to either space or better choices, however, the thing that Housing wants to make consistent is the larger concept of having better study rooms and gathering spaces.
Coordinator of Housing Facilities Greg Eichenberg is in charge of looking at the original project and double checking to see if it fits into their concept.
"The biggest thing that I am working on right now is looking into the furniture that we want to have in the hall," Eichenberg said. "I am also working with Facilities Management to change the wall, floor and furniture color palette."
Miller Hall has been vacant since the beginning of the COVID-19 pandemic. Now, students have the opportunity to move into Miller Hall after the renovations are complete.
Ortiz has heard some chatter from students on campus about the changes.
"I've heard a level of excitement, especially… since we did the renovation of Clark [Hall]," Ortiz said. "They absolutely love that, and I certainly want to continue that positive experience across campus."
The renovations will start in May of this year and will continue during the summer. Housing expects for the renovations to be complete by the fall 2023 semester so students can move into the upgraded hall.