Ferris' Department of Public Safety recently introduced Pango Parking, a new on-campus parking system, replacing the coin-based meters with an automated system that is accessed and paid for via cell phone.
After months of updated parking regulations and the gradual disappearance of coin-based parking meters, students have mixed feelings about the efficiency and price of Pango Parking.
The Pango meters require the use of the Pango app or website. Users are required to scan a QR code and create an account. Once set up, users are able to select their location and begin using the meter. The specific instructions are different depending on whether users chose the website or app. Students and guests on campus can pay using their credit or debit cards, Venmo, PayPal or Bulldog Bucks.
Construction management senior Sam Sherwood commutes to campus and doesn't have a parking pass. He appreciates the Pango system for its modern usability.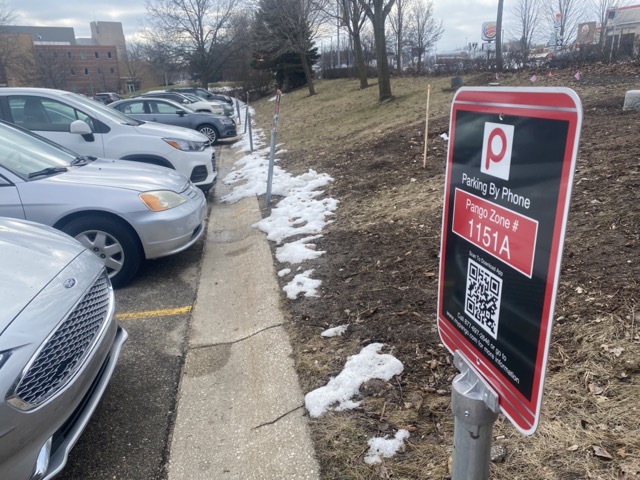 "With this new parking system, I enjoy that I don't have to dig in my car for change," Sherwood said. "I like that I'm able to see when my meter's out. This new app sends me alerts when my time is short on the meter, so I can avoid getting tickets. I like that I can just scan the new sign and go as far as not having to put in quarters or worry about a meter being broken."
Sherwood mentioned that the app is user friendly, shows him what parking spaces are available in each lot and allows him to pick his parking space before he is in the desired lot.
Applied math and computer science major Dylan Andrews has a different take on the new parking system. Andrews used the old coin meters, but has yet to use the new system after seeing how they operate while he was with friends.
"What was once before 25 cents [is] now 50 cents for a half hour, and on top of that, there's a 16% service fee," Andrews said. "So, me being a math major, I did the math. If you were to do a half hour, you're paying 58 cents per half hour instead of what was the old 25 cents."
Andrews, who is also the vice president of the Student Government Association, explained his worry for members of the community who come to campus as well as the students who live and commute to campus.
"I've thought about it, and I've talked with my contemporaries in Student Government, and, you know, we believe that there's also… a learning curve for older individuals that don't know how to use a QR code," Andrews said. "For example, I don't even think my dad or my stepmom knows how to use a QR code reader, so that would already make it difficult. On top of that, there's plenty of people… in that age range that don't use an [online banking service] either."
While Andrews thinks the parking system is a good idea, he wished that the new parking system had been thought out more. He preferred the older system, as it was cheaper, and believes that the old meters could have been replaced with new coin meters instead of Pango.
While Sherwood explained that he enjoys the perks of Pango, he does have one suggestion for improvement. Sherwood explained that, because he commutes to campus each day, he wishes that there were more parking meters around campus for him to park at.
Students and community members looking for a parking spot on campus can park at the Pango meters between 6 a.m. and 2 a.m. each day. There is a limit of four hours on all Pango parking spots.