The Ferris State disc golf team returns from spring break with only two weeks to go until they depart to compete for the national championship.
The team is getting ready to try and bring home their 5th national title after devoting their spring break to training and coming together as a team. Each year, the team takes time off to travel to Marion, North Carolina. This gives the team an opportunity to spend time together and get a look at the courses that they will be competing on.
Disc golf head coach Leonard Johnson takes his team on this trip so there aren't any surprises on the course when nationals come around.
"We had an opportunity to stay pretty close to the courses," Johnson said. "It's a complex in North Carolina called North Cove, which used to be a ball golf course. They turned a ball golf course into three pretty awesome disc golf courses, and we were able to play all of those courses a couple of times every day to prepare. There's no better experience than to really be familiar with the courses that you will be competing on at the national level."
This trip has been a tradition each year because of how beneficial it is. Johnson explained that he started this tradition in the first place because of the outcomes that follow it.
"The first time I took a team on a spring break trip was actually in 2015, which was the year that we won our first national championship," Johnson said. "The camaraderie that is developed during that time is unbelievable. From all the time spent in the vans on the way down, to playing disc golf together everyday. Knowing each other, being able to rely on each other and trust each other helps build confidence in one another, and there's no greater feeling than that."
During this trip, Johnson and the other coaches determined what division each member of the team will compete at. This process can be difficult because of the varying skill levels that the team offers.
"It kind of sorts itself out, and a lot of that falls on the team members themselves," Johnson said. "The cream rises to the top, and they know who is going to give us our best chance to win at each of the three different divisions. Some of those decisions are really tough to make because the guys are all so good."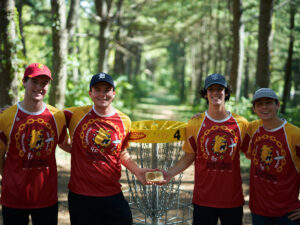 Team captain Derek Franciosi believes it's important for the whole team to try and attend this trip, as it is one of the few times the team gets extended one-on-one time with the coaches.
"I would say it's almost a requirement," Franciosi said. "It is very crucial to practice the course before we compete. It's very rare we play a course blind, and it's often not preferred. It also is one of the only times coaches get to see players perform. I see how the players perform all the time, but in the end it's not my decision who makes the team, it's the coaches, so it's important that everyone gets the chance to be evaluated and compete for a spot."
Even though the team has gotten smaller, Franciosi is looking forward to what this year's team will bring and believes that this gives them an edge that other teams don't have.
"We had close to 30 members last year with 20 being competitive players, and this year we are down to around 23 members with only 15 being competitive," Franciosi said. "Having good chemistry and getting everyone together is super important, and I think it's one of the reasons we have such a big advantage compared to other schools. When we have a close knit team together, we get to know each other, we know how we play and we can play off of each other super well."
Franciosi described the changes that have been made to the team and what we can expect from the future of Ferris State disc golf. 
"I think we're entering a new era for Ferris disc golf," Franciosi said. "Realistically, we only have one or two people graduating from our team, and we have so many new people joining. With the addition of two sponsored players joining. We have a lot of freshmen coming in, who I think will play a huge part in the future of disc golf here at Ferris.  I really do see a bright future ahead of us."
Benji Zorn, a first-year team member,  thinks that a trip like this means he and the rest of his teammates are able to come together as one. This bonding experience helps them all "get ready for that stress of nationals."
"It's critical for the team to be together like that," Zorn said. "For the most part, it's really difficult for all of us to get together for one practice. We all have class and other things going on, so everyone's not always able to make it to practice. It's really comforting knowing everyone's got each other's back."
Zorn mentioned how the team's chemistry plays a huge role when considering what the tournament's outcome will be and how the trip builds upon this.
"The big advantages come during times of struggle," Zorn said. "In team doubles, if we're dropping strokes to the field, it's nice to be able to look each other in the eyes and say we got it. I got you on this shot, you got me and we don't need to worry because, in the end, we are all going to be good. That trust that's able to be built can only be done through a trip like this."
Although Zorn is one of the newest team members, he believes the team's chemistry will be one of the leading factors that will win them nationals.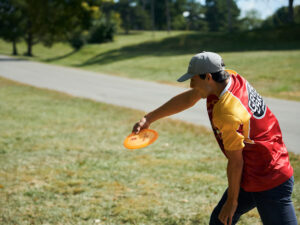 "I just want to win so much more for what has happened and to prove that we can do this and we will do it," Zorn said. "Every division has the firepower and camaraderie to do it. We're a group of really fun people, [and] when it comes down to it, we can flip the switch. We have the firepower, we have the game, but we also have that silliness. We have such a connection where we can have a good time, but when we have to click in, we are there."
The team will be leaving for nationals on Saturday, April 1, with their first tournament round beginning on Wednesday, April 5. For team updates, check the Ferris State disc golf Facebook page, and for nationals updates, refer to collegediscgolf.com.