It's been a rollercoaster season so far for Ferris softball.
After starting the season 3-10 through their first 13 contests, the Bulldogs won six of their next eight games during the Spring Games in Florida. Despite falling in their last four road contests, Ferris has found a sense of confidence going into conferences beginning on Saturday.
"I think our girls are confident," head coach Jake Schumann said. "I've had some coaches from other sports tell us that our… girls are walking around campus with a little more swag, and that's an improvement."
The Bulldogs split their most recent doubleheader against Tiffin last Thursday with a 12-9 win and a 4-3 loss in Ohio. The Bulldogs spurred out a combined 24 hits against the Dragons, their largest combination in back-to-back games all season.
Ferris also fought in a tough battle at Lewis the day before, losing 7-3 and 3-2 against the Flyers last Wednesday.
"We went over to Lewis and [played] pretty tough," Schumann said. "I think they're probably a top-eight team in our region. We had game 2-1 with two outs and didn't quite get to a fly ball that would've ended the game."
Schumann's squad enters the GLIAC schedule with a 10-16 record, a one-win improvement from the same point a year ago. The Bulldogs have also played six teams that finished in the top ten of their respective regional polls last season, including defeating Northwood and West Virginia Wesleyan.
Entering the season, Ferris was ranked sixth in the preseason conference polls, the same position they finished in the 2022 season. According to senior shortstop Amara Zukowski, that early season ranking has motivated the team in a major way.
"It's definitely motivating," Zukowski said. "I think that we have so much talent and have a lot of potential to change everybody's minds."
One of the ways Ferris has begun to make some noise is on the base paths. The Bulldogs currently lead the GLIAC in stolen bases at the halfway point with 60, which is already 11 more than Ferris collected all last year. Junior Big Rapids native Josie Prince leads the team with nine stolen bags, and freshmen Jadyn Joseph follows with eight.
This new aggressive style the Bulldogs have adapted comes from a new type of philosophy adopted by the players from Schumann.
"He's implementing the 'we want it, gotta take it' mentality," Zukowski said. "The instruction has been very good, and we're meshing really well together."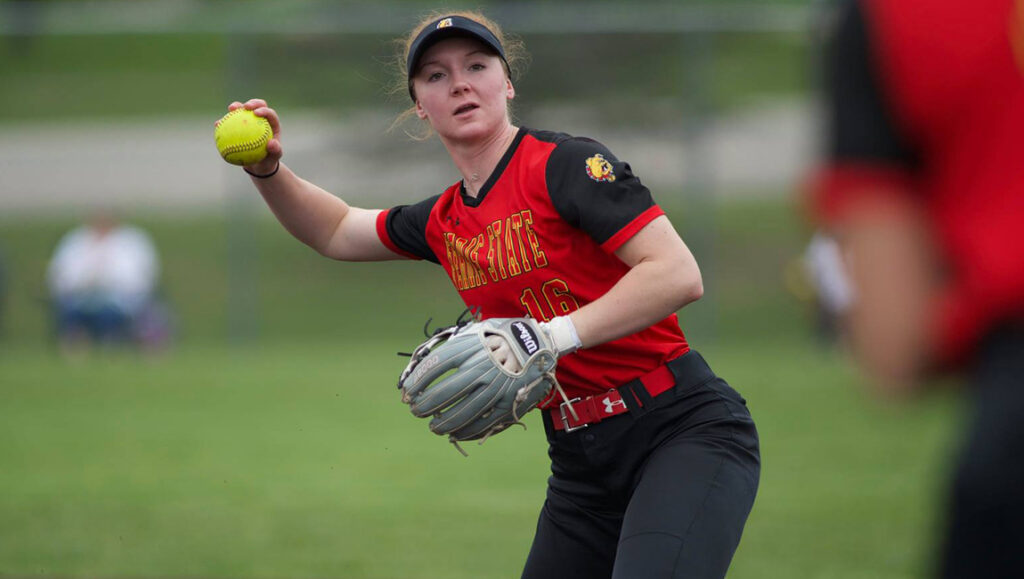 Ferris has also made strides on the mound, lowering their earned run average by over 1.6 runs per contest compared to last season. Junior Aryn Gallacher currently paces the Bulldog pitchers with a team high of five wins and a 2.75 E.R.A. while freshmen Catherine O'Donohue leads the team with 43 strikeouts.
The Bulldogs will play on their home turf for the first time this season on Wednesday against former GLIAC foe Northwood at 2 and 4 p.m. Ferris defeated the Timberwolves in Florida 7-2 back on March 6, avenging their 13-2 loss earlier this season on Feb. 18 in Tennessee.
With mother nature wreaking havoc with the snow, Schumann is hoping they'll be able to play on the field they've only been able to practice on once this year.
"The couple inches of snow we got in the last 24 hours is depressing," Schumann said. "There's also an 86 percent chance for rain on Wednesday, but we're hoping we'll be able to get out there. If not, we'll push it back a week and we'll try to play them. They're a good squad, and I want to keep them on our schedule."
Following, Ferris begins their 24-game conference schedule on Saturday at Saginaw Valley. Their first home conference double header will take place on Sunday, April 2, where the Bulldogs host the Panthers of Davenport.