As red and white balloons soared over the Hispanic Center of Western Michigan, hundreds of Michigan students embarked on the 13th annual César E. Chávez March.
Honoring what would have been Chávez's 96th birthday, Ferris' Center for Latin@ Studies sent roughly 50 students from Big Rapids to last Wednesday's march and subsequent community gathering.
Chávez's catch phrase "¡Si se puede!" meaning "Yes, it is possible!" was chanted throughout the mile long march.
"It's a story like César Chávez's that's really going to hit home for some of our students, especially those that are coming from different countries," CLS Interim Director Sonia Trevino said. "Know that you can come to the United States, build a life for yourself and be highly successful."
"From humble beginnings, Chávez created greatness." This was the common thread running through each social justice event hosted in Grand Rapids for the notable civil rights and farm labor leader. Chávez was remembered as an "American hero" for his nonviolent activism, which he began in the early 1960s.
Like many other Latin Americans, Chávez did farm work to support his family. After working in harsh labor conditions for minimal pay in California, he wanted to help protect other farm workers like himself. He co-founded and led the United Farm Workers of America for over three decades.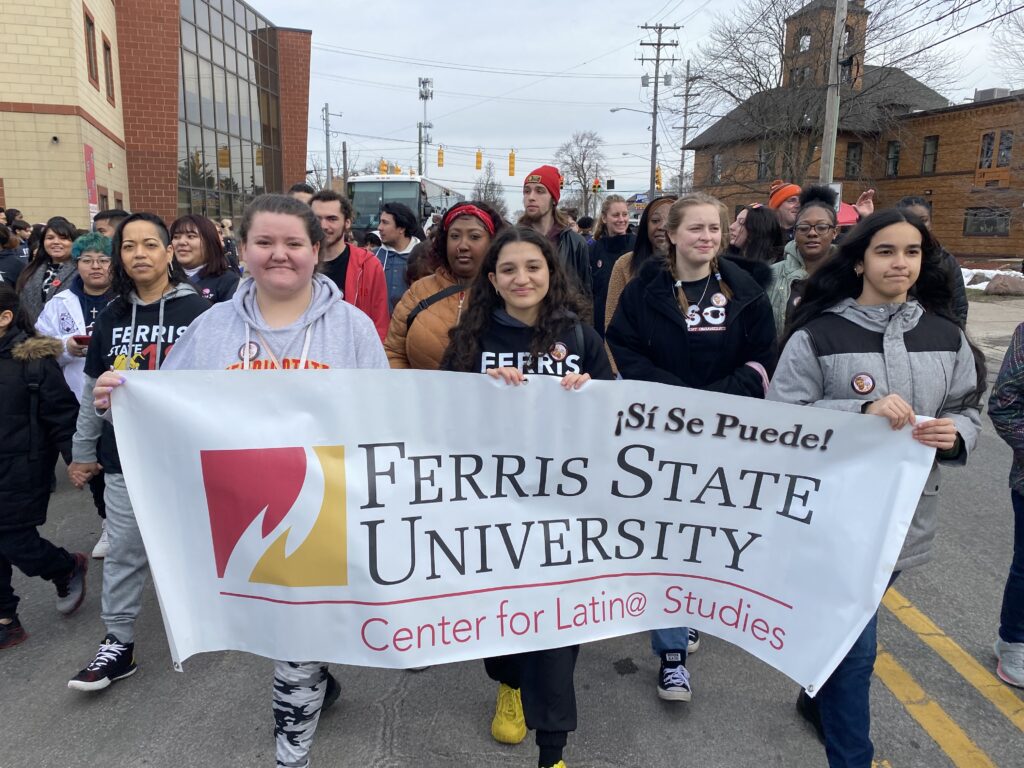 Chávez is most notably remembered for his strikes on grape and lettuce crops and his fasting. His longest period of fasting lasted for 36 days, during which he ate no food and drank only water. This led to his death at age 66 in 1993.
Communication professor Dr. Stephanie Thomson has invited her students to the march for years. Proudly displaying the UFW's logo on a t-shirt from the first march in 2010, Thomson cheered in the streets with students, CLS employees and her own young daughter.
"There is a growing Latinx population [in Michigan]. I think it only serves our students to make them more familiar with different customs, different cultural expectations," Thomson said.
Thomson also remarked to her students that Michigan farmers still lack the protections that Chávez fought to give those on the West Coast.
The march began at 1204 César E. Chávez Ave at 11 a.m. Children from Potter's House Christian School lined up behind their playground fence to watch the procession. The young onlookers could see flags from across Latin America and signs with the UFW's iconic black eagle or the word "HUELGA," meaning strike.
One marcher brought her own group of young activists to last week's events: her school age children. Massiel Calderon calls herself a "non-traditional" student. Calderon moved her family to Michigan from New York less than two years ago. She is a senior studying English and creative writing who works as a Promesa Scholars coordinator in the CLS.
It was no tough decision for Calderon to excuse her children from school last Wednesday, as she saw great educational value in the march.
"Living in New York, they speak about so many social justice warriors that César was not a focus," Calderon said about her children's upbringing. "It was good for them to see someone that made a change the way Martin Luther King did, but for the Hispanic and Latino community."
Calderon's vision of social justice rests on an original philosophy.
"If you want space for yourself, you have to be willing to give it to someone else," Calderon said.
After the march, all attendees gathered in the Potter's House Chapel for speeches from several guests, including Representative Hillary Scholten, D-Grand Rapids.
"I want to know who among you will be the next César Chávez, the next representative, the next social justice mover and shaker in our community," Scholten said. "I hope that us working together today will continue to inspire all of us to make Michigan a stronger and more just space together."
Special guest Melvin Butch Hollowell, a Detroit based attorney and nephew of Martin Luther King's attorney, also spoke. His address brought all in the chapel to their feet as he called for the citizenship of "DREAMers." These are undocumented immigrants who entered the US under the Development, Relief and Education for Alien Minors Act in 2001.
To learn more about on-campus cultural events, visit the CLS office in IRC 131.