Cheers and applause roared across the hall during the Mr. Pharmacy pageant. The room was filled with around 50 students all chanting different contestants' names, hoping their favorites win the crown.
This was the first year the sisters of Lambda Kappa Sigma hosted the once-annual event since the beginning of the COVID-19 pandemic. Graduate students were given a chance to represent their Registered Student Organization and show off their pharmacy knowledge and skills.
Second year pharmacy student Bri Rogers was thrilled to bring the event back and see the contestants laugh and have fun together, regardless of their nerves.
"Regardless of what year they're in, like P1 and P2, they're here competing and hanging out together… and having professors here laugh and watch with us, that's my favorite part," Rogers, who is also the Mr. Pharmacy Chair, said.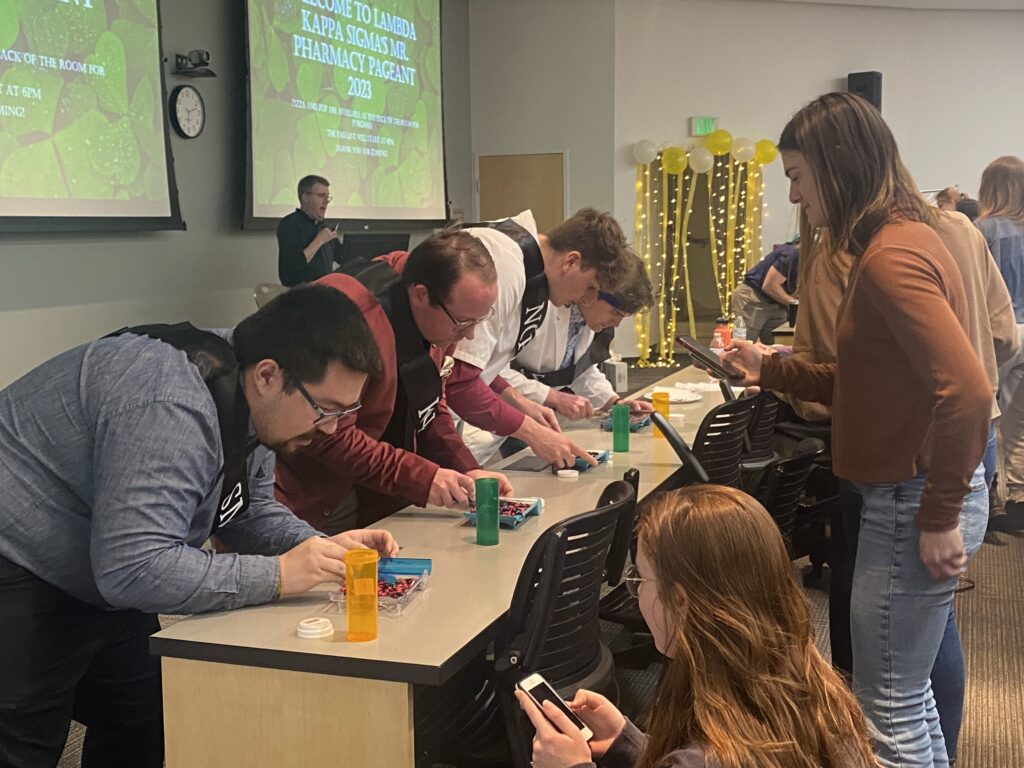 The contestants dressed to impress in their button-up shirts, ties and black sashes to show the organization that they were representing.
Contestant and P2 pharmacy graduate student Joey Mason was signed up for this competition by a friend. At first he was nervous and afraid of messing up, but in the end he had a good time getting to know some of his classmates in a different setting.
"I'm in their class, but I don't talk to them often," Mason said. "But if you could hear it back there, we were laughing and making jokes."
To be the winner, contestants had to play five games based on skills such as pill counting, drug spelling, knowing where to put a needle for vaccinations and getting to know their goals as future pharmacists.
After the games, the three judges, Dr. Kim Hancock, Professor Scott Sexton and Dr. Teresa Bailey, tallied the scores and discussed who should win the crown. This is not Sexton's first time judging this pageant. He always finds the event entertaining and enjoys seeing the students outside of the classroom.
"The big things for me… I always call style points," Sexton said. "Swagger… the accuracy, the skill checks, spelling, it's all got to be on point."
P2 pharmacy graduate student Grace Jipping came to the event to support her friends in the DIP organization and contestant Patrick Maloney. Her most memorable moment of the pageant was one of contestant Phu Ho's responses to a question the host asked him.
"He was asked what his favorite fact is, and he just said, 'I want world peace,' Jipping said. "It was kind of funny."
Three words Jipping would use to describe the event were fun, loud and nerdy. Out of the eight contestants, the winner of the Mr. Pharmacy pageant was P1 pharmacy graduate student Kameron Stoddard.
If you are interested in learning more about Lambda Kappa Sigma events, you can follow the organization's Instagram    @ferrisstatelks, and if you are interested in learning about the organization or thinking about joining, you can click the link on their Instagram, which will take you to their website.