Men's tennis
The Bulldogs knocked off defending national runner-up Wayne State in a thrilling 4-3 finish to start undefeated in GLIAC play last Friday.
As the two pre-season favorites for the GLIAC championship, head coach Mark Doren's #22 ranked Bulldogs had this date circled on the calendar as a possible preview for what could come later this season in the GLIAC conference championship final. With the best tennis of the season on display, the Bulldogs narrowly beat one of the nation's top teams.
Securing the initial doubles point by a 2/3 margin gave the Bulldogs some much needed momentum going into the singles sets. Wayne State came firing back with a clean sweep of singles one, two and three, however, it was the bottom three singles that allowed the men to claim victory for Ferris.
"Our depth is what carried us to this win," Doren said. "To get the doubles point then 4,5,6 singles was the perfect way to pull off the upset."
The pairs of Yannic Alexander Mader and Erik Kovacs and Alessandro Santangelo and Esunge Ndumbe won their doubles matches. Mader and Kovacs topped their opponents 6-1. Santangelo and Ndumbe also won in convincing fashion, posting a 6-2 victory.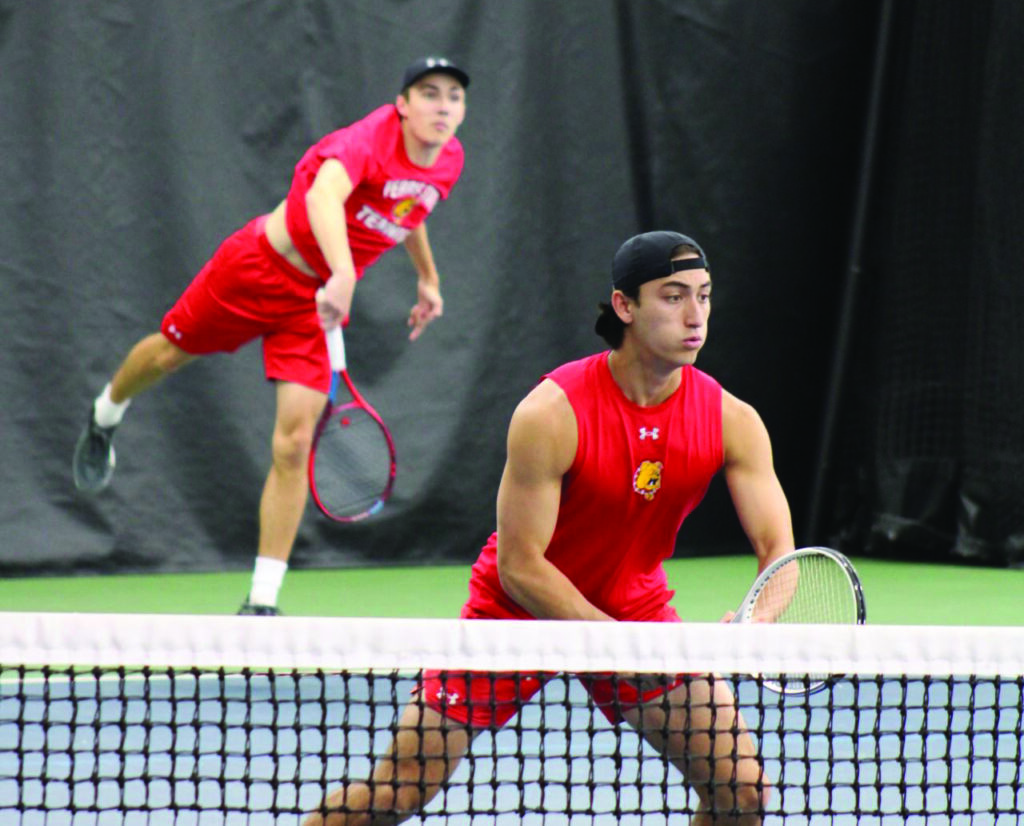 With Kovacs as Ferris State's #1, he had the tall order of taking on Cedric Drenth. Both players had already earned GLIAC player of the week honors, but it was Drenth who won in two sets 2-6 and 5-7. Jan Koupil, Ferris' #2, dropped identical sets to Wayne State's Daniel Gray at 4-6. Mader won his inaguraul set 6-4 against Niklas Karcz but dropped two in a row, 2-6 and 1-6.
In need of a much needed boost of confidence, the Bulldogs found it on court #4. A slight back and forth of volleys brought out the emotions as junior Ben Lortie took  two sets (6-3 and 6-4) from Dom Spicer.
"We went into the match really hungry, and it paid off with the doubles point at the beginning," Lortie said. "That allowed us to settle into single more confidently."
Freshamn Ndumbe already saw success on the day, securing a doubles victory. Staying in control from start to finish, he helped the Bulldogs clinch the upset win in two sets, 6-2 and 6-3.
With an overall score of 3-3, the possibility of the upset was on the shoulders of position 5 sophomore Santangelo. He won his first set with a score of 6-4, however, Luke Laws of Wayne State returned the favor, bringing it to the final set with a score of 6-7. With all other matches concluded, all eyes were on court #2, he would take the final set 6-1, providing one of the most electric atmospheres that have been seen in the Ferris Racquet Center in recent history.
"Very strong performance from our freshman Esunge at position 6 and Alessandro at position 5, who played some of the most quality tennis I've seen in a while to clinch it for us," Lortie said. "Super happy with the results and excited for the rest of the season."
The Bulldogs faced arguably one of the toughest challenges coming off of the spring break Florida trip. However, the overall performances from start to finish show that the depth of the team is going to be the reason they could go farther than most.
Women's Tennis
Two top 50 teams found themselves competing last Friday afternoon at the Ferris Racquet Center to start conference tilts. At #50, the Ferris women's team came in as heavy underdogs, especially with the Warriors cracking the top ten just a week before.
Notching a 5-2 loss at the end of the day, there was a strong showing of top of the conference talent by the Bulldogs. However, Wayne State was coming with three wins out of their last four games and were looking to stay hot.
The Bulldogs got off to a hot start by securing the doubles point. Morgan Waller and Ana Sofia Hernandez Ferrer got business done with a clean 6-2 win over #45 pair Anais Ruyssen and Malak Arafat. Parker Nolan and Maria Fernanda Hernadez Ferrer followed suit with a 6-3 win of their own.
"Our women's match may look like a loss on paper, but the tennis I saw today was a win in many ways," Doren said.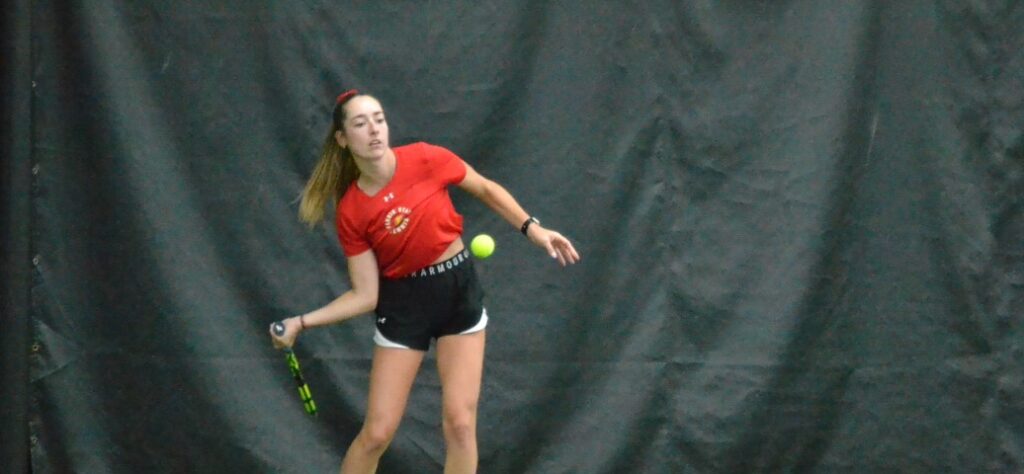 Junior Sophie Daavettila held the sole singles win for Ferris State, claiming it in three sets, 2-6, 6-3 and 6-2. Ruyssen, her opponent, was ranked #16 in singles in all of D2 and was one of the favorites to win GLIAC women's player of the year.
"It wasn't easy, especially coming from a bit of a rough start in my first set," Daavettila said. " As the match went on, I was able to lock in and find my rhythm."
At position two, Waller held in to the end of the first set but lost 4-6 and 0-6 in the second to Marta Komar of Wayne State. Ana Hernandez Ferrer also fell in two matches to Dea Gorgidze, 5-7 and 2-6. Position six single Kennedy Dumas fell 4-6 and 3-6 to Shanice Weekes.
Nolan and Maria Hernandez Ferrer had strong chances to bring the Bulldogs back into contention. Injuries plagued the team and squandered any hopes of the upset.
"It was neck and neck the whole match, and, unfortunately, the injury bug hit us in the middle of the match, and unlike teams sports you can't sub someone in," Doren said.
The men's and women's squads are set to be back home on Friday, March 31, to play host to Purdue Northwest, as well as getting back after it on Saturday, April 1, against Davenport at the Ferris Racquet and Fitness Center.