From a fan in the stands to a senior associate athletic director, Sara Higleys thirteen-year rise through the Ferris Athletics program started with a dream of being a sports agent.
When she was young, Higley would come to Ferris to watch football games. Since her mother worked at Ferris, she spent a lot of time on campus as a child.
"It's home," Higley said. "I grew up here, and to be able to come back and build a successful career in what I love to do has been amazingly surreal."
Higley knew when she was twelve years old that she wanted to work in sports. Initially, her dream was to be a professional sports agent.
During the first day of her introduction to sports management, her professor asked the class how many of them wanted to be sports agents. When she and almost every other student raised their hand, the professor cautioned them.
Higley understood then that her field was highly competitive, and she needed to figure out how to evolve her dream.
Higley had always imagined working in professional sports. However, after her time studying at the University of Michigan and seeing the success of their program, her mindset shifted. After graduating with a bachelor's degree in sports management, Higley took a part-time job at Ferris working alongside the softball coach as a compliance assistant in December of 2010. After two semesters, she was hired full time as compliance coordinator.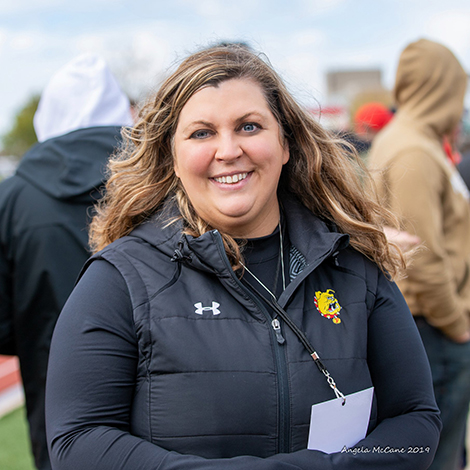 After three years as compliance coordinator, in 2013 Higley began working towards her master's at Ferris. In 2014 she became assistant athletic director for three years. During her time in that position, she graduated with a master's in business administration. Higley was then promoted to associate athletic director in 2017 and held the position for two years before eventually being offered her current position.
Since 2019, Higley has been the senior associate athletic director and the senior women's administrator. Higley described herself as someone who is always looking for more responsibilities. 
Higley believes that she's been able to advance her career at Ferris because she has made herself "indispensable."
"When anyone needed something done, I would step up, so I was able to get experience in taking on different roles," Higley said.
Though Higley has had many job titles and has been successful in her career, she admitted that she suffers from imposter syndrome.
"Sometimes I'll go into meetings and think, 'What do I have to bring to this conversation?'" Higley said.
Higley strongly believes in "faking it until you make it." She thinks that being comfortable in your own skin, finding your voice and learning how to use it are key aspects to succeeding as a woman in a male-dominated field.
As the senior women's administrator, she is the highest sitting female within the department in every NCAA school. This position ensures that the female voice is heard.
"I give my voice to all athletes, not just females, but being able to bring a female perspective to a field that is mostly run by men is so rewarding," Higley said.
Higley explained that through her continued experiences, she realized her dreams can change and grow. She advises others to "never let other people dictate your path."
When thinking back to her professor that discouraged his students from being sports agents, Higley realizes that she needed that push to encourage the growth of her dreams.
"It wasn't him telling me that I couldn't, but me realizing that's not really what my path should be," Higley said. "I fell in love with college athletics, and as cliché as the saying is, if you love what you do, you'll never work a day in your life."
She hopes to see herself become the next athletic director in her future at Ferris. As she is still working towards her PhD, Higley also believes that one day she could outgrow the intense schedule of athletic life. If she ever becomes tired of the long nights and travel, she could see herself becoming a professor at Ferris teaching business adminstration or sports communication.