Bulldog hockey's offseason begins as they reload for next October.
Ferris swept the Bowling Green Falcons in a best-of-three series with two overtime wins to win their first playoff series since 2016 before a hard 7-2 loss against the Mavericks in Mankato upended their season.
On paper, the Bulldogs only recorded one more regular season win and two more playoff wins than they did last year. However, to co-captain senior forward Brendan MacLaren, the playoff win means so much more.
"It was absolutely huge for our program and especially meant a ton to my senior class," MacLaren said. "The junior and senior classes really went through struggles early on in our college careers, and then towards the end we finally got the program back on track. We were able to get past the first round of playoffs and knock off Bowling Green, which is awesome. It was probably the best feeling I've had as a college hockey player. I know I'll be able to get a chance to run it back again next year."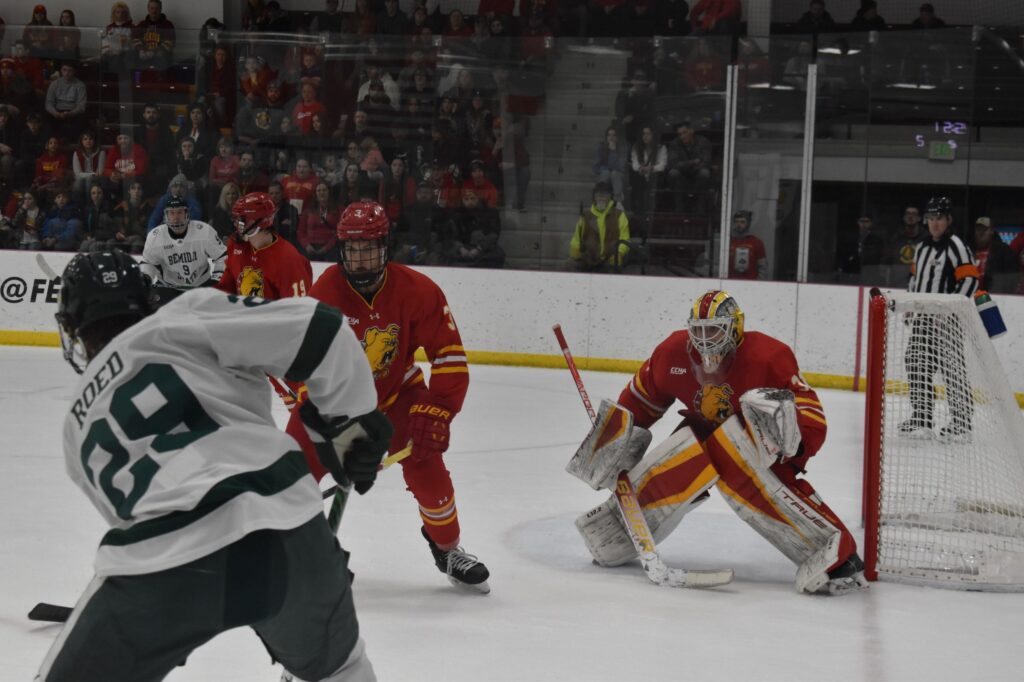 MacLaren isn't the only senior confirmed to return for a fifth and final year. The Bulldogs' leading scorer this past season, senior forward Jason Brancheau, also confirmed he will back.
Brancheau, who had struggled with injury since his freshman year, suited up for 35 of the 37 games played this season. In those 35 games, Brancheau led the Bulldogs with 13 goals, eight assists and was tied for first in points with 21.
Another standout for the Bulldogs was sophomore goaltender Noah Giesbrecht. The Canadian-born goaltender took over as the starter this season after the usual plan of splitting starts between goaltenders was abandoned. Giesbrecht played in 32 games and started 25 of them. In those games, he recorded 3.08 goals allowed on average and a .906% save percentage.
Giesbrecht ranked in the top-50 for save percentage this year. He placed 49th in all of D1 college hockey. Giesbrecht settled into Ferris and hasn't looked back since.
"This year I got the confidence under my belt," Giesbrecht said. "When I was given the opportunity [to start], I felt like I was ready. It was definitely something I trained hard for in the offseason, and [I] plan to run it back again next year and come back even stronger."
With his talent being flashed all year, it's not a shocker that there were rumors of Giesbrecht possibly departing Ferris to pursue a professional contract. Giesbrecht didn't mince his words when addressing the rumors, saying "Yeah, I'll be coming back next year."
Head coach Bob Daniels is "thrilled" to have those players coming back.
"We've got some good freshmen coming in," Daniels said. "Our freshman class [this year] I thought was very good… I think we're deep and we've got some offensive capabilities. We have to show improvement, but the personnel is pretty good."
As expected, not every player from the 2022-23 team will return next year. Co-captain senior defenseman Matt Slick, who was a grad-transfer from Holy Cross, had no eligbility left and has signed with the Adironback Thunder of the ECHL. Senior defenseman Blake Evennou confirmed that he will not be returning for a fifth year.
As for forwards Cade Kowalski and Dallas Tulik and defenseman Brenden Rons, the remaining seniors, there has been no confirmation regarding their decision.
As highlighted in a recent Torch article, the freshman class played a role in Ferris' improvement this year. With the returning seniors and the infusion of another freshman class, there could be a perfect storm brewing for the Bulldogs to be a high-end team that this university has not seen in a very long time.