Vivian TerMaat is new to her role on Ferris' board of trustees and believes it is "in perfect alignment" with her work as CEO of Girl Scouts of Michigan Shore to Shore.
A successful woman in West Michigan 
…Despite her role within Girl Scouts and a collection of professional achievements, TerMaat chooses not to wear her success "like a badge." Instead, she leads with the goal of maintaining kindness and humility.
"You can be a person of great achievement, but to wear it like a badge is off-putting to me," TerMaat said. "What I learned from my grandmother was that you can do great things and still be approachable and gracious."
TerMaat is a CEO and certified fundraising executive who has spent her career climbing the professional ladder in sales and nonprofit work. Before taking her executive role with Girl Scouts of Michigan Shore to Shore, she refined her financial and interpersonal skills in the greater Grand Rapids area.
"What spoke to me was that when you're in any kind of sales position, you make or break on your own merit," TerMaat said. "The power isn't in other people's hands. It's in your own hands."
TerMaat studied communication and media studies as well as Spanish at Western Michigan University. As a young girl, she wanted to be a reporter and imagined growing up to be a combination of Barbara Walters and James Bond. Soon after her first career pivot from media to sales, she became a top monthly performer as an account executive at the Grand Rapids NBC affiliate WOOD-TV.
With striking trajectory, TerMaat moved her career from sales to full-time childcare, then to the advancement office of Wedgewood Christian Services. She never feared changing directions to find what spoke to her.
It was her passion for children that led her to senior roles in GSMISTS and Wedgewood.
"You have to find a path that gets you excited, that almost gives you goosebumps. When you're talking to people about it, your energy goes up," TerMaat said.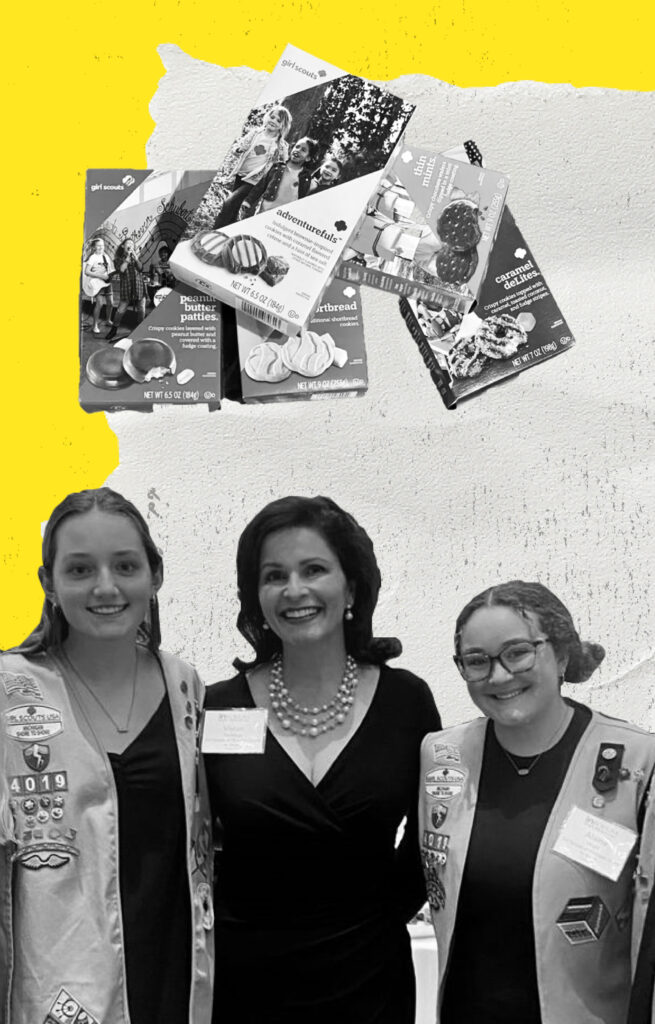 As another active member of the Grand Rapids community, President Bill Pink first met TerMaat through their shared work at Wedgewood. The organization offers educational counseling and residential services to youth, adults and families in need.
"She was great to work with, great to interact with and was, in my opinion, one of the reasons why [Wedgewood] had so much respect from me," Pink said.
Pink refers to the board of trustees as his eight bosses. With TerMaat gaining a seat at the table, he sees her as a "strong piece of the puzzle."
Fixing each other's crowns 
From childhood memories with her Chilean maternal grandmother, to her current work with "courageous," "fantastic" Girl Scouts, TerMaat believes women thrive through mutual support.
"[Girl Scouts] support each other to try new things," TerMaat said. "That's what we want as women. Somebody said at an event, 'We should fix one another's crown.' Adjust it. If it's crooked, you go and you help her. We support other women, and we rise together."
From 2002-2013, TerMaat stepped back from her successful sales career to work as a stay-at-home mom for three "incredible" daughters. When she decided to return to the workforce, she once again had to find what spoke to her. She sought guidance from an important woman in her life to begin this new era.
"[TerMaat's] talents and ambitions were obvious from the start. All she needed was a gentle push," friend and mentor Polly Hewitt said. "I hope I gave her that. In turn, she gave me the joy of seeing a younger woman find herself professionally and thrive. That joy for her success continues today, a full twenty years later."
Hewitt and TerMaat met for a thoughtful conversation about career exploration. The two women wrote the next chapter of TerMaat's life story in a "pretty, pink notebook."
"Let's start over," Hewitt said on that fateful day. "What are you good at?"
By combining her care for children, relationship building and desire to make a difference in the community, TerMaat found nonprofit fund development. This led her to leading roles in the advancement office at Wedgewood, where she met advancement officer Kori Thompson.
Thompson appreciated TerMaat's ability to see potential in employees, many in their first advancement position, and challenge them to reach a higher goal. Thompson was "encouraged" by TerMaat's example of female leadership.
"I think that we want to make sure that any voice at the table is valued, whether that's a woman or a person of color, anyone from any background," Thompson said. "It was always really encouraging to see women in leadership. [TerMaat] especially was not afraid to assert herself."
TerMaat was certainly never afraid to assert herself in the classroom, where she returned after 11 years of motherhood to kickstart her career once again.
Passion for education 
"[My grandmother] would say in Spanish to me that it's a beautiful thing for a woman to have a career and accomplish her dreams," TerMaat said. "She would encourage me to study harder. She's somebody who I don't go a day without thinking about."
While studying to earn a master's degree in general management from Aquinas College, TerMaat renewed her appreciation for education. She humbly recalls being the "annoying" student who would come to class early, sit in the front row and regularly have her hand raised.
As a non-traditional student, she marveled at how fortunate young scholars are to be able to learn full-time.
"I was envious. I thought, 'Oh my goodness, you are full-time students, some of you. What a privilege to have that time to just really devote to your studies and all the opportunities that college campuses are full of,'" TerMaat said.
During her graduate studies, TerMaat focused on how much she learned rather than the grades she earned. While interacting with young college students, she noticed that they are under immense pressure to perform.
"I see much more pressure on [establishing contacts and networking]. And while those things are great, we don't want it to come at the cost of still enjoying being a college student," TerMaat said.
Because education does not cease once one graduates, TerMaat is now focused on listening to and learning from the Ferris community for her position on the board of trustees.