The Bulldogs' late season push wasn't enough to keep their playing hopes alive, but with impact seniors Chloe Idoni and Mallory McCartney set to return, the future remains promising.
With a 68-57 loss in the conference tournament semi-final, Ferris finished the season at 17-12, placing them above .500 for the second year in a row under head coach Kurt Westendorp. Additionally, Idoni, McCartney and junior DeShonna Day earned all conference honors. Idoni also achieved the status of Academic All-American.
"I was blessed to have made the All-Region and All-American team," Idoni said. "Unfortunately, I did not get the GLIAC player of the year, but that just gives me something to strive for next year."
The 2022-23 season saw the Bulldogs jump to a hot 8-2 start, competing with top level regional opponents throughout the year. However, a short mid schedule slump slowed their momentum, which proved especially detrimental in a time where the GLIAC was more wide open than most people thought.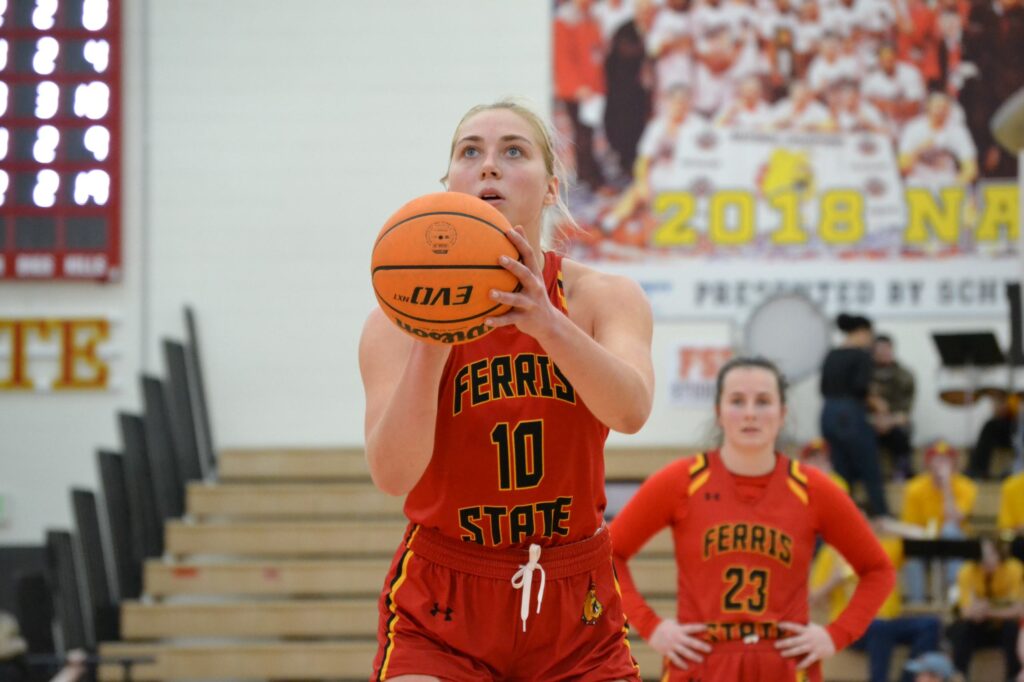 The Bulldogs recorded three wins in five games to close out the season, knocking off higher seeded Wisconsin-Parkside in the opening round of the conference playoffs, but a Michigan Tech team, who was riding a five game win streak, was just too much for the team to handle.
It was a season of personal milestones for many of the Bulldogs on this team. Idoni found herself crossing the 1,000 point milestone halfway through the year against Wayne State, cementing herself as one of the more dominant scorers in school history and across the league. Near the end of the season, McCartney notched her 1,000 career assist in just four years. The pair of seniors became a deadly duo in each contest this year.
McCartney was a league leader, averaging 5.6 assists per game, while Idoni nearly averaged a double double with 19 points and seven rebounds per game.
"Being able to play with [Idoni] has been the highlight of my time here," McCartney said. "We were able to do a lot this year, but we're both ready to win another championship with this team."
Nearing 20 wins, it still seemed as if this was a down year for the women's basketball team. Losing one of the conferences best players in Kadyn Blanchard and having a more depleted number of reserves, the team can breathe a sigh of relief as everyone is eligible to make a return for the 2023-24 campaign.
Averaging 70 points a game as a team and putting away 40% of field goals, performances by many of the players offers a chance for further improvement in this upcoming off-season. Sophomore Grace Sullivan appeared in 29 games this season and had a handful of games in double digit points, which was a valuable asset in the second half of this season. Much of the same comes from Elle Irwin, the freshman who started in nearly all contests this season and came up with an average of seven points per game.
The Bulldogs had a team average of 36 rebounds each game, building on second chance points. The team shot 75% from the charity stripe and a respectable 30% from the 30-point line.
"Looking back on the season, I am proud of the team for understanding the assignments of those successful games and keying in on the details as a team to be able to pull off these wins," Idoni said. "It comes down to consistency and working hard, which is something that I see in the younger players on the team."
A strong set of returners for next season as well as developed new recruits means another successful year of Ferris women's basketball.