The end of March featured the very first student-run convention at Ferris, named Ferris-Con, a passion project led by Residence Hall Association Vice President Lando Steel.
Steel wanted Ferris-Con to be a celebration and nexus of geek culture and diverse interests on campus. Over 200 people came to Friday's event.
The RHA was out of commission when every e-board member left due to the COVID-19 pandemic. After two years, Steel returned to a full e-board this semester as vice president.
The new RHA President Faith Faile boasts this event as a revival of the organization. 
With the success of the Stuff-a-Plush and Ferris-Con and other Stuff-a-Plush events on the way, the RHA feels good about their place on campus and is excited for future events.
"I realized that we have a lot of digital media presence on our campus, and we do not have a lot of ways for people to express that interest," Steel, a digital animation and game design senior, said. "We do not have a lot of ways for people who like pop culture, anime and video games to come together. We do have the anime club and things like that, but why not bring all these people into one space and enjoy things together?"
Ferris-Con offered more than an opportunity to dress up and sing karaoke, eat food and play VR games. Different RSOs were tabling during the event as well.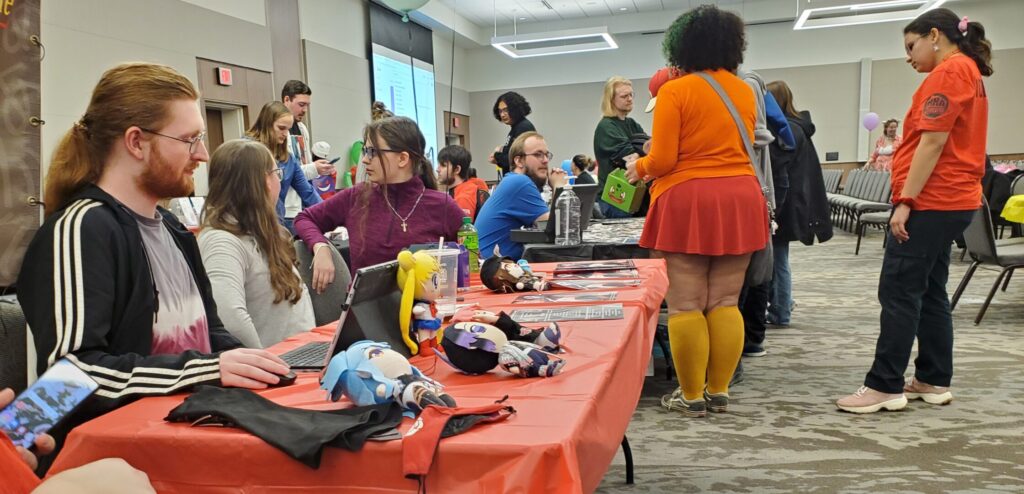 The LGBTQ Resource Center was selling pride goodie bags and showing students new library books that they could check out.
"We are hoping to get more people into the resource center and expose our library," public relations junior Faith Oom said.
The center was hoping to engage with students, spread awareness and show a fun side of the LGBTQ Resource Center. They were joined by tables from the Center of Latin@ Studies and the Office of Multicultural Student Services.
"We were focusing on different cultures," criminal justice junior Faile said. "The Center for Latin@ Studies and the LGBTQ Resource [Center] were here. We wanted everyone to be here and have fun. This is also to help the RSOs more. They are selling stuff so they can get more money, and reach more students and have more fun with students."
The students embraced the opportunity to dress up in costumes and socialize in the David L. Eisler Center ballroom. Many only heard about the event through word of mouth but were pleasantly surprised at the types of activities that Ferris-Con was featuring.
"I hadn't heard of [the] RHA until this event," television and digital media freshman Liz Brown said. "I came for fun, nerdy stuff and also friends, and it is exactly what I expected. I will probably go to the next one."
"I like that the LGBTQ resource table was here," criminal justice freshman Max Sorek said. "I associate doing cosplay with gay culture, and I know a lot of gay people who do cosplay."
By collaborating with the OMSS, CLS and DAISE, the revived RHA is forming a more robust presence on campus. 
With a new e-board, president and renewed passion, the Residence Hall Association shows no sign of slowing down. Keep an eye out for their Stuff-a-Plush event scheduled the week before finals.