Two Bulldogs broke records at Oakland University on Saturday in the Golden Grizzly Invite.
Donis Harris and Whitney Farrell both set new school records in their respective events, paving the way for a strong team showing.
"I thought our team had a good overall performance," head coach Jared Kelsh said. "It was a big stepping stone in the right direction."
Harris won the men's 5,000 meters, posting a school and personal record at 14:24.16. He also had a NCAA Division II National Provisional qualification time.
"I was seeded second going into the weekend," Harris said. "So it's always a good feeling to place better than you're expected to do. I ran the previous record two years ago, and it's been a goal to beat it ever since."
Even though he just beat his record, Harris has a new goal in mind: he wants to run even closer to the 14-minute mark.
He's not the only one breaking records as his teammate, a freshman for the Bulldogs, set a record of her own.
Farrell competed in her first steeplechase at the Golden Grizzly Invite.
"I was definitely surprised when I finished," Farrell said. "Coach told me I broke the school record. I really had no expectations going into it because it was my first time. At first I was really hesitant about racing it, but I'm really glad that coach had encouraged me to try it out."
Farrell placed third overall in the 3,000-meter steeplechase and broke a school record with a time of 11:23.65.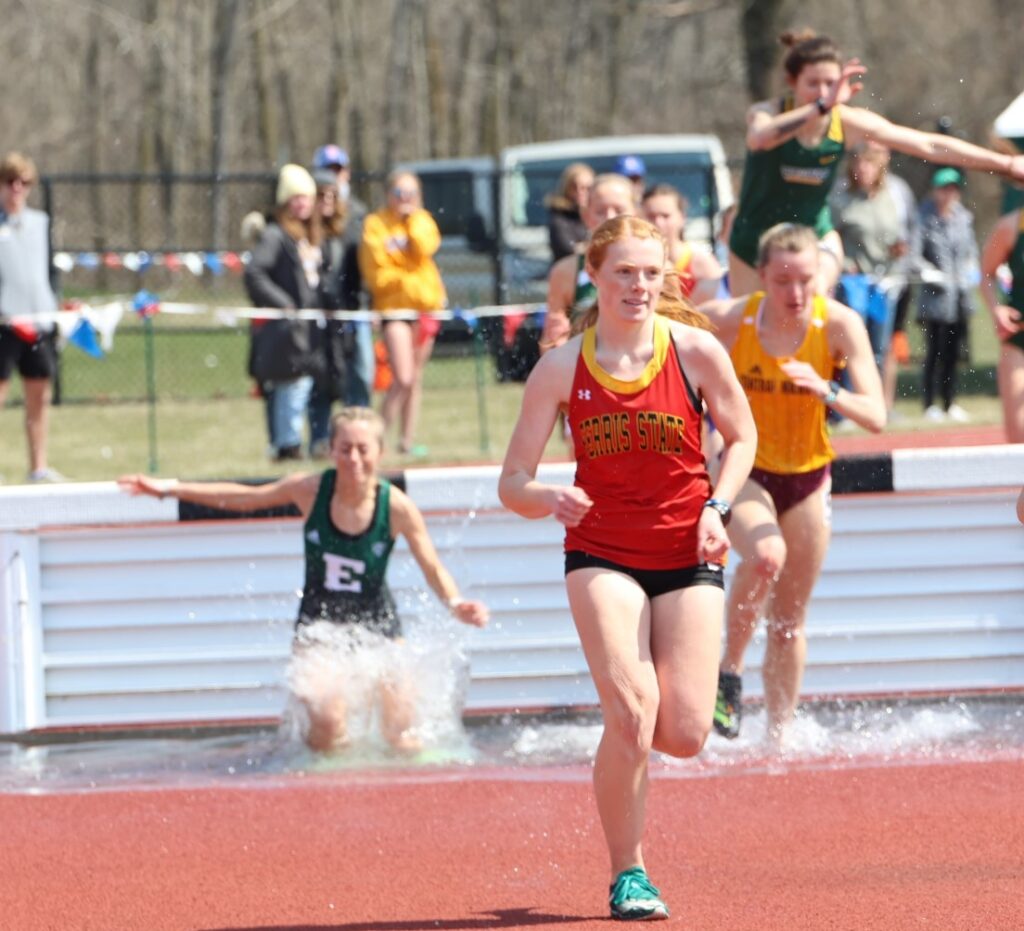 Other Bulldogs also performed well at the meet, giving the Bulldogs a strong team performance.
Brandon Wirth placed fifth in the men's 3,000-meter steeplechase with a time of 9:39.80, and Kyle Drouillard placed seventh in the men's hammer throwing with a throw of 50.66 meters.
Sydney Kubiak placed seventh in the women's 5,000 meters with a time of 17:57.75, and Melanea Strauss placed 10th in the women's 5,000 meters with a time of 18:19.97.
Nyah Tyron placed sixth in the women's 400-meter hurdles, posting a time of 1:06.51. Kaylee Huey just missed the top ten, finishing 11th in the women's 3,000-meter steeplechase at 12:17.21, and  Claudia Wilkinson placed eighth in the women's high jump with a 1.55-meter jump.
Rebecca Marvin placed 10th with a 10.94-meter throw in the women's shot put, Brianna Copley placed second with a 41.67-meter throw and Emma Stephayn placed eighth with a 38.05-meter throw in the women's discus. Stephayn also placed 10th in the women's hammer throw with a throw of 43.88 meters.
With an all-around good team performance for the Bulldogs,  they will be looking to build off this successful Golden Grizzly Invite.
Ferris will be back in action for the Bison Invite on Saturday, April 15, and Sunday, April 16.
Brandon Wirth is a sports reporter for the Torch and he is on the Ferris track team. He did not contribute to the writing of this article.