With police departments around the country experiencing staff shortages, Ferris' Department of Public Safety weighed in on their current staffing situation.
According to National Public Radio, police departments are shrinking and becoming short-staffed, causing some departments to get rid of some of their non-emergency jobs, such as dispatching officers to uninjured car accidents.
DPS Chief Abe Haroon explained what their staffing for sworn in officers currently looks like.
"We have eleven officers," Haroon said. "We are budgeted to have twelve, so we're down one position right now. Right now I'm selecting a new captain… The new captain would be the second person in charge, the second commander of DPS."
Haroon expanded on where the applicants for the captain position come from. He explained that some of the applicants are in the force, and if one of them were to be promoted, DPS would have to hire someone new to fill the newly vacant position.
In addition to the uniformed officers, DPS also employs dispatchers, cadets and student parking enforcement workers.
Haroon also explained that although parking has moved buildings, DPS is still in charge of some aspects of parking.
"A little bit of the resources were shifted," Haroon said. "The issues of parking and stuff, that's all handled outside of DPS. So the only thing I'm responsible for is the enforcement, and I do hire student staff in order to do that enforcement. But my numbers there have not changed."
Detective Sergeant Timothy Jacobs explained his thoughts on why nationwide recruitment might be low.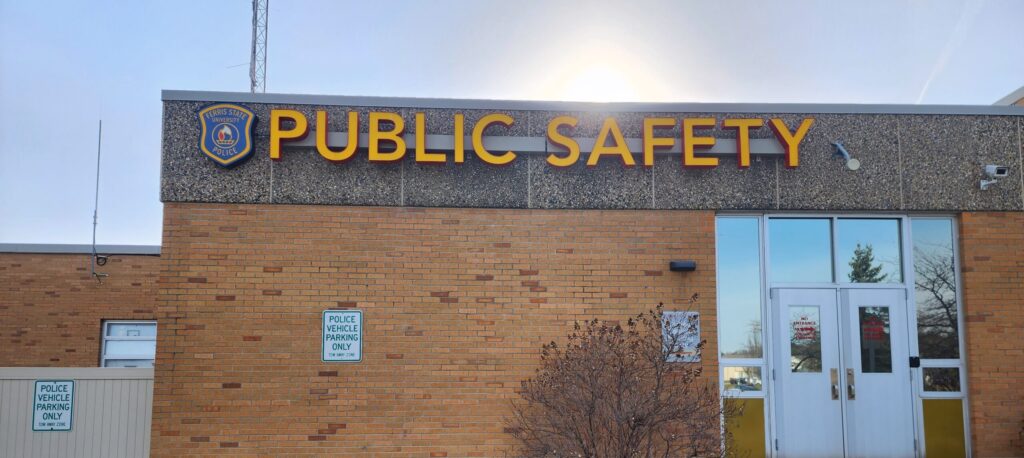 "Nationwide retirements are up I think," Jacobs said. "I think [media representation] also prevents somebody that may be thinking about going into [law enforcement], as they see some of the negative connotations without actually… scratching the surface to see what good the police actually do and can do for their community."
Haroon explained why he thinks enrollment in the force has been getting worse.
"After George Floyd nobody wanted to be a police officer because they associated it with something negative," Haroon said. "You need to turn that around because, for the most part, the men and women [in law enforcement are] outstanding individuals with very high morals and characters… But, unfortunately, [there] are some bad actors."
Criminal justice sophomore Nicole Janisz is a DPS cadet. She went over how she felt enrollment was in her criminal justice classes.
"As of right now, it seems like our classes [are] pretty good," Janisz said. "[In] the majority of the classes that I'm in, the majority of the class says they want to go into law enforcement."
Janisz explained that anyone who wants to apply for a cadet position can, regardless of their major, because DPS teaches how to do the duties at hand. DPS is currently looking for applicants for next year.
Haroon explained how having cadet training can help retain a job in the future.
"They're generally at the police academy, so it's a really good fit for them," Haroon said. "They get that exposure to law enforcement. And then as they graduate, I believe they're both selected to already have jobs because police are very, very high demand right now. So, they're already selected to have jobs, and it kind of gives them that exposure while they're still students at Ferris."
Education sophomore Ayanna Curry, who recently switched her major from criminal justice with a focus in corrections, had a different opinion.
"Law enforcement, they get it all," Curry said. "[Those interested in] public safety, they have a lot more opportunities to be able to get experience working in the field. But what about other things? What about the Department of Corrections and… other walks of life in the criminal justice field?… It's not just law enforcement."
Curry explained that she felt switching her major to education would allow her to continue her goal of helping troubled youth by encouraging them throughout their education.
Jacobs is hopeful that the amount of vacant jobs across the nation will decrease. He explained that he has seen several shortages throughout his career and they have all been resolved, so he hopes to see this trend continue in the future.