Hi, my name is Evan Hibbard, and I'm a junior in the TDMP program, a photographer and occasionally a writer here at the Torch. 
My path at the Torch has been anything but normal since I started as a freelance writer at the end of last year before becoming a full-time photographer over the last semester.
With my new position at the Torch, I have been fortunate enough to sit on the sidelines for basketball, football, hockey, tennis and softball games, as well as some local events where I have taken some photos that I feel genuinely proud of. It's truly been a great experience for me.
Before I came to the Torch, I also had a lot of trouble meeting people and making friends. Now, I can confidently say that I've met some of my closest friends through the Torch. It has really been a great experience that's forced me to get out of my shell and talk to people, when I previously would have just sat in the corner with my head down, getting my work done.
In my free time I enjoy playing guitar and bass, writing, playing video games and hanging out with my parents' cats, Admiral, Juno and Molly, when I'm home. I also spend a lot of time at CMU, where pretty much all of my high school friends live in a house together.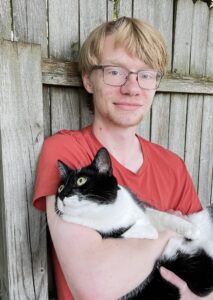 Overall, I'd say that I've had a great time at the Torch, and I'm confident in saying that the friends I've made here are going to be very good friends for a very long time.