Big Rapids and Green Charter Township community members gathered near campus on Wednesday with concerns about the upcoming Gotion factory's employment plans and alleged ties to the Chinese Communist Party.
Students were notified about a peaceful protest starting at the Ferris campus entrance, which would then proceed north from the intersection of Perry Street and State Street.
Protesters brandished American flags and signs reading "No Gotion" and "No CCP."
Gotion Inc. is Silicon Valley based with a parent company headquartered in China. Since Oct. 2022, Ferris has been involved in slowly progressing plans for a Gotion battery components factory, set to bring over 2,300 jobs to the area by 2030.
"We are here because Jim Chapman with the Green Township Board has locked us out of the open public meeting," protester Lori Brock said.
Green Charter Township supervisor Jim Chapman, a Ferris alumnus, moved Wednesday's informational panel to a virtual format due to safety concerns. The Big Rapids Pioneer reported Chapman's thought process behind the move.
"Multiple out-of-the-area groups are recruiting to use antifa tactics to shut down Green Township's panel discussion on April 5," Chapman said. "They will endanger our residents. The only choice is to cancel in-person attendance and take this opportunity online."
According to the Pioneer, Chapman used the term antifa to refer to "extreme tactics" used in protest, not in reference to the left-wing, anti-fascist group by the same name.
"We also found [that] they said they weren't Chinese owned, and they were pushing that they were [Volkswagen] owned. But it's VW China that owns owns 25%," Brock said.
Chapman previously described the company's ownership in an article uploaded by UpNorthLive.
"The original owner was Chinese. But VW Germany owns 25% of it," Chapman said. "45% of it is owned by stockholders. It's on the Chinese stock exchange, but it's also… [on the] Swiss Stock Exchange."
A 2021 article from Berlin-based media outlet electrive.com reported that Volkswagen China increased their share of Gotion High-Tech to 26.47%.
Protestor Rod McKenzie is a Detroit native and Ferris alumnus. He believes the move to a virtual meeting was a violation of the citizens' first amendment rights and that the group of protestors posed no threat to other members of the community. McKenzie and over 60 other community members chose to voice their concerns on the streets rather than in the virtual panel.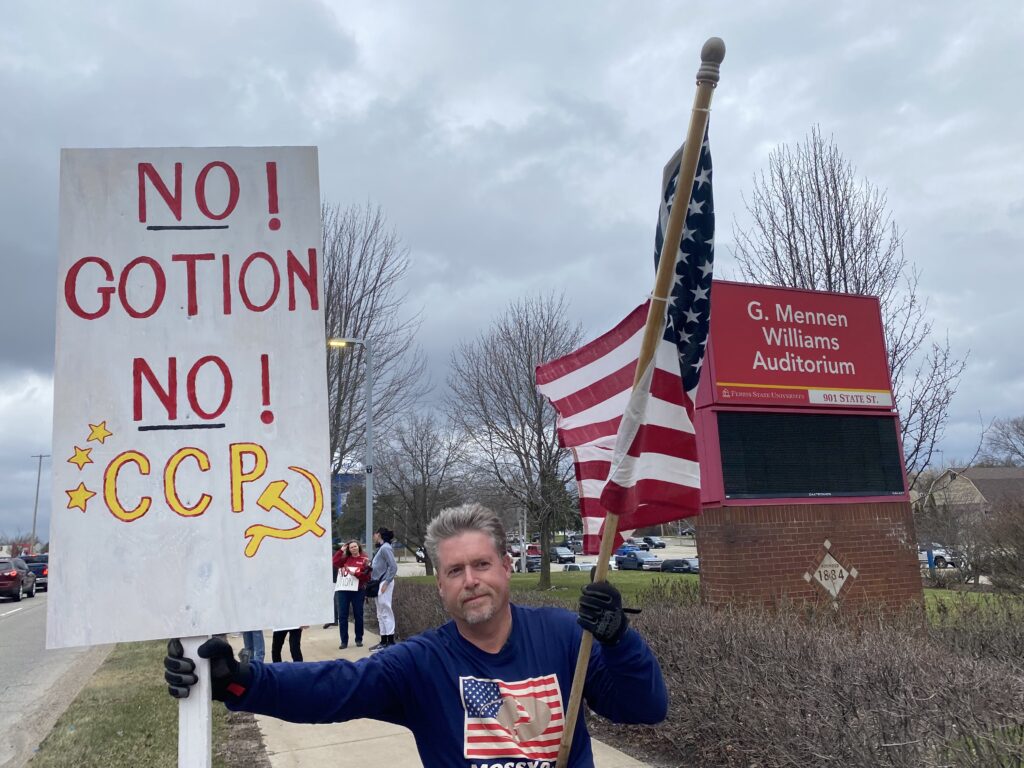 "As an American, I'd rather see Chrysler [or] Dodge put a truck plant here, or something… I'd at least know what to expect from them," McKenzie said.
Holding a home-made sign with a painted hammer and sickle to represent the Communist flag, McKenzie's concern echos a statement made by former Republican gubernatorial candidate Tudor Dixon on Fox News.
"These are not going to be American jobs," Dixon said to host Tucker Carlson. "They're bringing Chinese nationals in to take these jobs. And they will be housed at the local university where the local university has just so happened to be telling people, 'This is such a good idea, you have to have this corporation here.'"
The assertion that the Gotion factory will spread Communist ideology throughout the region, aided by employee housing on Ferris' campus, were addressed by Gotion North American Vice President Chuck Thelen in Wednesday night's panel.
"Despite what any corrupt politician might say, there is no Communist plot within Gotion to make Big Rapids a center to spread Communism," Thelen said.
On the panel, Ferris alumnus Thelen joined Jim Chapman, Patrick Tiedt of Consumers Energy's community affairs, Jeremy Webb of the Michigan Economic Development Corporation, The Right Place President and CEO Randy Thelen and Mecosta County Road Commission superintendent Tim Nestle. The session was moderated by Dean Michael Staley of Ferris' College of Engineering Technology.
"Has the Communist Party penetrated this company? No," Thelen said. "Do we have articles of incorporation that require a specific paragraph where you don't do business in the country of China? Yes, but it is not a corporate culture."
The "articles of incorporation" appear in reference to a specific portion of Gotion International's by-laws, gaining traction among locals as Article 9.
To quell concerns regarding the presence of "Chinese nationals" moving to the Big Rapids area for employment, Thelen announced a two-week recruiting priority for Big Rapids applicants. Employment agency Michigan Works! will be the factory's main recruiting partner for the entire project.
"We'll bring in roughly 20 to 50 people [from China] to help with the training," Thelen said. "I'm slated to be plant manager, and I can assure you I'm not a Communist."
While Ferris students expressed their confusion about the protest via social media, one also shared her concerns with the Torch.
"Gotion coming to Big Rapids will drastically change the face of this community," second year optometry student Ellen Corbett said. "I think locals of Big Rapids deserve a say when it comes to these changes. Many live here because they value the small-town environment and the quiet area."
President Bill Pink, who released a video encouraging students to steer clear of misinformation surrounding the factory, continues to support Ferris' partnership with Gotion.
"In the last, gosh, five to 10 years we've lost over 1000 jobs in this region," Pink said. "Something needs to happen. That is a dangerous indication for our region. And whatever we need to do on our end to be a support of our community, a support of work, that's what the university is here for."
This is a continuously progressing story between the university and surrounding townships.