Despite competitition of who will start in net,  junior Logan Stein and sophomore Noah Giesbrecht have formed a strong relationship on and off the ice.
Since both goaltenders began their journey as Bulldogs, they've created consistency in net for the team. This consistency certainly is a part of Bulldog hockey's improvement.
"I think we both push each other at the end of the day," Giesbrecht said. "I feel like both our numbers and our play out on the ice wouldn't really be there without us pushing each other."
Giesbrecht believes that their competitiveness is how they can build off one another. Stein added that the two's ability to bounce ideas off each other as goalies helps build their game.
The tandem of Giesbrecht and Stein recorded a combined 1,053 saves in the 2022-23 season. Giesbrecht recorded an 11-12-1 record in 33 games played (26 started). On the other end of the tandem, Stein played in 18 games (started 11) and recorded a 3-7-3 record.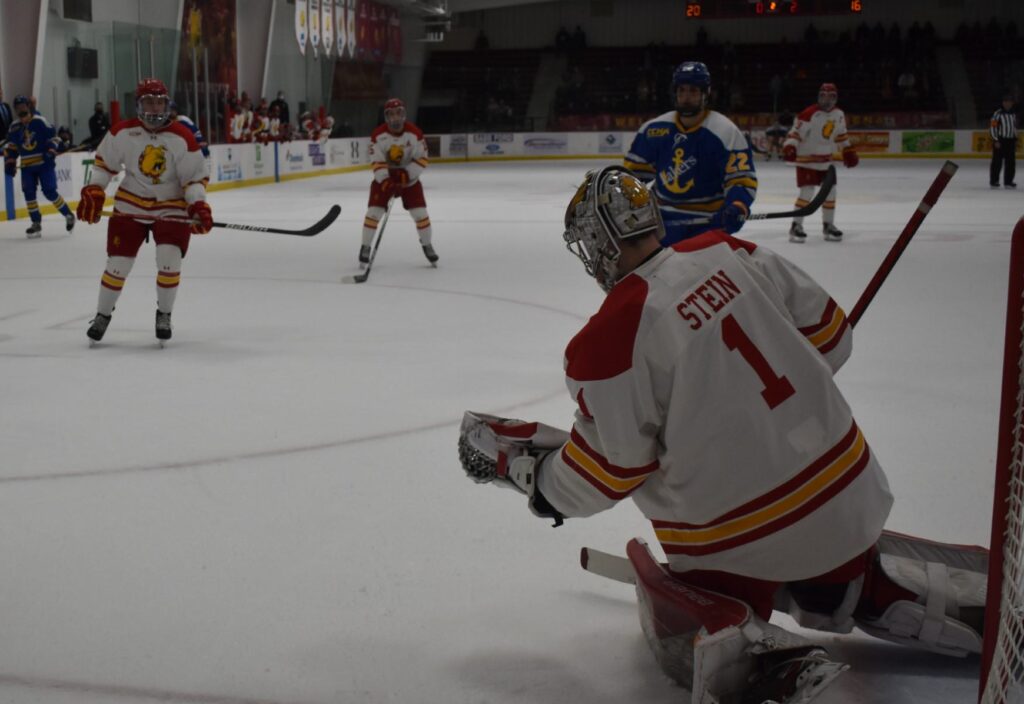 Before a 6-0 loss to Bowling Green earlier this season, the tandem would split the weekends with Stein starting on Friday and Giesbrecht playing on Saturday. Following the loss, head coach Bob Daniels had said the team was "past that point" of the schedule.
This is where Giesbrecht took over a full-time starting role as the Bulldog's number one goaltender. Night in and night out, Giesbrecht had consistently strong performances. He had a top-50 save percentage in all of NCAA DI hockey. However, this would leave Stein out of the net.
According to Stein, the pair didn't have any hard feelings over this change.
"Me and Noah are friends outside of hockey," Stein said. "We aren't just friends because we play hockey… We like to do the same things. We live the same lifestyle. Whether I was playing or not, [it] wasn't a huge deal on our friendship because he's still one of my good buddies that I like to play video games, hang out and talk with."
Giesbrecht confirmed this by saying that he only wants to see Stein succeed.
The two goalies aren't all competition, however. They make sure to have their fun. The two told the story of how Giesbrecht, who doesn't let people wear his gear, let Stein wear his gear one time last season. Stein then walked out of the locker room where he ran into Coordinator of Athletic Performance Dave Cencer, who, confused, just stared at Stein in Giesbrecht's gear.
Unfortunately, not every moment with the goalies is competitively driven or fun. One of these moments was seen during the Bulldogs' road series against Northern Michigan.
Both goalies were under pressure. Giesbrecht, who started in both games, was ill. Stein, who was backup, had an injury that would mainly keep him off the ice until late on Saturday. Through that series, the Bulldogs were outscored 17-5. Head coach Bob Daniels believed that the weekend at Northern helps reinforce the importance of the tandem.
"I think it highlights to their teammates how important those two are in the chance of both of them not being really in a position where they can play," Daniels said. "I was really proud of [Stein] for stepping into that situation. He hadn't played in a while and [had] a broken hand. For him to go in there and play is why he wears a letter. He's very selfless, and I thought it was [a] really good sign to his teammates that he would do whatever he had to do to help the team."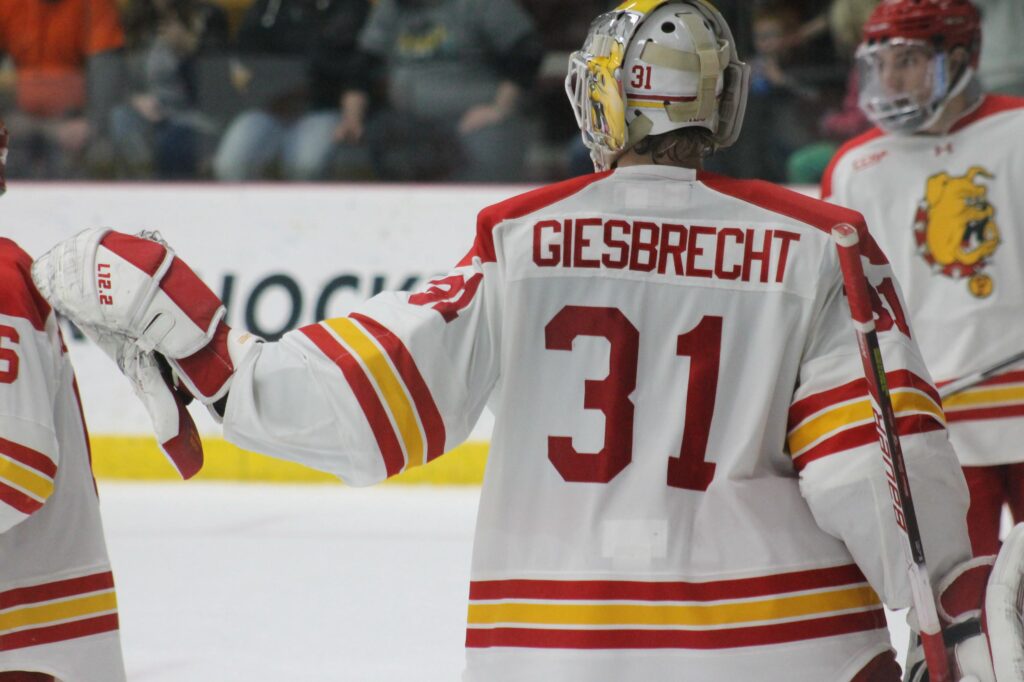 Daniels, who is excited for next season, highlighted that both goalies will have to compete for the role of starter next year.
Through ups and downs this past year, the Suwanee, Georgia native Stein and the White Rock, British Columbia native Giesbrecht have found their footing as the top two options for the Bulldogs when it comes to playing between the pipes.