Excited students were greeted with music and snacks as they entered the David L. Eisler Center ballrooms for drag trivia.
Sunday's event, hosted by the LGBTQ+ Resource Center, included performances from Beauty Beyond Drag Productions performers. This was the second drag event put on by the center this year and the first one this semester.
The event took place a little over a month after laws were put into place to ban drag performances in Tennessee. Bills are also currently being filed in several other states targeting drag performers, according to The Guardian.
Drag queen Vivienne Von Dion has been performing drag for two years. She explained how those against drag have changed the feeling of her work environment.
"I just actually had a show at CMU, and we had pictures taken and they were posted online," Von Dion said. "[We] had some keyboard warriors kind of come after us and say some derogatory words that really kind of hit home,  and being so new, it overwhelms me. So it was just a fear of when my next show was in CMU, like am I gonna see them? Are they going to be out there waiting to harass everybody and stuff?"
Drag trivia hostess Cherry Poppins weighed in on how the recent events have impacted her.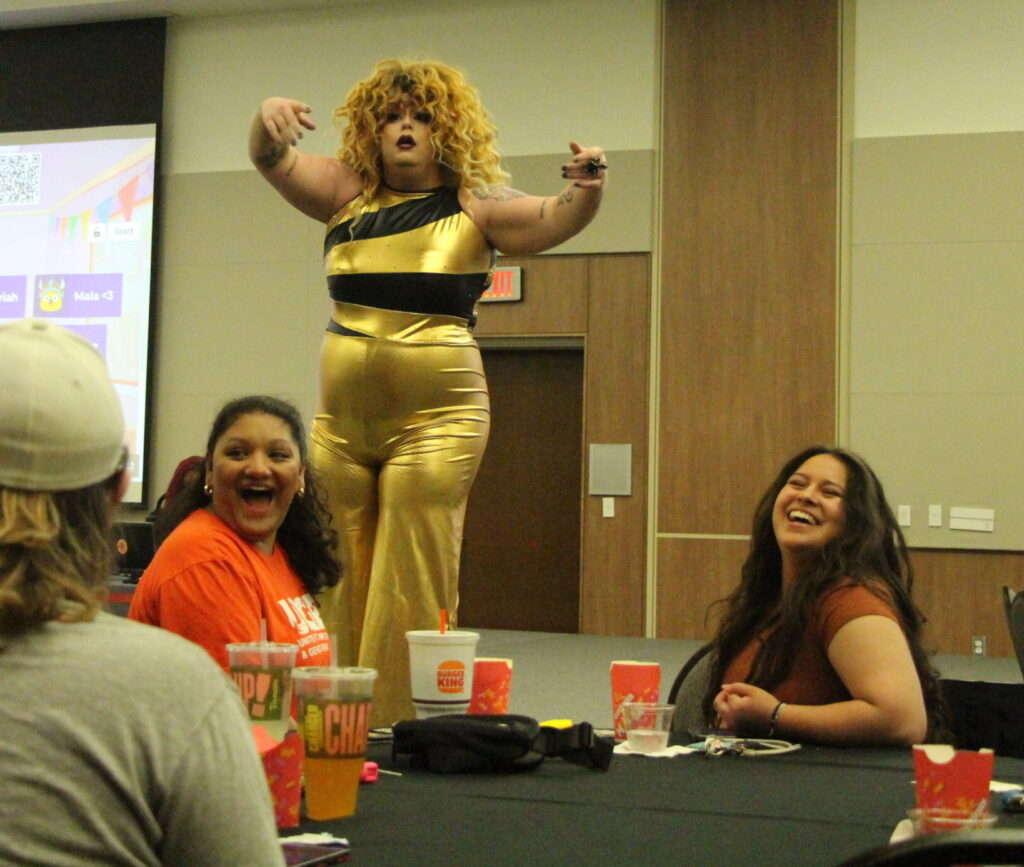 "[For the show tonight], we came down to look at the area that we're performing in, and the reason I did that was because I want to know where my exits were in case something were to happen," Poppins said. "There's always that fear that something will happen because it has happened, and we aren't the exception."
For the drag portion of the event, performers danced around the room in colorful outfits to upbeat songs; some did cartwheels, while others did the splits.
Performers encouraged audience members to participate with them, including clapping to the beat and making noise for the other performers. Audience members were also given the opportunity to give the performers dollar bills as they walked around the room, however, it wasn't required.
In addition to performing, Poppins became flirtatious with marketing sophomore Parker Tungate, who in return gave Poppins a gift.
"We left to get drinks and then I thought it'd be funny, because I didn't have any cash, so I was like I work at Starbucks," Tungate said. "I might as well bring her a cake pop."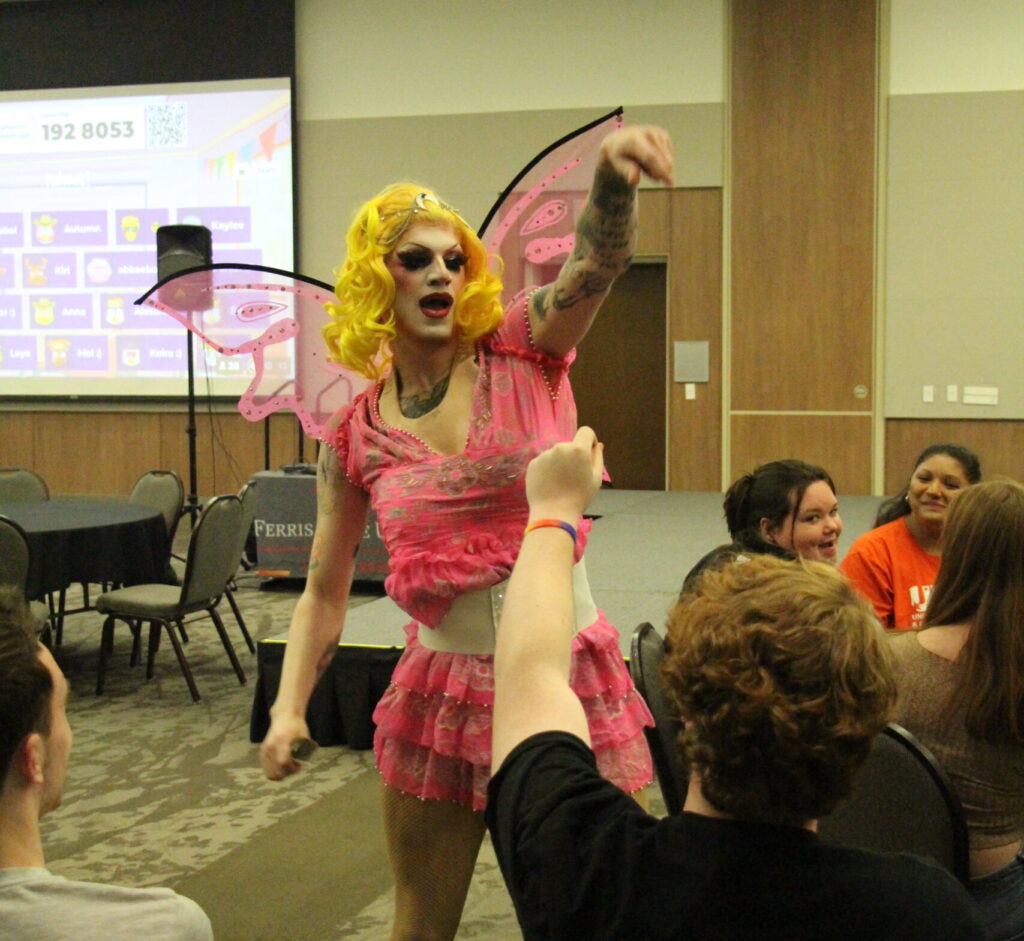 Poppins gladly accepted Tungate's gift and continued the show while eating the cake pop.
Von Dion shared that while she doesn't have a favorite venue to perform at, there is one place that holds a special place in her heart.
"I like getting the feel of different venues," Von Dien said. "I will say probably one of my favorites right now is the Broadway just because it's so close to family and friends. So the love and support that I received back home is worth it."
The trivia portion of the event focused on LGBTQ+ questions, including historical moments and identifying flags.
As trivia produced its last question, it created events that left the audience both laughing and then silent. The question asked who the best emcee was with Cherry Poppins being the correct answer. Six participants answered incorrectly, which led to Poppins checking everyone's phones to call out those who answered incorrectly. One of the six was never found, despite Poppins' efforts.
The winner of drag trivia was environmental biology senior Holland Snyder, who in addition to winning a $25 gift card from the LGBTQ+ Resource Center also won two tickets to see a drag show in Grand Rapids in June.
"I'm gonna take my girlfriend out to the show," Snyder said. "She lives in Grand Rapids. I'm so excited to go with her."
The LGBTQ+ Resource Center's next event is their Friday Night Gaymes, which are held every Friday at 5 p.m. in the LGBTQ+ Resource Center, located in the DEC.