The Bulldogs women's softball team (18-28, 6-8 GLIAC) suffered a 10-0 loss to division rival Grand Valley State University in the first game of a scheduled doubleheader. However, bad weather postponed the second game.
The scheduled first game went five innings and resulted in a mercy rule win for Grand Valley. A stoppage due to heavy rain momentarily paused the game at the beginning of the 5th inning.
The Bulldogs struggled to keep Grand Valley off the bases, as they gave up 11 hits and three walks that resulted in 10 runs.
Pitching for the Bulldogs to start the game and receiving the loss was Kristie Gray (2-5). She pitched three innings and gave up five earned runs off six hits, one walk and two strikeouts.
Aubrie Lafferty came in relief for Gray and pitched one inning. She gave up five earned runs off of five hits, two walks and surrendered a two-run homer.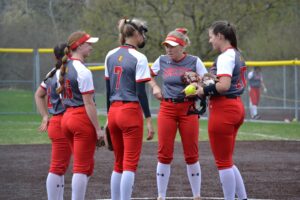 Sophie Wisniski relieved Lafferty in the 5th inning. She threw one inning and allowed no hits, walks or earned runs.
Grand Valley did most of the damage in the fourth inning, as they recorded eight runs.
The Bulldogs had three hits in the game on the offensive side with no runs in the game. They also recorded an error.
Josie Prince had a single in her two at-bats, Catherine O'Donohue had a single in her two at-bats and Natalie Teague had a single in her lone at-bat on the day.
The Bulldogs struck out seven times in the game and left two on base, drawing no walks.
Ferris will be back in action on Saturday in a double-header at Wisconsin-Parkside and on Sunday in a double-header at Purdue-Northwest.