Centered around students, for students and by students is how the Student Government Association's president-elect wishes to run his 2023-24 school year cabinet.
Applied math and computer science major Dylan Andrews ran unopposed for the SGA presidency for the upcoming school year. He isn't shying away from making his ideas and plans heard.
Since joining SGA, Andrews is ready to change the way students experience life on campus by allowing them to voice their concerns and goals.
"My freshman year was 2020. I came in during COVID-19, and I saw how student life completely was flipped because the pandemic was insane," Andrews said. "What shocked me more was now that we moved out of this pandemic, we're still having this big struggle, and things aren't what they used to be… I joined student government to see how it worked and see what I could do to boost student life."
Andrews is a part of the coaching staff for the football team, a senior staff advisor, a liaison for the Residence Hall Association and president of the National Society of Collegiate Scholars. He has also spent time with the math club, board game club and Greek life.
Through all of his involvement with different groups, Andrews started to see little things that he believed should have been fixed when COVID-19 restrictions were lifted.
"I feel as though I can make a difference so that we can have a real, strong student life here," Andrews said. "Something that makes a student's experience here last forever. We could make it one of the best moments of their life."
Now that Andrews is in the driver's seat, he is excited to be able to push his ideas forward. From ideas within his cabinet to student issues, Andrews says he is looking forward to making SGA a place for students to be heard.
"Under my presidency, I will grant every single student on this campus and its subsidiaries student representation by the student government," Andrews said. "They will be a member. If they wish to vote, that's another story… I want it to be so the students' voices can be heard."
Biotechnology junior Nora Schwartz, who is the vice president of the biotechnology Registered Student Organization, says not many members have time to sit through an SGA meeting, but if they did, they believe it wouldn't do much for their organization.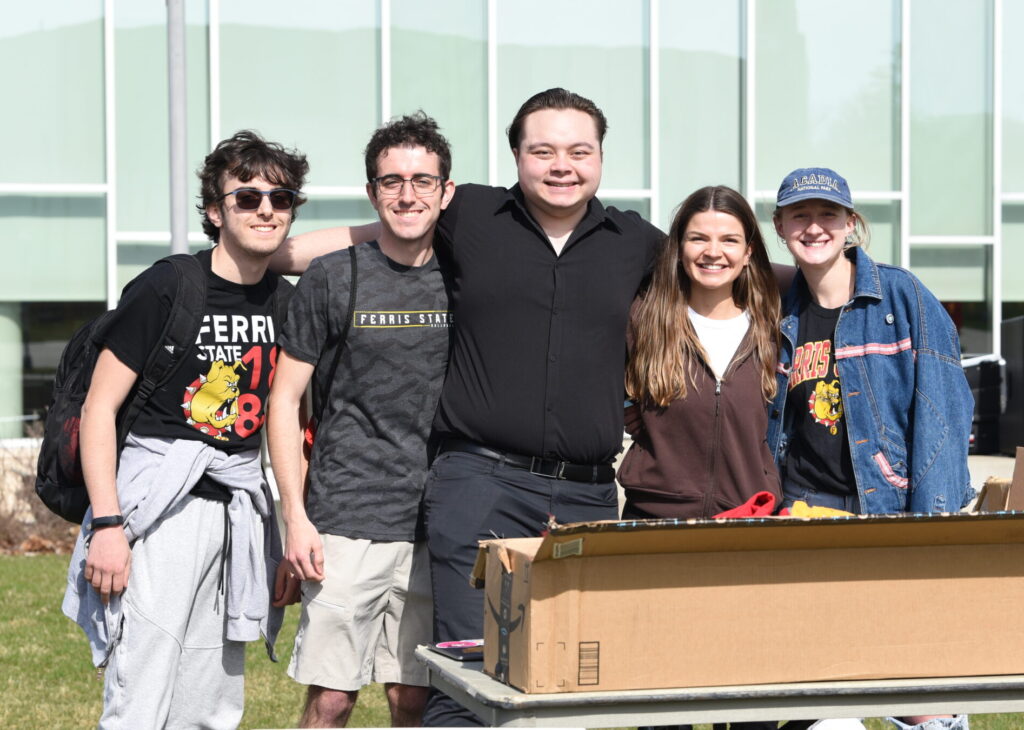 "Student government seems to know what they are doing and have things put together. If there's a large issue on campus, they address it," Schwartz said. "I feel as though students don't really have an issue with student government. Students have issues with housing and financial aid and feel as though student government can't help them with those kinds of issues."
Andrews hopes that he can bridge the gap between students and the administration to help with any problem students are having. He stated that, unlike previous presidents, he has been able to set up monthly meetings with Ferris President Dr. Bill Pink and  university Provost and Vice President for Academic Affairs Dr. Robert Fleischman. Andrews believes that these meetings can help bring about change, as he will be able to bring issues and ideas right to their desks.
While Andrews says he has a lot of ideas and plans for how he would like to run SGA, he is holding off on revealing too much too soon.
"I'm hoping that we can keep making historic and monumental movements," Andrews said. "I want to make sure I have everything I need first and correct before I make any action or move, because if you don't have a solid foundation, what's the point? That's why I'm not exposing anything. I have very solid plans and they are fully fledged, but I'm not gonna give them to the public just yet."
At the moment, Andrews wants to focus on working through the current president's agenda. In the upcoming school year, medical laboratory science junior Cassidy Engels will be stepping down from her position as president and transitioning to vice president.
Engels says members have not been interested in the role of president. Although Andrews has been looking to run since he joined SGA, she believes he is a great candidate.
"He has attended the Michigan State University Student Government Conference," Engles said. "He went out of his way, drove a while to go to that and spent his weekend chatting with other student government e-board members from other universities in the state. He got some really good ideas, brought them back to us and that was just a good example of the ambition he has on bigger sights for us as an organization."
Engels says there is a lot of trust in Andrews' ideas.
"Working with [Andrews] has been really refreshing," Engles said. "He's highly motivated in improving student government, and he's really responsible. We're working out some things for next fall because I'm going to be vice president. We're working to change a few things within student government, such as making the initiation process easier for new members to join and reorganizing the cabinet and general assembly so that it's more functional. He's got a lot of other ideas too that we're still working out."
As the year comes to an end, Andrews is working closely with the current cabinet, and he is planning to work with them throughout the summer to make SGA more accessible for students to learn about and to join.
Andrews will officially be sworn into office at the SGA's spring gala on April 25. Attendees will include other cabinet members, the university president, the university provost and any students who would like to attend the event in Williams Auditorium.