During National Poetry Month, love for poetry and hope for the future of writing filled the room at the annual Literature in Person event.
Within the Fine Arts Gallery, 15 people sat before poet Brandon Rushton as he performed and explained five poems from his book, "The Air in the Air Behind It."
Creative Writing Coordinator Deirdre Fagan has organized this event for eight years. She picked Rushton to perform this year because his work offers students "hope for their own writing." Shortly after Rushton's book was published, he won a book prize.
Rushton was born and raised in Michigan and lived in South Carolina for 10 years. A lot of his poems focused on how he felt when he was away from Michigan, his true home, and his desire to return there.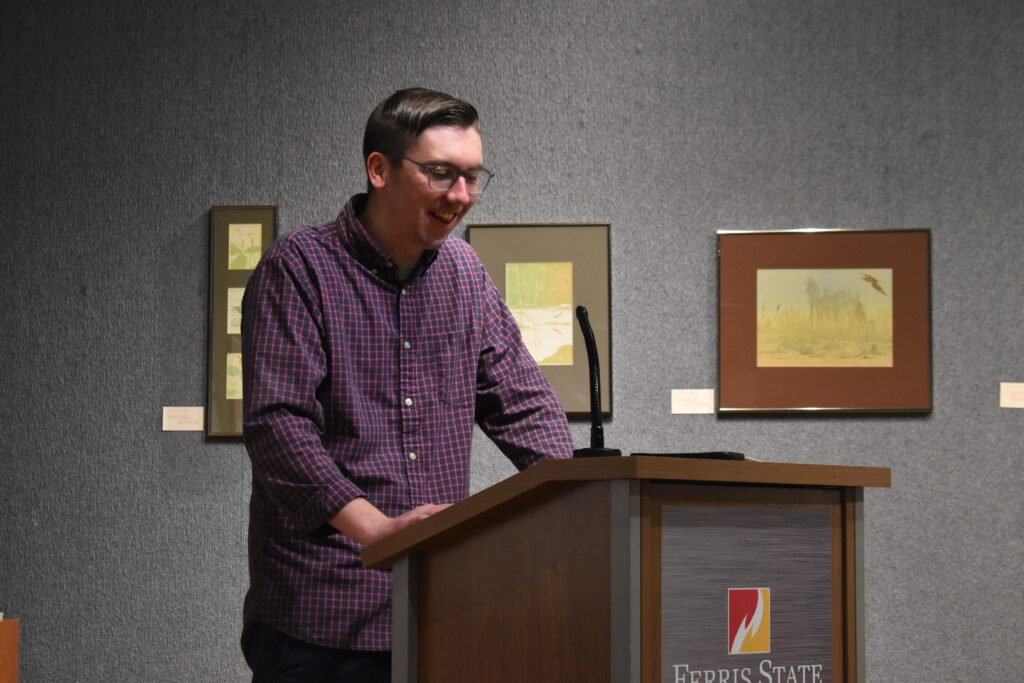 "I spent 10 years away from family and friends in what felt like a foreign region to me," Rushton said. "And then, when the book came out, I was back home; I was back around all the people that I loved. So it felt like the poems were almost written to bridge the gap that I felt."
He described his invitation to perform on campus as an "honor" because people willingly went to listen to a reading of his poems. He believes that it's important for an event like this to be funded because "they breathe a lot of life" into the English department.
Together, Rushton and Fagan share a love and deep interest in language. As Fagan is a professional writer and professor, she has spent over thirty years of her career on the written word.
"Writing, like all art forms, is about a love of the craft and the discipline and joy of creation," Fagan said. "I write and teach about writing for both the love of words and the meaningful connections made with readers. I am fortunate that my vocation and avocation are one."
Throughout the time Fagan has organized this event, authors of all types of writing and genres have performed. To Fagan, the Literature in Person series is a way to celebrate the written word and to inspire the Ferris community. She chose to hold the event in the Fine Arts Gallery this year because "art seeks art."
"Words and visual art celebrate each other in the gallery, and I find myself most at home when surrounded by visual art, words on the page and sounds in the ear," Fagan said. "The gallery, to me, is the most intimate space on campus for discussion and connection."
Fagan's inspiration comes from "human experience and intimacy." She sees poetry as one of the purest forms of expressing what it's like to be a human being.
"Celebrating and talking about poetry is celebrating and talking about what it is to be alive and what could be more important than that?" Fagan said.
Similarly, Ferris alumna Alyssa Hubbard finds her inspiration through people and their everyday life.
Hubbard won two awards at Ferris' Prism writing and art competition last year, one of which was for a poem that received an honorable mention. As she has always loved writing, she strived to have her work published. When she found out about Prism, she felt that it was her moment to shine. Although she submitted the year before and didn't win, she wasn't discouraged to resubmit.
"I was determined to prove my talent and my worth as a creative writer," Hubbard said. "I know it's a smaller magazine, but it was my first time getting published, and it was a dream come true."
During her time at Ferris, Hubbard attended a Literature in Person event once. It was her first time ever hearing poetry performed by a professional. She found herself in awe of the performance because of the vulnerability that comes with poetry readings.
"It was interesting to watch somebody who does that for a living and watching them pour their heart out in front of us," Hubbard said.
As a writer, Rushton sees every day as a celebration of the arts, but he appreciates the focus of celebrating from communities that don't regularly interact with poetry. He feels "relief" as he sees the awareness of this art form.
"Reading series for writers are crucial because we spend so much time on our own, locked away from the rest of the world," Rushton said. "So when we have the tangible object of the book come out, we get to celebrate that with other people. And I hope that Ferris continues to fund this and bring in poets that get creative writing students excited about different genres of writing."
Fagan hopes to see the event grow more every year. She believes with more attendees and funding, there can be more events held and more writers brought to campus. With this, Fagan felt proud of the outcome this year and sees great potential for the future.
Alyssa Hubbard is a former employee of the Ferris State Torch.