With the war in Ukraine turning into a stalemate, Ferris students and professors explored the United States' involvement in the Ukraine war during a Deliberative Dialogue session.
Deliberative Dialogue events are not a part of a formal organization, but instead are events that associate professor Kristin Conley has coordinated for over five years because of her sheer passion for developing knowledge in the community through the community.
"We do a lot of things in our safe worlds and bubbles, so this is an opportunity," Conley said. "You are meeting new people and hearing different opinions."
Recently, these events have been recognized by the university and have received university funding, which mostly goes to student workers and food for the events.
Working off the national issue forum and their Deliberative Dialogue packets, the student discussion was segmented into three different arguments and potential consequences for such arguments.
Each argument was about the level of intervention the US should commit to. The first reasoning was an isolationist attitude, the second focused on financial and diplomatic intervention and the third advocated for varying levels of militaristic intervention.
Four tables of six to eight person groups progressed through these arguments to discuss their thoughts and the merits and faults of each argument.
At the end, each group gave their takeaways from their discussions. Overall, the groups were in agreement that America should have an isolationist attitude, focus on its domestic issues and doesn't have the right to enforce its morals throughout the world.
With many of the students coming for extra credit, a good portion felt they were uninformed on the topic.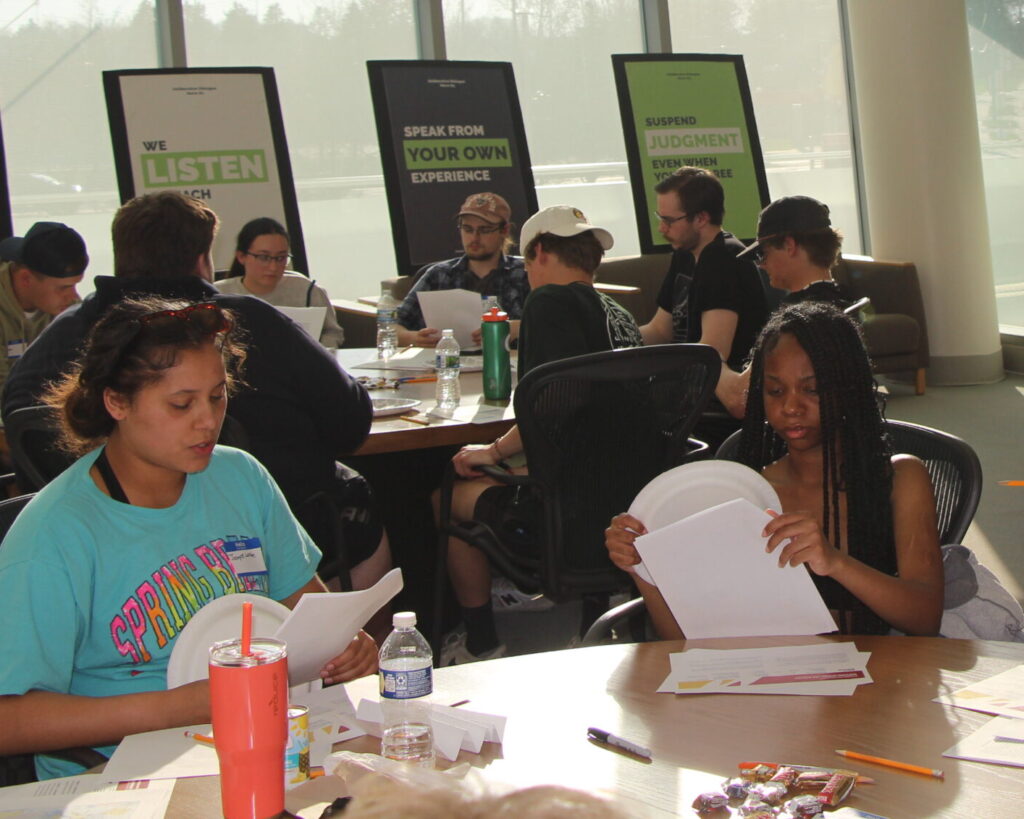 "I honestly did not know a lot about the Ukraine war as I thought I did," social studies education junior Zachary Rhodes said. "It's like there is a negative for every positive and vice versa."
The talk did not provide much info on the current state of the war or how much intervention America currently had.
One student felt this impacted the quality of dialogue.
"I was learning from people during the discussion, but I also know already that many people are pretty uninformed on world geopolitics," welding junior Forrest Hamilton said. "We didn't have much to talk about because people did not know as much."
In response to this, history professor Dr. Tracy Busch urges those with an interest in the war in Ukraine and the Russian mindset to enroll in her Russian history class.
"To understand the Russian mentality today, you have to know the historical background," Busch said. "There are centuries of precedent that develops Russian nationalism."
In response to the ongoing war, Busch has updated her curriculum to encourage modern cultural comparison to the history of Russia.
"We have ignored the Russian condition for too long and now the chickens have come home to roost," Busch said.
Although the semester is nearly at an end, there is still one Deliberative Dialogue session to attend on Wednesday, April 19. It will focus on the modern discussion surrounding climate change.