Graphic design freshman Sean Rowen enjoys art, being an entrepreneur and hanging out with his rabbit, Bean, and his fiancé, Tyler Steele, who is also his home-aid.
Rowen was diagnosed with Ehlers- Danlos Syndrome, which is a connective tissue disorder that causes his joints to dislocate. It also causes Rowen to sometimes pass out when he goes from sitting to standing, so he also uses a wheelchair to get around.
As Rowen has become familiar with Ferris, he has noticed many issues that prevent the campus from being completely accessible to him.
"I would like Ferris to repave the sidewalks," Rowen said. "That is one of the biggest things Ferris could improve for my disability, due to my using a wheelchair. Large gaps have caused me to flip out of my chair and dislocate
my shoulder."
Ehlers-Danlos Syndrome has made it harder for Rowen to do some of the things he loves.
"I really enjoy art, and due to my fingers dislocating, I have a hard time with that," Rowen said. "I also really enjoy playing flute, and because of my shoulder, I can't do that for a long time. I use braces and supports to be able to do those, but I still struggle."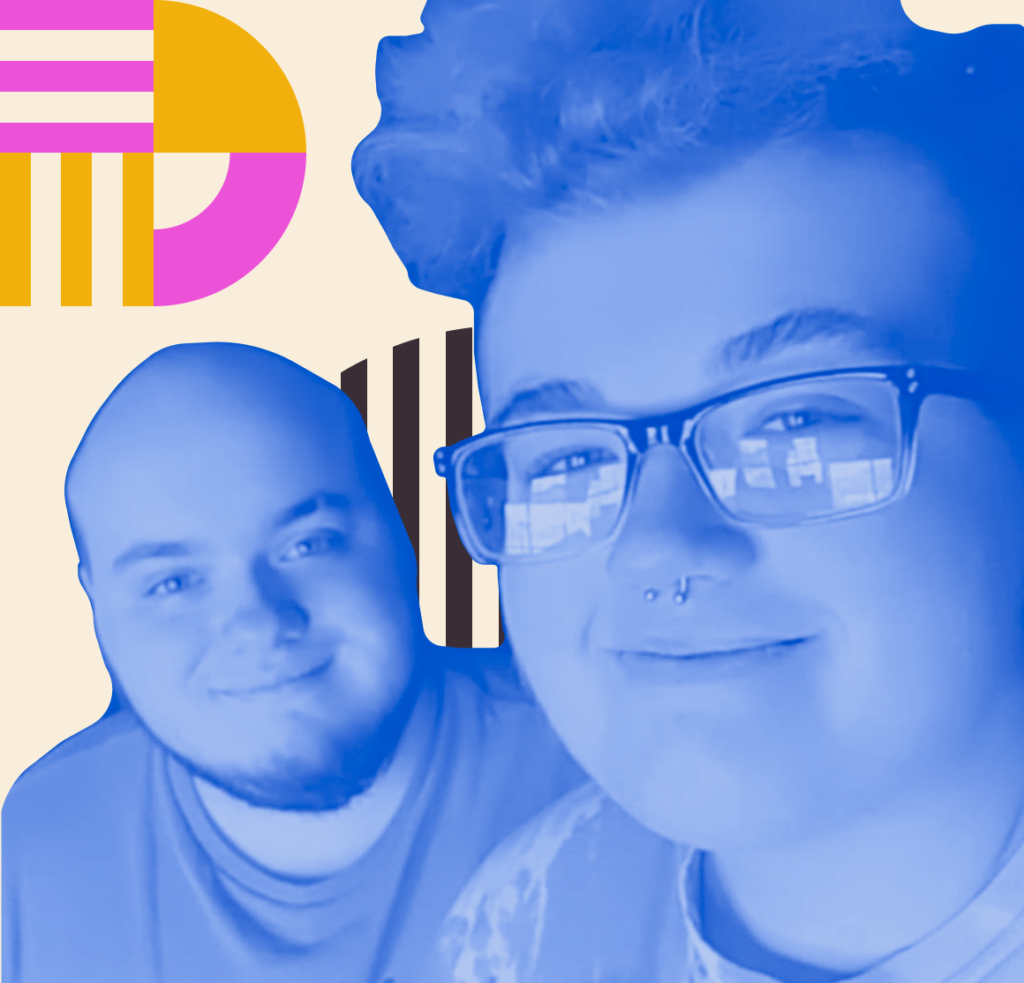 As Rowen's fiancé, Steele is also able to paint Rowen in a unique light.
"[Rowen] is incredibly understanding, supportive and determined," Steele said. "He listens when people need to talk, he offers emotional support and advice when necessary. He loves helping other people and having new experiences. When something gets in the way of him doing something he wants to do, he works to solve that problem, and he does very well with that. He's also incredibly creative with not only his problem-solving but with his art. He loves to make new things and try out different ideas."
As Rowen's home-aid, Steele is also there to push his wheelchair most of the time or help him grab food.
One of the harder things for Rowen is finding a place to work. He has created his own online business, since people won't hire him.
"My business is online, which I can do fairly easily, but trying to find a job is incredibly difficult," Rowen said. "No one really wants to hire someone in a wheelchair, even if I'm qualified for the job, and that's something I'm struggling with."
Rowen believes that employers should be able to look past things, like being in a wheelchair, and be more open to who they are hiring. They should not turn them away simply because of a disability.
"Employers should be willing to learn and accept change as needed," Rowen said. "For example, letting a cashier sit instead of stand, letting people wear earplugs to prevent over-stimulation [or] asking people what they need instead of assuming what accommodations are or aren't needed."
As a disabled, gay, transgender artist, it can be hard to get people to support his business, but it hasn't stopped Rowen in the slightest.
"I have a Redbubble shop where I can sell designs that I make on shirts, phone cases, pretty much anything," Rowen said. "I started that so I could share my art and make a little bit of money from it. Most of my designs are LGBTQ+ and disability stuff."
Rowen believes Ferris needs to do more for their LGBTQ+ community.
"I think more education would solve a lot of issues, honestly. Most people aren't very educated on LGBTQ + and disability issues," Rowen said.
Overall, Rowen has faced a lot of challenges throughout his life, but he has managed to overcome them at any cost.