The 2023 Big Event saw over 200 houses sign up for volunteer lawn care, twice as many as an average year.
The Student Government Association's annual Big Event is a chance for students to connect with Big Rapids residents through volunteer yardwork assistance.
Starting at 11 a.m. on Saturday, students poured into the rainy IRC parking lot to give back to the community with their fellow sorority, fraternity or student organization members.
Jana Hurley, an advisor for the SGA and the Interim Dean of Student Life, shed some light on how the Big Event works as a community-building tradition.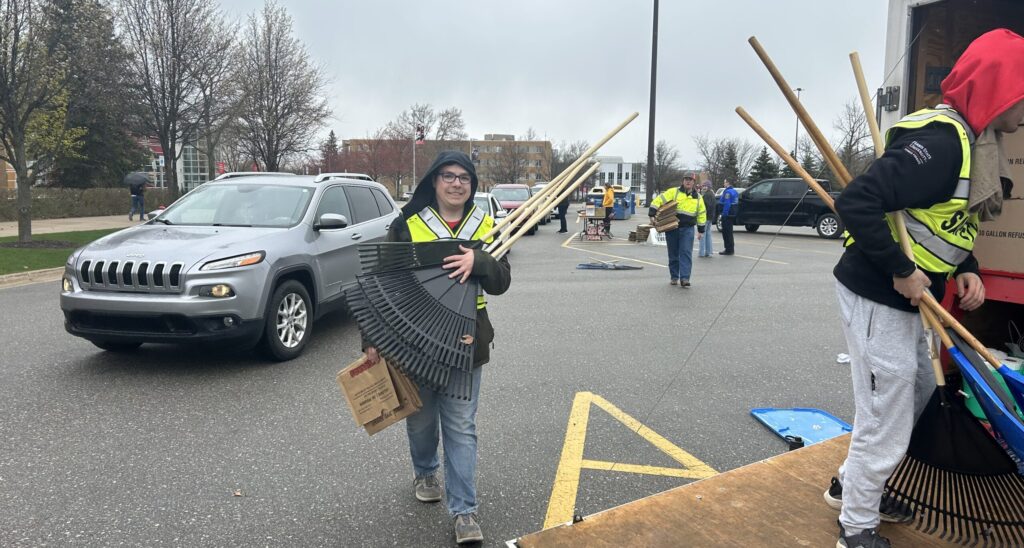 "The purpose is that colleges and universities exist within the context of a larger community," Hurley said. "When they're functioning at their best, they're having a positive impact on the community."
Along with SGA members, Hurley arrived at the Big Event at 8 a.m. on Saturday. She believes the event reflects how much effort students are willing to dedicate to philanthropy.
"This is the kind of effort that allows students both to actually give back [and] also to engage in the planning and implementation aspects of it, which is in and of itself a learning experience," Hurley said. "And you know, every time you do something this big, some things go well, some things don't go as well. You learn from that, and you move on and do it better next time."
With high demand from the community, the SGA had a difficult time recruiting enough student volunteers.
It was up to the SGA's advisors and executive board members to maintain communication between with the residents who signed up for lawncare assistance.
Like many other SGA members, this was President-Elect Dylan Andrews' first time working the Big Event. With over ten volunteer groups failing to show up on Saturday, Andrews interacted with a few dissatisfied community members.
"We've had a few locals and faculty members come in to complain about our process," Andrews said. "It was kind of like harassment, to be honest, from the faculty. It was just not appropriate… to come and ridicule and completely try to dismantle our operation."
Andrews also spoke on some of the hardships they faced during the event, including backlash from residents.
"This year was tough because we had some unfortunate circumstances," Andrews said. "I will promise this, this event is going to be better next year. All of the people will be reached out [to]. If anything, I'm thinking of potentially completely doing a whole different event in total that'll still help out the community as big as we're doing now," Andrews said.
To make up for the no-show volunteers, many students returned to Lot 5E to pick up a second round of leaf bags and work on additional houses.
Andrews appreciated seeing students take extra time out of their weekend to carry on a 15-year-old Ferris tradition.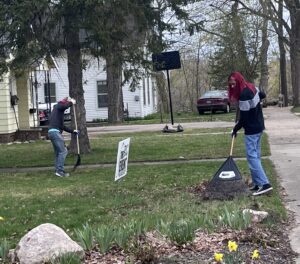 "It warms my heart for me to do this for my first year," Andrews said. "It's great to see. We've had our discrepancies, and there have been problems, but the majority of the people still [did] go out and are doing the work. There are some phone calls that I've had for individuals that are beyond grateful."
Though appreciative of the stuents' help, some Big Rapids residents felt let down by the poor communication between themselves and the SGA. Michelle Peterson would like to see a change in the future organization of the Big Event.
"I had signed my parents up as I have done in the past and was told [the SGA] would reach out through e-mail," Peterson said. "As time went on, I received nothing… This is a great service by the students, but I was disappointed in the lack of communication this year."
Many Big Rapids residents were pleased with the results of their yards and shared their excitement for the help they had received on Facebook.
Elementary education freshman Harmony Lionberger went out and did two houses with her group.
"I loved being able to go out and connect with the community because I'm new to this area, and it was nice to feel connected to the people that aren't just here for college," Lionberger said.
SGA member Seth Brott assisted volunteers with their lawncare tools.
"It feels great to give back to the community because they gave so much to me," Brott said. "I've been in the area for a very long time. Big Rapids has… helped me, so I'm trying to give back."
Finance senior Joseph Hall runs Sigma Alpha Epsilon's philanthropy. Throughout his time at Ferris, he struggled  to find volunteer events for his SAE brothers to participate in. Because of this, he appreciated how involved the SGA was in the planning and execution on this year's Big Event.
"It's kind of nice having something already organized that we can help out with," Hall said.
As Andrews ascends to the SGA presidency, he has big plans for one of Ferris' biggest traditions. His goal is to run the 2024 Big Event with a group of students that are as "effective and efficient as possible."