The last time that the Ferris women's golf team hoisted the conference trophy overhead, the housing market was on the verge of crashing.
The Bulldogs started the three day tournament on Friday, April 21, and found themselves right behind Wayne State heading into the semifinals. Posting a team score of -7 after the first 18, head coach Sam Stark's squad was poised for the semifinals. Drawing arch rival Grand Valley State for day two, they had no easy task ahead of them.
Junior Alayna Eldred posted the best lowest 18-hole score that Ferris women's golf has ever seen en route to her victory, while Abby Grevel and Dani Staskowski won their matches by four strokes and two strokes, respectively. The team won 3-1-1 to earn a spot in the championship round the following day against Saginaw Valley.
"We broke our team school record twice during the stroke play portion, Alayna Eldred broke our 18-hole scoring record and we had three other players break par during those first two rounds," Stark said.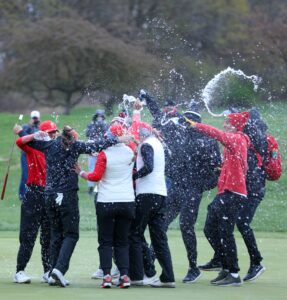 Facing the Cardinals in the final round, a new scoring system was put in place. Each match was scored by the cumulative number of strokes won, rather than the number of holes won.
Posting four sub-80 stroke performances across the board, the Bulldogs put up a strong fight that wouldn't be topped by Saginaw Valley. Freshman standout Lizzie Anderson won her match by one-stroke after posting a 77. Staskowski would have a back and forth front nine and ultimately captured her victory by four strokes, and Eldred held on with some late round insurance to win by two strokes.
Ferris State women's golf found themselves atop the GLIAC, dethroning a Grand Valley team who had won the league last year and 13 out of the last 15 years.
"Winning our first conference championship since 2007 is a huge step for our program," Stark said. "It validates the hard work our players have been putting in, and it reinforces that the program is moving in the right direction."
The Bulldogs will shift their focus quickly, as the NCAA tournament selections will be announced later this week. A very real possibility of repeat opponents is on the table, as both Wayne State and Grand Valley State are near the top of the regional rankings.
"We are peaking at the right time and are excited to head to NCAA Regionals in two weeks," Stark said.