Bulldog hockey attends NHL camps, Brad Marek signs with AHL
Current Ferris State goaltender Noah Giesbrecht and now former forward Bradley Marek attended NHL development camps during the summer.
Giesbrecht spent time with both the Philadelphia Flyers and Winnipeg Jets in early July while Marek spent time with the San Jose Sharks. Weeks after Marek attended, he signed with the Sharks' AHL affiliate, the San Jose Barracuda. 
Assistant coach Dave Cencer wished the ex-Bulldog well and was thankful of his contributions to the team during his time with the team. 
"First and foremost, I'm excited and happy for him and happy for what he brought to the team the last two years," Cencer said. "Selfishly, we wish he would have been here longer."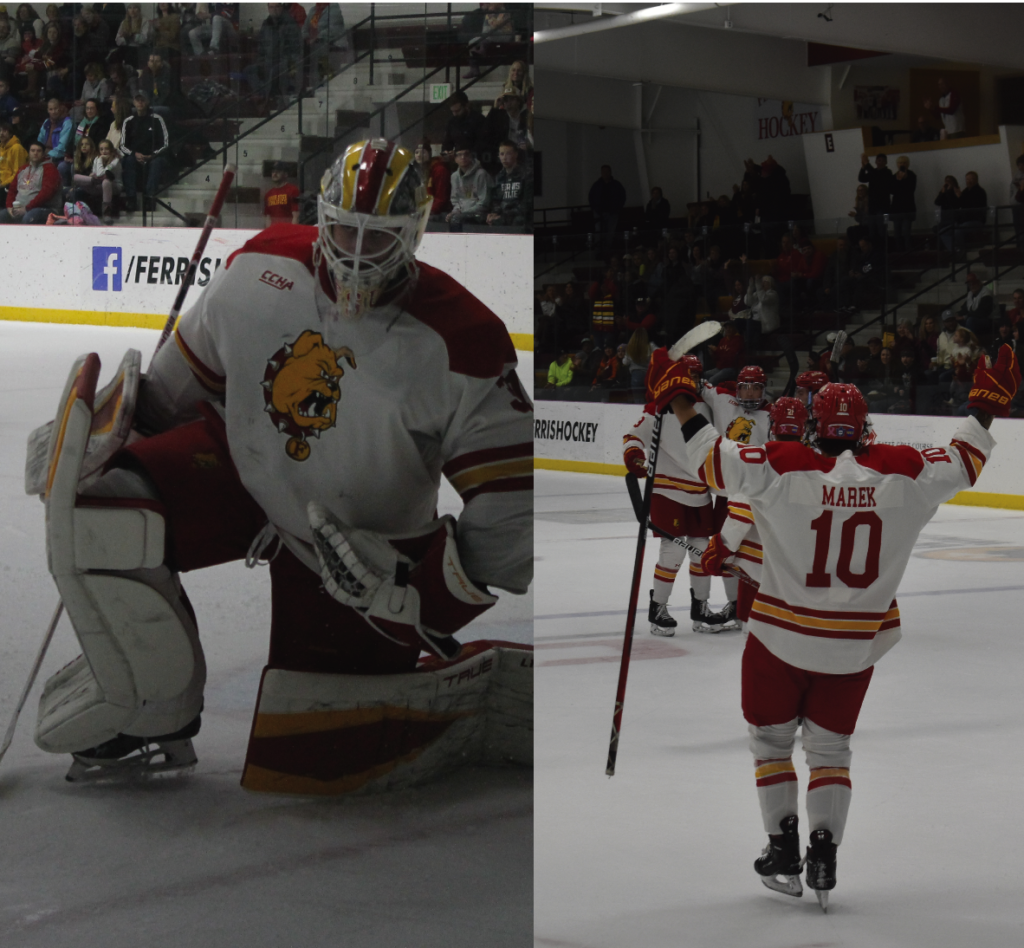 Marek, a Big Rapids native, played a big role for the Bulldogs when it came to taking faceoffs which, according to Cencer, would be an immediate need for the Bulldogs to fill. 
Giesbrecht split his time between Philadelphia and Winnipeg, spending the majority of his time in Philadelphia. The Canadian-born goaltender worked with Winnipeg in their last two days of camp. 
Giesbrecht, who had plenty of options to choose from for NHL development camps, specifically chose Philadelphia and Winnipeg for the opportunity they present. 
"Both of them are in a rebuilding stage and have question marks around a lot of positions," Giesbrecht said. "I thought it was a good opportunity to put myself in areas that were lacking in that department and that I saw holes in so I could possibly make a friendship with that organization." 
Giesbrecht also expressed excitment for his former teammate's opportunity in San Jose, saying that "everyone will be keeping a close eye on him and cheer for him."
Bulldog hockey training camp is well underway as they work their way towards their season opener against Miami (OH) on Oct. 7 at Ewigleben Arena.
The Back-to-Back Champions visit the White House:
On June 12th, the White House invited 52 NCAA champions, including the Ferris State football team, to the nation's capitol for "College Athlete Day."
The event was attended by 25 student-athletes from the Bulldog football team, head coach Tony Annese and some staff. The event was led by Vice President Kamala Harris, as President Joe Biden was unavailable due to a root canal.
Ferris President Bill Pink was elated that the Bulldogs had the opportunity to be nationally recognized.
"I'm so thrilled that our team can make the trip to D.C. and be back-to-back national champions, it is such a great opportunity and great honor," Pink said. "It's hard enough to win one national championship but we have twice in a row. We've been able to celebrate this year. It's a special occasion and I love the fact that the Office of the President wants to recognize that."
Pink was very grateful in general with the White House's honoring of all student athletes, saying, "what a strong statement from our friends in Washington, D.C."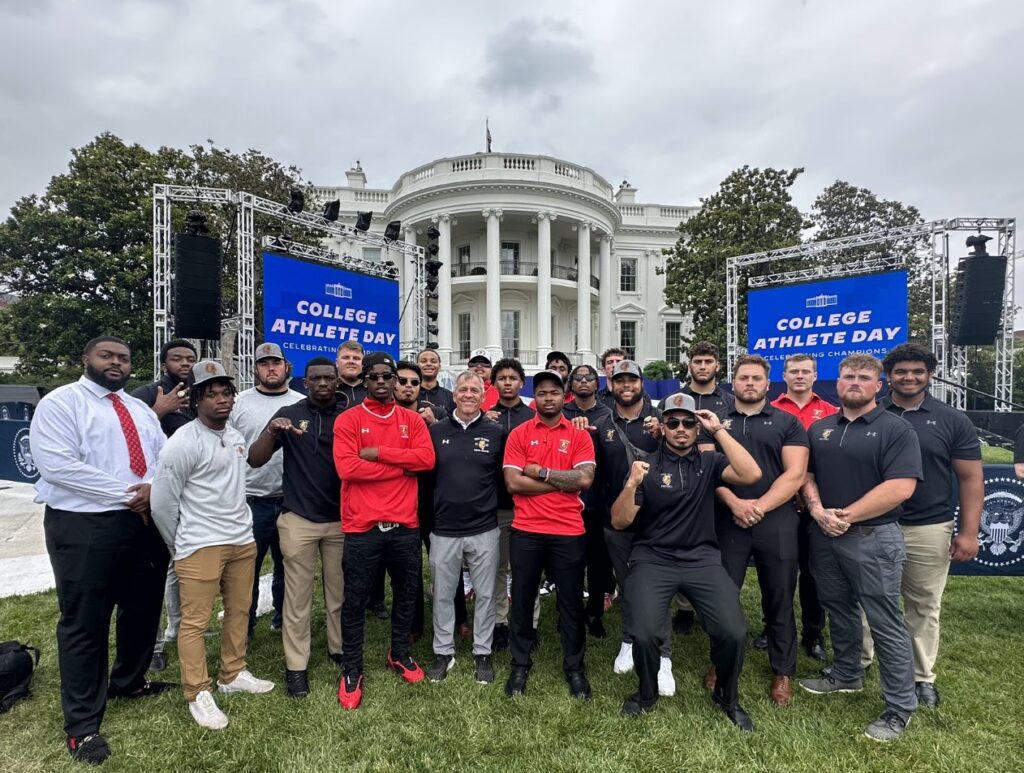 The Bulldogs are believed to be the first DII national champion to visit the White House and be honored since North Alabama visited the Bill Clinton-led White House in 1995. The Bulldogs were only joined by the DIII football national champions North Central (Ill.) as the DI national champions, the Georgia Bulldogs, declined the invitation.
According to Associate Athletic Director, Rob Bentley, the Bulldogs had a quick turn-around to get the Bulldogs in shape for their trip to D.C.
"We [had] found out two weeks prior that they were going to hold a college athlete day, which is the first time it's been done," Bentley said. "We had a short notice. I think it was less than a day to try to put a list of guys together. There was a lot of interest from the guys on our team."
Despite the rush to get everything together and be ready to fly out, Bentley described the trip as the "experience of a lifetime" for the attending Bulldogs.
The Bulldogs will begin their campaign for a third straight title against Mercyhurst (PA.) on Aug. 31 at 8 p.m. at Top Taggart Field.
Bulldog football and women's soccer rank highly in preseason:
Both Bulldog football and women's soccer received high praise in preseason polling as both teams received top-10 rankings.
Bulldog football is the favorite to win the GLIAC title according to the GLIAC coaches preseason poll while also being ranked #1 in the country by the American Football Coaches Association and D2Football.com among others. The women's soccer team received a ranking of #6 in the nation in the United Soccer Coaches top 25 list.
Both teams' ranking should be no surprise as the Bulldog teams reached new levels of success last year. Bulldog football captured it's second straight DII football national championship when they beat Colorado School of Mines in the national championship. Bulldog women's soccer took the program to new heights when reaching their first NCAA DII soccer semifinals after beating archrival Grand Valley on penalty-kicks in the regional finals and then beating Bemidji State in the quarter finals. The Bulldogs would ultimately face a hard 2-1 loss to the eventual national champion Westchester in the semifinals.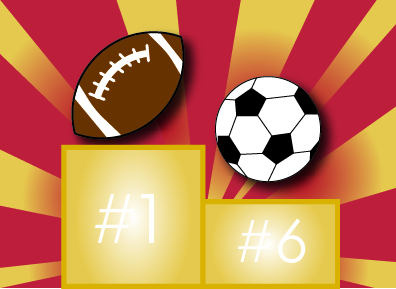 The bar is seemingly set high for both sets of Bulldogs with the ranking they've received heading into their respective seasons. With both teams set to be the first sports to return to Ferris (Women's soccer- Aug. 20, Football- Aug. 31), their destinies are in their hands to either exceed expectations -or disappoint- on their campaigns.