This year the Bulldogs will be chasing another championship as they look to make it three years in a row that they have lifted the NCAA Division II National Championship.
The Bulldogs are the favorite to win the GLIAC conference and are ranked #1 in D2 Football. These rankings and expectations set the bar  very high for the reigning national champions.
Being on top is not the easiest road to be on as everyone will be looking to knock you down. For head coach Tony Annese, nothing changes for the Bulldogs even after back-to-back national championships.
"The goals are always the same for us," Annese said. "Our first goal is to win the first game, then our second goal is to win the GLIAC championship, our third goal is to go undefeated, our fourth goal is to win a national championship."
Annese has no interest in discussing a three-peat, citing that he wants to "punch them in the mouth" when someone says "three-peat"
Creating a dynasty within college sports is a difficult task to complete due to consistent roster turnover due to graduation among other things.
Ferris State is no exception to this. The Bulldogs biggest loss came in the form of the reigning Cliff Harris award and Gene Upshaw award winner, Caleb Murphy. The awards crowned the now Tennessee Titans linebacker as the best defender and best lineman in DII football. Alongside Murphy, the Bulldogs also lost notable wide-receivers Brandon Childress and Marcus Taylor while losing defensive-backs Cyntell Williams and Sidney McCloud among others.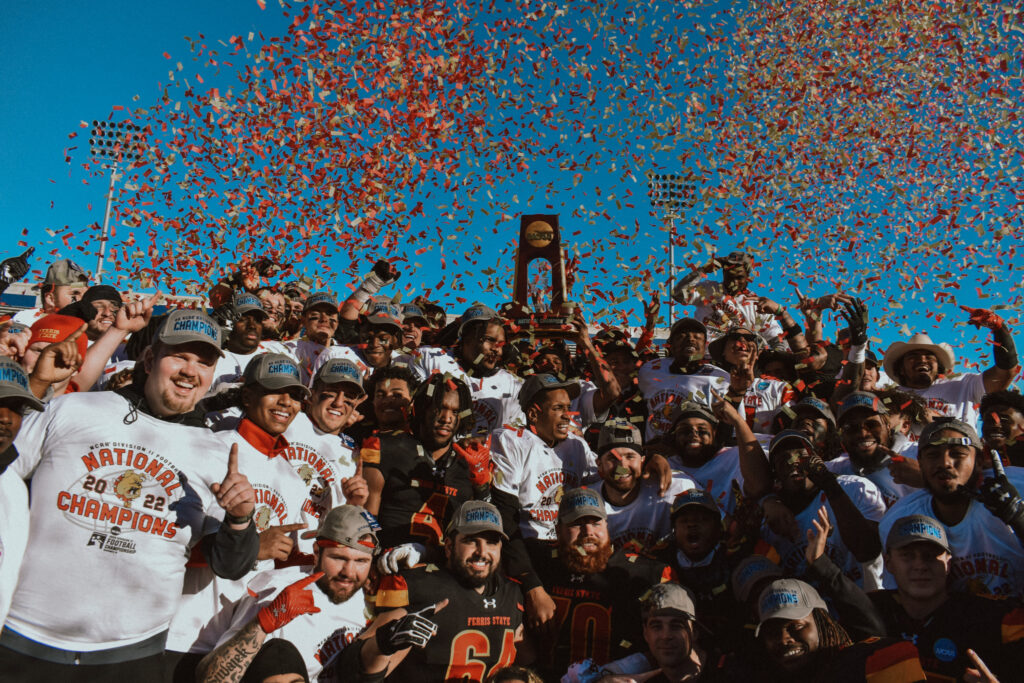 With such absences, there are big shoes to fill. However, senior defensive lineman Ian Hall feels he and the team are prepared.
"I feel like I'm going to be the best guy on that field and I'm going to leave it all out there," Hall said. "Since I've been here, the culture has always been the next man up mentality. So, I feel like those young guys grinded all summer up in Big Rapids and they're going to be able to step up and fill [those] roles."
In addition to having young players step up and having a good group of returning players back, the Bulldogs will be getting back one of their best wide receivers in Xavier Wade, as he was sidelined all but two games due to injury.
"[It's] just getting my shoulder right and everything else," Wade said. "Getting back into flow of things with the offense, just the chemistry with the guys and things like that."
Wade seemingly hopes to return to his 2021 form where he had 43 receptions for 793 yards and 10 touchdowns.
Despite this team coming out of their seasons as the top team for two years in a row, the feeling that they have not won anything is present on the team, according to wide-receiver Brady Rose.
"Feels like we didn't win [the championship]," Rose said. "[It] feels like we lost in the first round. Everyone's got the same energy as they did two years ago, so it hasn't changed."
This hunger to win, regardless of their past two seasons, acts as a statement into the Bulldog's culture that puts winning as the usual.
With all the talk of the Bulldogs being back-to-back champions, the pressure that comes with winning those championships while trying to make it three in a row can be a lot for a team to handle.
With the high expectations set on the back-to-back national champions, there's a natural pressure that comes with it. However, according to Wade, "pressure makes diamonds"
The Bulldogs look to complete their first goal of winning their first game when they face Mercyhurst University on Thursday, Aug 31. Gametime is set for 8 p.m.