In 1998, one phone call from Melville, SK changed the course of Ferris State hockey history. The phone call was between Ferris State assistant coach Drew Famulak and his father. The Melville natives' phone call resulted in Famulak flying to Sasketchewan and scouting a forward for the Melville Millionaires of the Sasketchewan Junior Hockey League. That forward was a kid by the name of Chris Kunitz.
For avid Ferris hockey fans and avid National Hockey League fans, what happened next is nothing they don't know. Kunitz joined the Bulldogs, helped the team reach their first NCAA tournament in 2003, signed with the Anaheim Ducks of the NHL, won four Stanley Cups with two teams, played on five NHL teams, won a gold medal in the 2014 Olympics, played over 1,000 games and scored over 200 goals.
Now, the Bulldog legend is tabbed to eventually be inducted into the Ferris State hall of fame. Twenty years later, the story of how Kunitz was brought to Ferris is revealed alongside Kunitz's reflection on his career in his retirement.
The Melville Connection
Anyone familiar with the recruitment story of Kunitz can tell you how crucial Famulak was to the process of bringing the Regina native to Big Rapids. However, the point of view changes depending on who you ask.
For head coach Bob Daniels, Famulak's role in the recruitment was pivotal for the Bulldogs as he was the metaphorical bridge to the small town of Melville.
"I would bet 1,000 bucks that you've never been to Melville," Daniels said. "Melville is a small farm community about an hour and a half outside of Regina. It's a town of maybe 4,000 people and most of them are farmers … but small town hockey, like anywhere in Canada, is huge. It was Famulak's connection to that hometown of his father that got us on Chris Kunitz's track."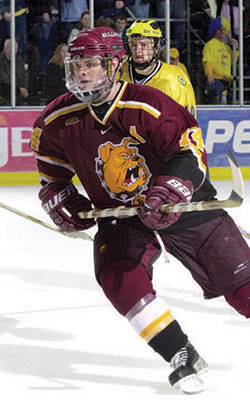 Daniels stressed the complications of scouting of the time since there "were no cellphones and no video on the players", which adds to the sheer luck that Bulldog hockey stumbled across such a gem all those years ago.
Having an inside tip into where and who to look at when recruiting certainly helps speed up the process. But what about the player perspective? What sold Kunitz on leaving his home country of Canada for an American university approximately 1,225 miles away? Well, for Kunitz, it was simple.
"A little bit had to do with the loyalty," Kunitz said. "Coach Famulak coming out, spending some time with me, talking to me and sharing their eagerness to bring me in for my first visit."
Kunitz added that he looked at Ferris' offer as an opportunity to get an education in the U.S. and didn't see it as a "stepping stone" to go elsewhere.
It's clear that Famulak saw something good in the kid from Melville. The effort made on Kunitz paid off handsomely for the Bulldogs. Kunitz played an important role in Bulldog hockey's best season in team history where, in the 2002-03 season, the Bulldogs went 31-10-1 and reached the NCAA tournament for the first time. On top of this, Kunitz's individual accomplishments include second all time in career goals and sixth all time in career points. "As things turned out, he was a really, really kind of a big fish for us," Famulak said. "[He helped] take our program to heights at that time that had never been seen."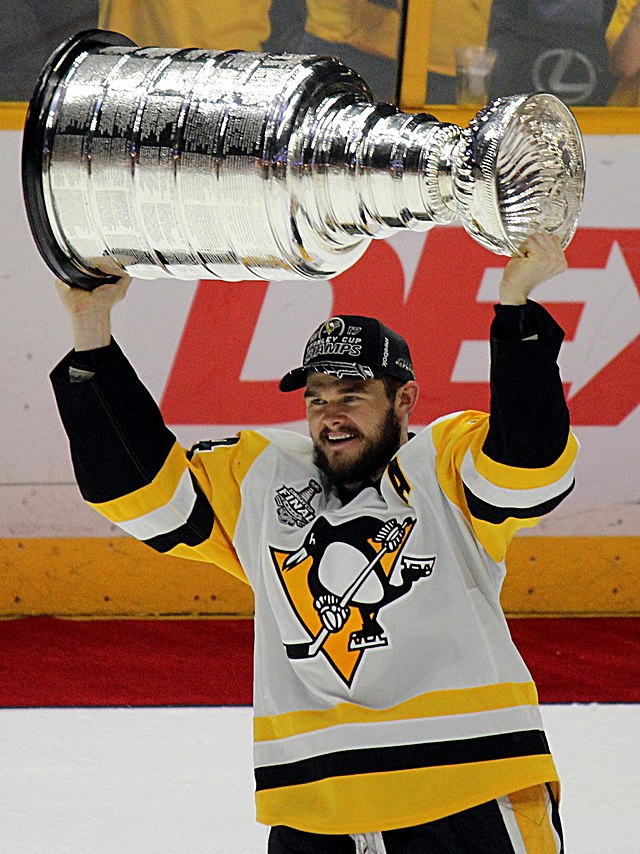 An Illustrious Career
Following the conclusion of the 2002-03 season, Kunitz signed with the Anaheim Mighty Ducks as an undrafted free agent. He spent his first season split between Anaheim and the Cincinnati Mighty Ducks of the AHL. In the 2005-06 season, there were brief stints with the Atlanta Thrashers and a five game stint with the Portland Pirates. However, Kunitz spent 67 games donning a Ducks jersey.
Kunitz recalled being 24 and trying to figure the league out while being a late bloomer to the professional level.
"I think roughly on that third professional year something clicked that said 'Alright, I gotta earn a job here'," Kunitz said. "It's not just playing hockey anymore. From there, I didn't ever have to look back."
Kunitz was right about not having to look back. Following that third year, Kunitz won his first Stanley Cup with a Ducks team highlighted by hall-of-famers Scott Niedermayer, Teemu Selanne and Chris Pronger. Kunitz stayed in Anaheim until a trade in the 2008- 09 season relocated him to Pittsburgh. Fortunately for Kunitz, he found himself on another Stanley Cup winning team as the Penguins defeated the Detroit Red Wings that year.
Kunitz found home in Pittsburgh where he stayed with the team for eight more years. Those eight years saw Kunitz add two more Stanley Cups to his resume. His last playoff run with Pittsburgh created a moment that etched Kunitz's name into Pittsburgh Penguin history.
In a game seven match against the Ottawa Senators in the eastern conference final, captain Sidney Crosby fed a pass to Kunitz who instantly shot the puck past the Senators goaltender to take the series in a double overtime.
As the broadcast rang out with "Crosby on Kunitz, a shot, he scores", Kunitz was being mobbed by his teammates. Kunitz reflected on that series clinching goal.
"It gives me chills just thinking about it," Kunitz said. "It's such a fun environment to do that in. I didn't score a bunch of those goals in my life. I scored a bunch of goals but not in that kind of capacity."
Kunitz mentioned that he had been in a bit of a goal drought at the time and that it just so happened that his legs didn't "feel like a 37 year old" that day where the environment was right and he knew it could be his last game in Pittsburgh.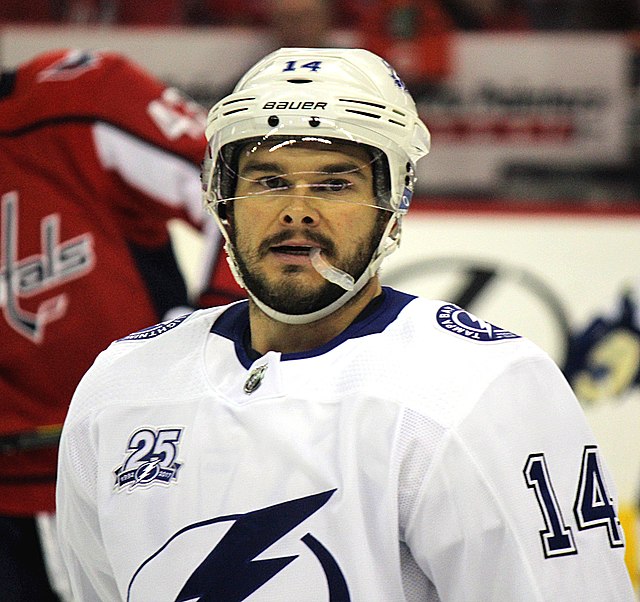 Following his last cup win with Pittsburgh, Kunitz signed and played for both the Tampa Bay Lightning and the Chicago Blackhawks before retiring in 2019. Daniels, who has seen numerous athletes come and go from Ferris, believes Kunitz sits atop the list.
"There's so many accomplished alums throughout athletics, but I can't see one being more accomplished," Daniels said. "Four Stanley Cups, a gold medal and a CCHA title … Just a great person for the university as well as our hockey program to have out there representing the university."
Kunitz in the Present
It's been four years since Kunitz hung up his skates and joined the Blackhawks as a player development advisor. Even in that role, Kunitz has chosen to step a little further back to focus on his family and friends.
Kunitz's philosophy in retirement is that of a selfless one. He most recently returned to Big Rapids for the 37th annual Ferris State hockey alumni golf outing. Getting an interview or a moment to speak with him regarding his career is a tall order as he's not that interested in talking about himself.
"I spent a long time answering questions," Kunitz said. "A lot of them are about yourself or successes that you'd be having at that point in time and occasionally it's about a slump or something. After doing it for so many years, you just kind of want to step back and not have to think about just yourself. I want to spend time with my college buddies who helped me get where I was. I don't need to answer the questions or take the congratulations when it was all of us doing it as a team."
Kunitz was happy to be around and be able to speak to the people who aren't "in your everyday life", while being excited to be with four of the six guys who graduated alongside him. 
It should be no surprise that Kunitz's fondness for his old teammates, coaches and peers are equally shared by those same people. For example, Daniels' reflection on Kunitz's time here presents nothing but respect. 
"He was the exact kind of player you want as a star in that it was all team," Daniels said. "When you have your best player and most talented player being your hardest worker. [It's] very mature, very humble. Good things are gonna happen. Chris drove that and his personality drove and so to answer your question, he's always been very humble. Always."
Kunitz has, by no means, lost any love for the game. Nor has he completely left the game. Kunitz made it a point to mention that he would be in hockey until they kicked him out. Instead, he was able to go out on his own terms after a fruitful 16 year career with nothing left to prove.
"I honestly have zero regrets," Kunitz said. "I love the teammates. I love the cities I played in. I am very thankful that I got to share that locker room with so many people. All the coaches, general managers and owners, now that you're on this side of it, you see how many great people there are in the game of hockey."