Bulldog athletics honored eight new inductees to the Ferris State athletics hall of fame in a ceremony that took place on Wednesday.
The seven athletes inducted were Jeff Blashill (hockey, 1994-98), Lucy Prior (women's basketball, 2000-04), Dannie Hayes (men's basketball 1991-95), Tianna Kirkland (women's basketball/track and field, 1997-01), Brad Morris (wrestling, 1985-89), the late Gideon Smith (football, 1910-11) and Jason VanderLaan (football, 2011-15). Joining the athletes in recognition was Carma Burcham, who received the athletics special service award.
For Kirkland, like all other inductees that night, being inducted was something she didn't take lightly.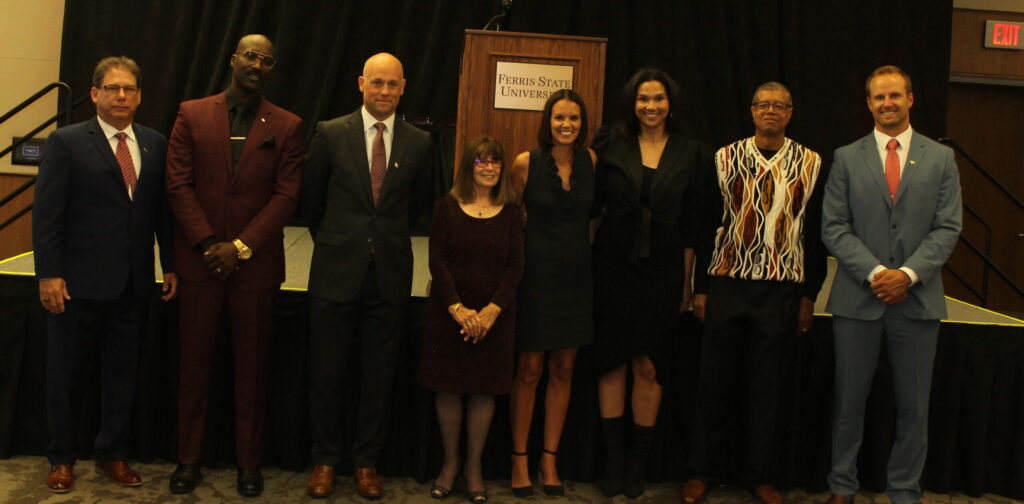 "In athletics, this is one of the biggest honors you can possibly get," Kirkland said. "You never know what other people are thinking. I thought that I definitely did my best while I was here, but to have other people recognize that and to think 'it was beyond her doing her best. She deserves to amongst the best' is an honor."
Kirkland also noted that she didn't know when the feeling that she was inducted into the hall of fame would hit, guessing that it would be when she returned to Wink Arena for first time in 20 years.
55 years following his death, Smith's posthumous induction was accepted on his behalf by his grandson, John Belcher.
Belcher only recently learned of the impact and legacy that his grandfather left. Alongside this, hearing some of the problems that his grandfather faced as a black athlete in the early 1900's left him trying to understand how his grandfather handled it.
"Growing up [I heard] many stories from him. Just the the positive experiences that he had … He had a leather reclining chair and I'd be on his lap, [he was] smoking a pipe, you'd be looking through old photos. You're hearing all of those experiences as a child, and then later learning more about his legacy. [That] probably began in 1994, when my grandfather was inducted into the Michigan State hall of fame. Just hearing more specific examples of what he faced. I just began to try to reconcile that with the kind of person that I knew him to be. [I] never saw him lose his temper. [He was] so gentle, the gentlest."
Belcher went on to say that it took him up until this past year to understand how his grandfather was able to weather the conflicts without losing his humanity and that his grandfather's management of those experiences was "powerful" to him.
For the first time since 2011, Ferris State athletics awarded the special service award. The recipient, Burcham, spent over 30 years as coordinator of records and NCAA eligibility.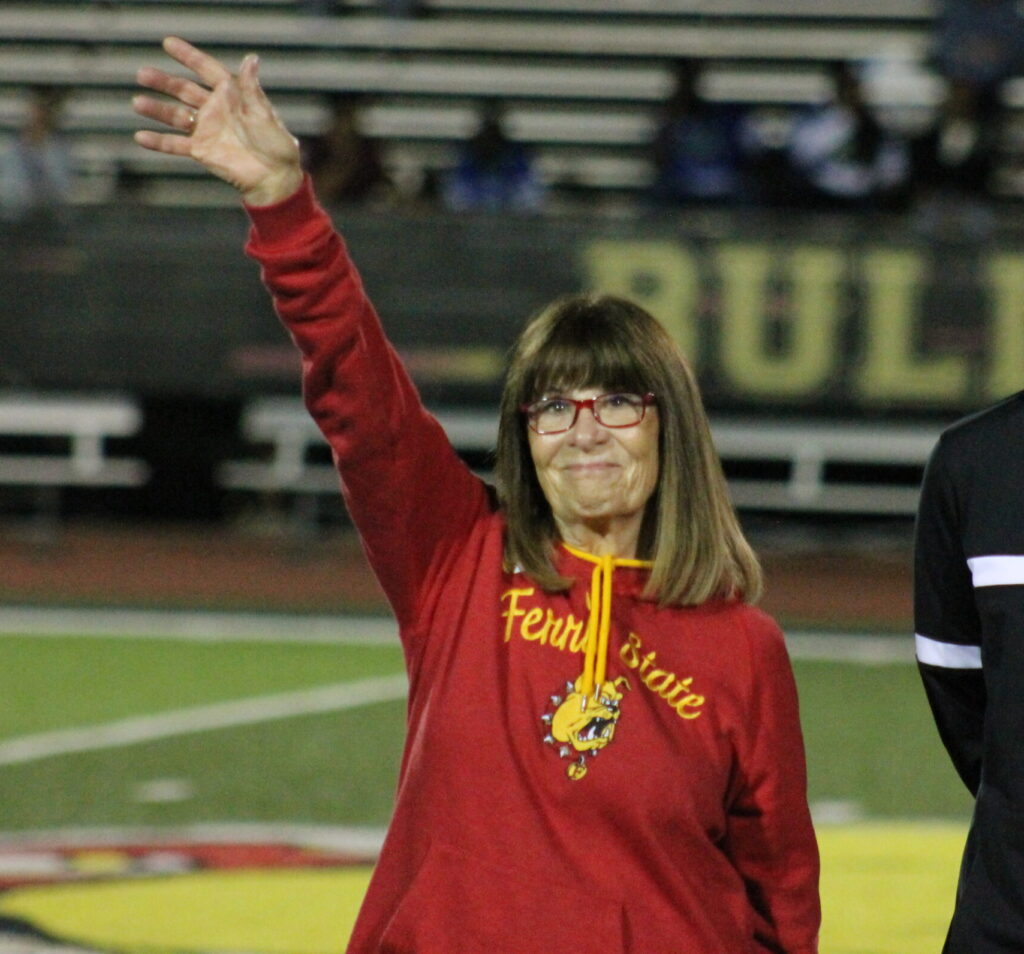 Burcham was mentioned and thanked by multiple inductees during their speeches. To her, the words of the athletes signals something meaningful.
"This says to me 'maybe I did make a difference'," Burcham said. "That is probably what I wanted to do without aiming to do it everyday, I didn't aim to do something. We did the right thing. We did what they needed."
Despite 30 years of service and the feeling that she made a difference, Burcham doesn't feel like the job is done. Burcham believes that you're "always supposed to be representing Ferris out there as a Bulldog wherever we go."
This is the first hall of fame class to be honored since 2017. The class, which was originally announced and planned for 2020, joined 100+ other notable Bulldogs of the past and will forever be enshrined in the Bulldog athletics hall of fame.