The Bulldogs completed the first goal they had set for themselves by beating the Mercyhurst Lakers in a blowout win as they begin a new campaign.
Following an electric start, the Bulldogs (1-0) kept accelerating to shut down Mercyhurst (0-1) in a 54-12 win on Thursday evening
The win accomplishes what head coach Tony Annese deemed as the first goal of the season during the preseason. With it being the first real game back for the Bulldogs since their championship win in December, Annese addressed some nervousness around the debut.
"There's so much of an unknown starting a new season," Annese said. "There's a level of paranoia, a level of concern about how well your team's going to perform. I love these guys. We're a smart team. We're a playmaking team."
The Bulldog offense took off immediately when sophomore wide-receiver Deion Small returned a Mercyhurst punt for their first touchdown of the season. The Lakers refused to go down without a fight, scoring a touchdown and then recovering a fumble which led to another touchdown. Both touchdowns featured missed extra points from Mercyhurst, giving them a 12-7 lead. Following this burst of life from the Mercyhurst offense, the Bulldogs answered convincingly with seven straight touchdowns to secure a blowout.
With the first-game jitters out of the way, the Bulldogs will set their focus on how they can clean up their game and move forward as the season progresses.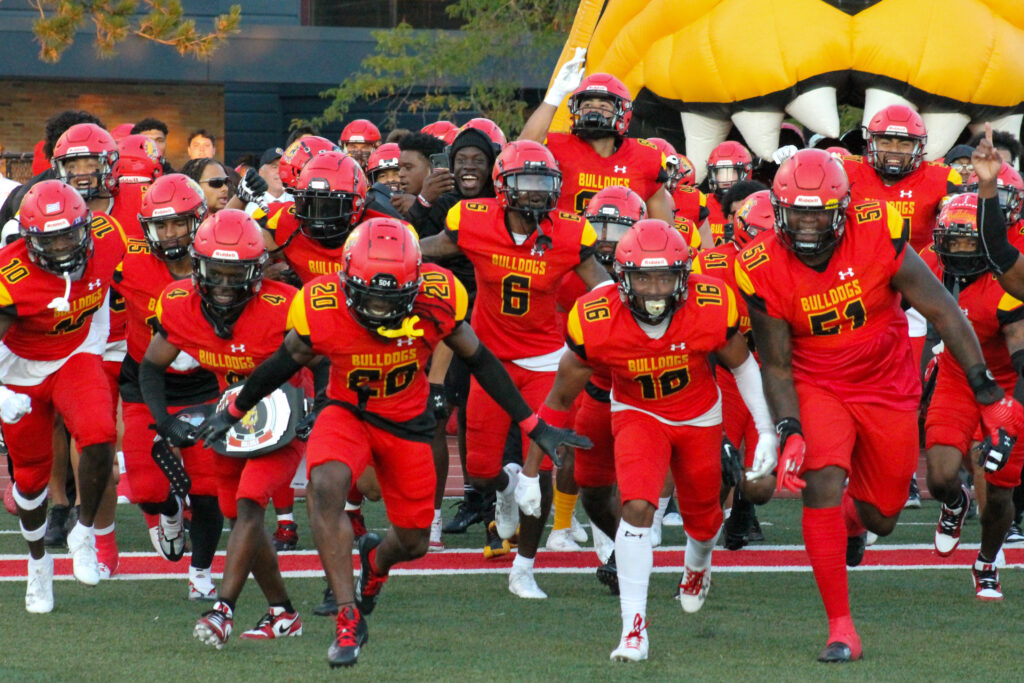 "I know our guys are going to take any mistake we made to heart," said Annese. "They're going to focus a little bit more on not making the same mistake twice. So ultimately, it was a great win and a great opportunity for us to grow from some of the mistakes we made."
In a dominant win by the Bulldogs to start their season there were some old faces and new faces making plays. Sophomore quarterback Carson Gulker took in two scores for the Bulldogs, senior wide-receiver Xavier Wade caught a touchdown from fellow sophomore receiver Brady Rose, senior receiver CJ Jefferson broke off two runs for two touchdowns, sophomore receiver Jeremiah Housey hauled in a pass for another seven points and the aforementioned Deion Smalls added to his touchdown total in the waning minutes of the fourth quarter. The final two touchdowns of the game were courtesy of sophomore quarterback Trinidad Chambliss.
Housey's touchdown was the first in his collegiate career. The young receiver found his first as something he'll never forget.
"My first college touchdown is something I'll remember for a lifetime," Housey said. "Coach Annese came up with a great play for me to score. Once the play started, I realized I blew past the safety and was wide open for a touchdown."
The Florida native wants to keep the motor hot and isn't settling on one touchdown, saying "obviously, I want to keep scoring more and more."
This year as the Bulldogs continue to hunt the end goal of winning another championship for the third year in a row, they will look their depth on the team to help them reach it.
One of the new faces to appear of the Bulldogs defense is junior defensive end Sheldon Cage, who put together a solid performance for his first time in a Bulldogs uniform. Cage had four tackles with two tackles for loss for nine yards.
The defense showed depth as they only allowed 12 points in the game and turned Mercyhurst away seven times on fourth down.
"I think we have a lot of depth," said Sheldon Cage. "A lot of guys that can make plays, so I think we will be decent."
The defense is not the only thing that is striving for balance and depth this season.
Last night the Bulldogs offense used 3 different quarterbacks, 5 different running backs, and 7 different receivers who hauled in a catch.
With a team full of depth and players who can make plays on both sides of the ball, Annese admitted "I like our firepower."
The Bulldogs will look to that firepower to keep them on track as they now look to complete their second goal of winning the GLIAC championship.
The Bulldogs' next game will take them on the road to face off against Ashland University on Sept. 9 at 7 p.m. for their first road game of the year.