One of three suspects has been identified following a shooting at Campus Creek Apartments that took place last Saturday and resulted in the injury of one 21-year-old woman.
Norton Shores resident Malik Dontae Taylor was charged with seven weapons charges in the 77th District Court with a $125,000 bond.
Count 1: Weapons — Firearms discharge in or at a building 
Count 2: Weapons felony firearm 
Count 3: Weapons — Firearms possession by felon 
Count 4: Weapons felony firearm 
Count 5: Weapons — Ammunition possession by felon 
Count 6: Assault with a dangerous weapon (felonious assault) 
Count 7: Weapons felony firearm
The Big Rapids Pioneer reports that several hundred people were in the apartment parking lot at the time of the shooting.
Toshiro Johnson is a music and entertainment business major in his second year at Ferris. He lives at Campus Creek and recalls hearing what he thought were fireworks on the night of the shooting.
"It was back to back and I was thought, 'Wow, that's scary.' The next thing I know, one of my friends called me because he lives in the house that got fired in. The bullets hit in his kitchen and his bathroom," Johnson said.
Johnson's friend was not injured that night and has since moved apartments.
Campus Creek residents have been notified of updated security protocols regarding guest parking passes after the shooting. Johnson now feels safe at his apartment and in Big Rapids.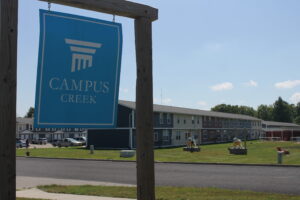 "I feel safe in the community. I just I know people are are crazy individually. I know people make environments bad," Johnson said.
As the story circulates around campus and Big Rapids, Johnson wishes that the public refrains from grouping in large numbers of people with the identified suspect.
"[Do] not group people together, because individuals, like I said, have their own mindset and it's harmful to group people up. Especially because the people involved were with it were people of color. It's oftentimes an entire group is demonized because something violent happens. Violence is not okay. It's never okay. I think it should be clear to these people weren't from Ferris and you shouldn't group them in with other people that go here."
With two other suspects at large, the Mecosta County Sheriff's Office encourages anyone with relevant information to contact them at 231-592-0150.