The Center for Virtual Learning had its grand opening last Thursday as part of Ferris' Founder's Day festivities.
The grand opening was attended by faculty, board members, students, and representatives of the companies that worked on the building. The esports team was also present displaying their team jerseys in honor of the building. 
The first to speak was President Bill Pink, who spoke of how the success of the building will play a crucial part of Ferris' role in students' lives. 
"One of the important programs that you see in this building is our School of Education and our School of Education faculty who are in that eLearning space and advancing the work of what we need to do across our state when it comes to preparing teachers for today's economy of students," Pink said. "And then also having our programs as far as our School of Digital Media is concerned. [It's an] incredible program that does work all over this campus prepares students for in demand positions and jobs that are here today and that these students can go out and enjoy wages and jobs that help pay them and feed their family on a daily basis."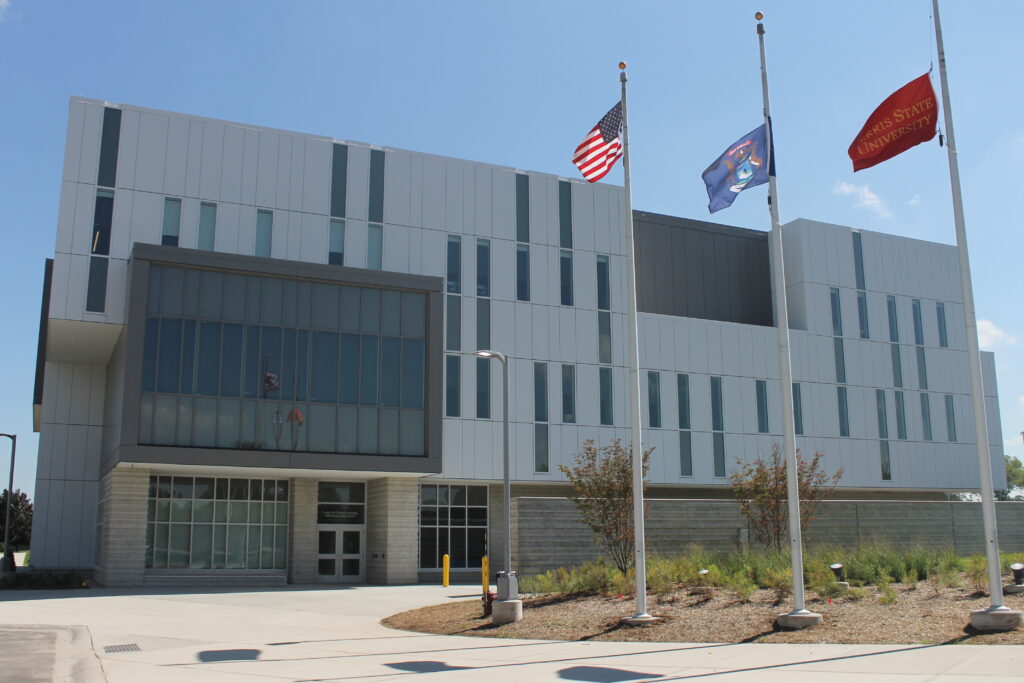 Pink also explained that the building was 32 million dollars, however, due to a partnership with the state of Michigan, the state is paying 75 percent of that budget. 
Board of Trustees chair member, LaShanda Thomas weighed in on the importance of the building in her speech at the grand opening of the building. 
"Ferris State students across Michigan and beyond will benefit from the support of the university's e-learning department, which occupies the first floor and serves all of our academic programs at the barriers," Thomas said. "Naturally traditional students will benefit from a 24-hour lab access and key spaces throughout the building. Students who are more comfortable engaging their peers through a headset while playing a video game will not only find a home in our esports arena and community, they will also have the opportunity to turn that passion into a career through our new professional esports production program degree." 
One of the partners with Ferris was Herman Miller, a company that deals with gaming furniture, and their vice president Jon Campbell, who was excited for Ferris' opportunities through the CVL. 
"What I know is that when I'm standing in front of just an amazing building and work with such an incredible partner like Ferris State," Campbell said. "You guys are creating opportunities for future gamers or workers in this space to actually create, [and] not only chase their passion, but also have an entire life based around this; to feed their family and to build up those career within this space. So, I couldn't be more proud and excited to partner with you." 
At the end of the opening, Pink cut the ribbon and then faculty, students, and community members were given the opportunity to walk through the CVL to get a feel for the opportunities the building has to offer.